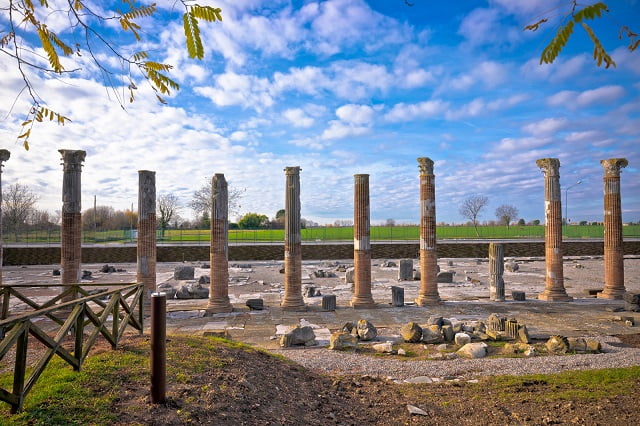 Italy is teeming with amazing culture and scenery, but beyond its major cities and renowned tourist spots lies an incredible amount of hidden gems. From charming Tuscan villages to spectacular coastal towns, Italy offers a variety of unexplored places just waiting to be discovered.
One of the most captivating features of the country is its collection of hidden treasures – from wildlife preserves to historical sites – that are often overlooked by tourists. Whether it's a breathtaking coves along the Mediterranean or a hilltop fortress belonging to a long-forgotten people, each secret spot in Italy has something new and unique to offer.
Take Lago di Piediluco in Umbria for example. This lake boasts crystal clear waters perfect for canoeing and swimming.
If you're feeling adventurous, you can venture out into the nearby countryside and explore the ancient Roman aqueducts or visit San Gemini; a tiny village full of cobblestone streets and cheerful locals who are eager to share their local stories with anyone who will listen.
If you're looking for a unique experience that is sure to leave an impression then look no further than Civita di Bagnoregio; a small town built atop an ancient hill that is slowly deteriorating due to erosion, giving it an almost ethereal appearance.
Other notable hidden gems include Maratea's irresistible coastline, dotted with hidden grottoes containing some of the most beautiful beaches in Italy. The mountain road leading up the eerie Tramontana Valley beckons travelers near La Spezia looking for an unforgettable journey through history; this passage was once used by legendary figures such as Hannibal as they made their way through Italy over 2200 years ago.
The Sassi di Matera also proves equally mesmerizing, with its breathtaking caves carved directly out of limestone located deep in South Italy's Basilicata region.
Regardless of what type of Italian adventure one may seek out, there's no shortage od hidden gems around each corner far off from your traditional tourist route – providing visitors with plenty to discover without overcrowding or immense sports favorites like Cinque Terre enjoy. Altogether these remote attractions simply add another layer to Italy – an untapped beauty sure to thrill any daring adventurer brave enough glimpse them".
Magical Ancient Cities
The ancient cities of Siena, Ravenna, and Aquileia are some of Italy's true gems. Each have held a place in both the Italian history and culture that is truly unique. The winding cobblestone streets, secret alleyways, and majestic monuments tell the story of each location.
Siena
Located in Tuscany region, Siena has become one of Italy's top attractions and for good reason. It was once a thriving republic trading hub back in 12th century AD and its legacy has been unrivaled ever since. Its deep-rooted culture comes from being home to Renaissance masters such as Michelangelo, Rossellino, and Donatello who significantly shaped the city's beauty over time.
The stunning Piazza del Campo remains one of the most iconic attractions with its sloping travertine terracing which are more than 500 years old and echoed through its intricate brick pattern. The historical heart also features La Torre del Mangia – one of Italy's tallest brick towers featuring breath-taking views from its summit.
And if you're into art – then make sure not to miss out on seeing the priceless works at Santa Maria dell Scala which now lies under the Duomo di Siena.
Ravenna
Ravenna was an ancient port town before it became a powerful center within the Gothic kingdom for decades. While there were several struggling centuries on its path to prosperity over past few centuries around WWII era; it rapidly developed into what is present today.
What draws flocks of people to this destination are several amazingly preserved 8th century churches covered in glittery mosaic tiling which marks quite a unique style compared other churches throughout Europe – making Ravenna an absolute must see for architectural excitement seekers.
One special site here is Basilica San Vitale which dates all way back year 248 AD with its fascinating design that fuses styles by Roman & Byzantium Empires – sure something special indeed. The nearby Mausoleum Galla Placidia should be on your list too as can't really pick one or two places when there's so many just waiting explore.
Furthermore, its aesthetic tombstones sculptures featured inside will render you speechless during exploration process behind these mosaics masterpiece walls – making it well worth single visit trip already.
Aquileia
Nothing could illustrate Italy's rich cultural scene better than Aquileia. This ancient Roman city offers travelers a chance to explore 1st Century BC ruins while discovering some incredible archaeological sites like Virgin Hill (Monte Vergine) and Forum.
The Amphitheater south of Trieste is believed to have been built around 2nd Century AD seating up 10 thousand spectators at once. There is also incredible Mosque built by Byzantine Emperor Justinian during 6th Century located closeby too; but perhaps main attraction remains collection precious artifacts discovered during archaeological excavations conducted mid 19th century across entire city itself – there simply no better source living history lesson anywhere else this vast place filled with amazing wonders await uncovering.
Stunning Lakes
Lago di Garda is the largest lake in Italy and is situated between the provinces of Brescia, Trentino, and Verona. It features breathtaking views of the Italian Alps combined with stunning Mediterranean coastal towns. Certainly a must-see for any traveler to Italy, the popular activities that can be enjoyed here include fishing, sailing and exploring the nearby villages.
For travelers with an affinity for historical architecture, a visit to Lake Como should not be missed. Home to many striking villas dating back as far as the seventeenth century which were once owned by celebrities like George Clooney and Pierce Brosnan, a simple boat ride or hike along these waters will delight anyone looking for a little relaxation. Fishing is great here too – you can take up your rod and go trout fishing for some delicious freshwater fish.
Last but certainly not least is the third largest lake in Italy: Lago Maggiore. Surrounded by lush green forests, its location makes it ideal for those who are interested in nature crafting activities such as trekking through trails and purple-colored steep slopes while soaking up majestic mountain ranges in the background. Visitors can also take part in water sports such as wakeboarding and kayaking – both sure to thrill any outdoor enthusiast.
Notable Sites Along These Lakes
Isola del Gardo : A small island on Lago di Garda surrounded with olive tree garden covered with sun lounges.
Bellagio : Includes narrow roads full of shops selling souvenirs home decor items unique to Como like cameos and lace fabric
Villa Rusconi Clerici : The grand 18th century baroque villa located near Arona on Lago Maggiore.
San Giulio Island : An island in Lago Orta featuring a picturesque basilica dedicated to St Julious.
Natural Beaches
Ostuni, Terrasini, and Urbino are all beautiful beach destinations in Italy. The white-washed town of Ostuni overlooks the sea while long stretches of pebble beaches run southward from Ostuni. At Terrasini, sand beaches line the coastline, making it an ideal spot to cool off during summer heatwaves. And, finally, where the Tyrrhenian Sea meets the Adriatic Sea is Urbino with its stunning views across the Gola del Furloj canyon.
Most people are attracted to these renowned beaches for a dose of sunbathing and swimming but there are also plenty of hidden coves that offer privacy and more intimate experiences. For example:
Cala di Pozzetto in southern Sicily is remarkably tucked away from the tourist hordes.
Porto Badisco near Otranto provides seclusion with its rocky cove where Greek legend reports Ulysses first landed in Italy.
Farias on Sardinia's east coast can be found inside a cove down 200 steps – giving access to one of its best kept secrets.
Caletta dell'Acquafredda near Taormina features a granite landscape dotted with fishing villages and natural pools fit for swimming.
For those looking for a getaway experience even further off-the-beaten track – Isola di Tavolara is said to be one of Italy's most beautiful islands set in crystal clear waters populated by wild rabbits. Or explore Scoglio di Pietrabona located between Sanremo and Genoa along Liguria's Italian Riviera which boasts remote coves backed by forest clad hillsides.
The list goes onRimigliano is an untouched nature preserve framed by golden sands then further up north sits spectacular Levanto; offering panoramic sandy beaches lined with fragrant Mediterranean maquis shrubby vegetation. Finally, moving on we have Zingaro Nature Reserve blesses visitors with captivating bays facing out onto crystal azure water ideal for snorkelling or scuba diving amongst colourful fishies.
Famous Hiking Trails
The Apennines, the mountain range that stretches through central Italy, is home to some of the most breathtaking views and unique landscapes. An increasingly popular destination for hikers, due to its secluded nature and exploration opportunities. The Apennines abundance of trails makes it an ideal outdoor activities spot.
One of the best parts about hiking in the Apennines is being able to discover hidden gems known only by locals and other avid explorers. From idyllic lakes tucked away among rolling hills to preserved villages flanked with medieval stone walls, hiking in this range can be seriously rewarding – showcasing some of the most beautiful scenes in Italy.
Hiking is also a great way to explore Italy's natural fauna and flora; many rare species such as Rego elfin butterflies can be spotted along trails that wind through dense forests and meadows blooming with wildflowers during springtime.
If skiing is more your thing then you should definitely look into exploring the wonders of the Dolomites – part of the Alps mountain range spanning across Eastern Italy. With an array of ski slopes up to 3000m high, spectacular views overlooking 200-square miles worth of snow covered peaks, it's no wonder why this hidden gem lures in many skiholics every year.
Skiing is not just limited to skiing though; snowshoeing or sledging are also great ways to explore further into this picturesque winter wonderland.
So whether you're looking for a laidback stroll through quaint local villages or more extreme adventures such as mountainside skiing, there really is something for everyone when it comes to exploring these two amazing hidden gems found in Italian landscape.
Unique Island Retreats
One of Italy's best-kept secrets is the beautiful Aeolian Islands located off of the northern coast of Sicily. Rich in natural beauty, the unsurpassed views from each island are sure to leave an everlasting impression. The largest of the islands, and most popular spot is Stromboli with its active volcano allowing visitors the opportunity to watch lava spouts over 700 meters high.
Boats carry passengers close enough for them to hear booming thunder as it crashes against sea water and witness one of nature's amazing creations. On other islands guests can take picturesque hikes throughout ancient trails leading past barren craters or dive their way through submerged adventure.
Located off of the southern coast of Italy is Capri, a stunningly scenic island that is widely loved by tourists due to its cobalt blue ocean waters, endlessly colorful sunsets and historic monuments.
The hotels on toed sheltered bays perfect for all forms of relaxation lure visitors in with their stunning views and historical touch.The legendary Villa Jovis – Tiberius' villa – still stands in ruins amongst lush vegetation or stroll down winding trails passing ancient ruins-all proof that this was once lived in by emperors.
Wildlife lovers will enjoy trekking along paths filled with vibrant flowers, olives trees, and other greenery – where they may come across lizards or wild goats.
Lastly, Sardinia located on the western coast is a mixture between modern enticing facilities yet untouched beaches and historical landmarks embedded into their everyday life. With a rich culture passed down from generations you set sail towards destinations such as Monte Limbara peaks or various tiny archipelagos waiting for you uncover their secrets – only reachable by boat.
From hidden treasures like Dorgali Caves offering majestic scuba diving adventures or Nurrali Nuraghe boasting fascinating Bronze Age remains there is something for every traveler here. Traditions often overlooked by travelers overseas offer an intimate glimpse into local lifestyle starring many festivals where folk music plays side by side with traditional dancing.
Vibrant Villages
Paragraph 1 San Gimignano is located in the province of Tuscany overlooking the lush hills of Val d'Elsa. This beautifully preserved medieval hilltop town is home to 14 majestic towers, most of which are Romanesque-style watchtowers that rise high abovethe village itself.
San Gimignano is surrounded by local vineyards and offers visitors a unique charm with its narrow streets lined with restaurants, shops, and an array of attractions such as the Piazza della Cisterna which offers spectacular views across the valleys and hills beyond.
Paragraph 2 Portofino is a picturesque fishing village located on the Ligurian coast. The main cobbled street through Portofino is lined with colorful buildings as well as cafes and boutiques that add to the village's charm. Visitors can take part in various activities such as swimming in crystal clear waters or taking boat rides around the harbor for some great panoramic views.
Paragraph 3 Ragusa is situated in Sicily on the southeastern tip of Italy, renowned for its baroque architecture, ancient churches, monasteries and fortified castles. Though not widely known among tourists, Ragusa has become increasingly popular thanks to its unique scenery and interesting historical sites such as Comune Vecchia di Modica with its steep stairways leading up to bell towers and pastel-colored houses.
Aside from sightseeing there's plenty more to do here including sampling the region's typical gastronomic specialities like arancini (rice balls) and caponata (eggplant).
Key Features
Historic Medieval Hilltown – Visit San Gimignano for its stunning Medieval architecture.
Harbor Village – Take boats to explore Portofino stunning harbor views.
Baroque Town – Be dazzled my Ragusa's incredible baroque architecture.
Delicious Cuisine – Enjoy authentic Italian dishes like arancini (rice balls) in Ragusa.
Conclusion
Exploring the hidden gems of Italy is an unforgettable experience. From the idyllic Mediterranean coastlines to the bustling city streets, there is so much to see and explore. Italy's rich cultural history and breathtaking landscapes make it a great destination for travelers of all kinds.
One of the best-hidden gems in Italy is the ancient city of Pompeii. This city, which was destroyed by Mount Vesuvius in 79 A.D., offers a rare window into life in the Roman world.
Strolling down its cobblestone streets and exploring its newly restored buildings gives visitors insight into how people lived two millennia ago. The ruins are impressive and awe-inspiring; yet, one cannot help but feel a sense of sadness when viewing these places once called home by their residents before being buried and forgotten beneath layers of ash.
Another amazing gem tucked away amongst Italy's borders is Bruar Falls, located near Sicily's Mt. Etna volcano.
This powerful waterfall descends over 100 meters with a deafening roar. Being here feels like stepping right into another world; it can be quite a bumpy ride getting to this hidden spot, but it's worth it for sure as you board onto the path leading up to it-the lush greenery making for beautiful photos against the stunning backdrop of vertical drops as they thunder down from above.
Discovering these hidden gems in Italy provides travelers with a chance to explore some unique sites that most people don't get to visit or even know about. Whether it's a coastal town such as Cinque Terre or a secluded mountaintop landscape in Abruzzo National Park-Italy has something special and unique just waiting for travelers brave enough to find them.
With such diverse options, each traveller will have the opportunity to uncover its beauty through adventure, culture, cuisine & more – all while knowing they have chosen one of Europe's finest destinations to share these experiences that will stay close to their heart for many years following their travels.