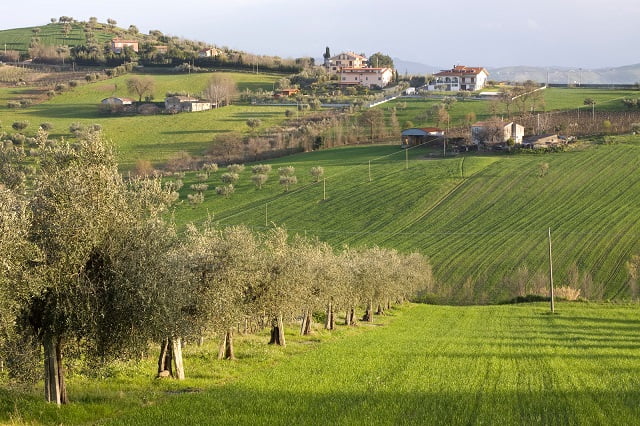 For a unique and fulfilling travelling experience, there is nothing like exploring the Italian countryside. From the bright colors of the terracotta rooftops, to picturesque views of vineyards, Italy exudes a charm and beauty that is unparalleled. Even in this modern age, there still remains a sense of timelessness as you travel through days. Whether rural towns, rolling hills or coastline villages, it's easy to become mesmerized by the beauty of this country.
The Rustic Charm When vacationing in Italy, it's hard not to be taken by all the details and scenery of its countryside. There are cobblestoned streets which lead you through small-town squares or grand churches where history seems to have past by just moments before.
Ancient stone walls surround some villages creating an aura of mystery while providing protection from intrusions like soldiers hundreds of years ago. In addition to history buffs, these cities with their bell towers and narrow alleys provide many tantalizing opportunities for sightseers to take photographs they'll cherish forever.
Agritourism & Excellent Cuisine Small etruscan towns are scattered throughout Tuscany that are special little gems hidden away among some of the world's finest vineyards and rolling foothills. Tiny family farms may offer tastings of olive oil or wine made on site accompanied by delicious local delicacies – all grown organically right on premises.
Agritourism opportunities abound with formal dining engagements featuring true Italian cuisine showcasing beautifully prepared dishes plated to perfection by chefs who specialize in regional favorites such as tiramisu and tuna Panzanella salad.
After spending a day taking everything in around Pisa or other famous landmarks in central Italy, travelers can enjoy an authentic "home cooked" style dinner prepared with fresh ingredients typically found only in genuine Italian culture: tomato sauces simmered with olives and anchovies topped off with homemade pasta filata cheese assai seduto con vino della casa ("warmly welcomed with house wine"). Experiencing the hospitality offered here will help make your journey even more special.
Reinvention of Cuisine
The Italian countryside is full of engaging activities for tourists, but one of the most transformative experiences can be catered through food. Italy is known for its exquisite seafood dishes and plethora of succulent fares which capture the essence of the Mediterranean Sea.
Taking a trip to the Italian countryside is an opportunity to indulge in some of the finest seafood delicacies prepared by knowledgeable chefs. To help visitors better sample what's available, here are some ideas for exploring the seafood cuisines:
Agriturismo dining: Immerse yourself in Italy's traditional farm-to-table experience with agriturismo dining spots scattered throughout towns and cities. You can find these restaurants housed in converted farms or vineyards and many focus on offering visitors fresh locally sourced produce.
Seafood markets: Expeditions to local fishmarkets will bring you face-to-face with a wide selection of seafood harvested from within 24 hours that morning. From mollusks like mussels and clams to octopus and squid, there's a variety to choose from.
Seafood festivals: Throughout spring, many coastal cities kick off festivals who's main feature are fresh catches cooked by expert chefs and served right off fishing boats.
When visiting each destination, be sure to talk to locals and ask their recommendations on where.
Hill Towns
Nestled in the Italian countryside are some of Europe's oldest settlements, the hill towns. These rural villages have been standing since before Roman occupation, and some even date back to the Etruscan era. With their steep cobblestone streets lined with ancient stone buildings, these hill towns offer a unique glimpse into Italy's historical past.
Exploring the alleyways between tall, fortified walls can evoke feelings of both wonder and nostalgia. Here are some of the highlights of visiting the hill towns:
Experience life in an old-world village.
Explore winding cobblestone streets.
Admire centuries-old churches and chapels.
Uncover the subtle charms of local customs.
Learn about art, architecture and local history.
Visiting a number of hill towns provides visitors with multiple opportunities to gain an understanding and appreciation for Italian traditions. One of the most popular destinations is San Gimignano, located in Tuscany.
This medieval village is most notably known for its fourteen surviving watchtowers built by wealthy merchant families during a time when rival factions were vying for power. As one wanders about this town they'll find not only these historic towers but also remnants from Roman times such as city walls and sewer systems.
Another noteworthy place to visit is Assisi located in Umbria that was home to St Francis, patron saint of Italy. Its well-preserved basilica full of beautiful frescoes is where he was exhumed from his burial chamber more than 800 years ago and it now serves as a spiritual pilgrimage site for devout Christians from all over the world.
Although San Gimignano is more remarkable due to its incredible views across Tuscan vineyards, Assisi has strong associations with St Francis that captivate many visitors through incredible spiritual experiences.
For those looking for an experience away from crowds another option includes Monteriggioni, near Siena which offers travelers breathtaking views as far down as Florence in one direction and Orvieto in another direction – on particularly clear days one can even see beyond beyond Rome. Monterriggioni's fortified castle still stands today after being built in 1215 by Sienese troops to protect against Florence invasions throughout medieval times – providing yet another glimpse into rural history.
Rustic Scenery
Exploring the Italian countryside is the picture-perfect way to spend your vacation. Whether you'd like to take a drive in your rental car or join an organized tour group, either way you'll be surrounded by a paradise of rolling hills and cobblestone towns. But there's nothing like a little fresh air, so take some time to explore the rustic scenery that awaits you.
One great thing about the Italian countryside is there are numerous places where you can find plenty of olive groves and vineyards. As soon as you arrive at your destination, don't hesitate to get out and explore. Oftentimes, these sites also feature many different kinds of fruit trees – plums, cherries, and mulberries for example – along with beautiful flowers blooming amongst flourishing meadows of wild grasses bent in all directions from the buffeting winds.
These areas come alive with color in springtime as the blossoms erupt with shades of pink and white while insect monochords echo through the evening air. The smells are also quite remarkable and intoxicating with nectarines, figs, pears, and oranges ripe on the vine ready for picking by adventurous hands.
For those looking for a little respite from their hectic lifestyle or just wanting to take in some of the best views rural Italy has to offer, then spending a few hours (or days) wandering amidst olive groves and vineyards cannot be beaten.
Whether it's sipping glass after glass of exquisite wines produced within hot Mediterranean climates or taking in sensational panoramas overlooked by centuries-old trees that have outlasted generations before them – these landscapes per se captured within one's gaze can only be appreciated when experienced first hand.
It remains one of the most romantic experiences that simply must be included on any itinerary worth its salt when visiting Italy.
Historic Castles
The Italian countryside is filled with stories and secrets from centuries past. These days, many visitors are eager to explore the history housed within the area's varied and impressive castles. Dating as far back as the 12th century, Italy's fortresses, castles, and strongholds have kept their secrets for generations. During a visit to Italy, exploring these historic locations can provide an educational experience that is unique and captivating.
One of the most iconic castles in Italy is Castello di Milazzo on Sicily's northeastern coast. Built by Spanish nobles in 1445, this mighty fortress remains mostly intact today and offers visitors striking views of its surrounding areas – including Tropea and the Aeolian Islands on clear days. Within its walls lies a trove of artifacts and archaeological finds dating all the way back to Phoenician settlers who lived there around 800 BC.
Heading south to Puglia, travelers will encounter another castle steeped in glorious historical significance: Castel del Monte. This remarkable structure was built during Emperor Frederick II's reign in 1240-1250.
The perfectly octagonal shape of this hilltop palace has beguiled many; theories abound about what mysteries may be hidden inside its mysterious masonry walls. Yet despite its rich heritage, Castel del Monte seems to defy classification – some historians regard it as a palace or temple while others presume it served as a defensive structure.
Throughout northern Italy lies yet more evidence of culture long ago – several stunning fortresses attract countless visitors every year:
Malpaga Castle – Located near Crema in Lombardy region
Dosolo Castle – In Veneto province
Trezzo sull'Adda Castle – A 14th Century architectural wonder near Milan
Angera Castle – Sits atop its own island on Lake Maggiore
Castelseprio Archaeological Park – The perfect spot for families to explore Roman ruins near Varese
Outdoor Pursuits
The Italian countryside is renowned for its natural beauty, vibrant cultures and picturesque vistas. For those who enjoy outdoor activities, Italy offers an endless variety of leisure activities to explore. From hiking in national parks and through the rolling hills of Tuscany to biking along the winding roads of Abruzzo – there are many different ways to engage with nature and experience the stunning landscape.
For those that like the thrill of adventure, Italy has a wealth of exciting outdoor activities on offer such as rafting, canoeing, parasailing, kayaking and kitesurfing. In particular, there are many great opportunities for whitewater rafting in northern Italy – some parts even offering gentle rapids suitable for beginners – with idyllic surroundings on both sides of the riverbanks to explore.
Additional water activities abound such as stand up paddle boarding (SUP) along lakeside routes or snorkeling around coastal areas filled with life including octopus gardens or stunning rock formations.
If cycling is more your preference, then consider a tour across rolling vineyards trails exemplifying breathtaking views suited for all types of riders from beginners to experienced cyclists seeking an adrenaline rush. Bike tours can be booked ahead of time or rented out at various locations throughout towns and cities in numerous Italian regions.
Whether you prefer extreme adventures and motorbike safaris into ancient woods or aim for scenic trails discovering hidden secrets; exploring the Italian countryside is a dream come true for outdoor enthusiasts everywhere.
Meanwhile,, those looking for a relaxing getaway could opt for bird-watching or horse riding along beautiful paths weaving through vineyards surrounded by endemic birds' species or rural farms admiring spectacular mountain ranges while feeling completely at ease between lush meadows and olive groves filled with wildlife. Furthermore, treks can be organised further inland into more off-the-beaten paths trekking up Ossuary Mountains challenging ones own limits while appreciating bird's eye views down below.
The possibilities are truly endless.
Culinary Delights
Strolling through the gorgeous rolling hills of Tuscany, not a cloud in the sky and with the sun beating down – it is a beautiful day to explore one of Italy's vast and breathtaking countryside. Of particular satisfaction, however, are the exquisite culinary delights that await.
The food markets sit atop hillsides selling beautifully crafted cheeses and cured meats such as Pecorino cheese and salami di spalla. There is also no shortage of fresh fruit on offer where you might find yourself buying perfectly ripe oranges or some succulent pears. It's impossible to visit this region without indulging in a good local wine either – Chianti Classico being among the best (along with Brunello di Montalcino).
Experience the Tasteful Varieties of Italian Cuisine
The list goes ever onward as the Italian chefs here show off their talents at melding ingredients together for delicious dishes; from pasta dishes like Tagliatelle al ragù that feature rich gravy poured over homemade noodles to classic Pizza Margherita that uses only four basic ingredients.
Eating wonderfully prepared food is an integral part of exploring Italy's countryside and it would be difficult to pay this wonderfully diverse country a visit without giving its gastronomy an appreciation it fully deserves.
Local Fresh Produce – The Key Ingredient for Outstanding Dishes
Despite relatively miniscule portions when comparing them to what westerners are used to, these dishes pack astounding amounts of flavour into each bite-sized morsel. This has partly been attributed to their use of locally sourced and freshly picked produce: basil, mushrooms, truffles, tomatoes and more provide a wealth of possibilities when it comes combining different ingredients together.
This culinary experience doesn't end here either; some other must try's are Baccalà alla vicentina (salt cod with onions), Risi e Bisi (rice with peas) & Polenta Taragna (cornmeal porridge with fontina cheese): all delightfully tasty dishes guaranteed to excite your taste buds no end.
Cultural Customs
The Italian countryside is a delight to explore. This stunning part of the world boasts some of the most picturesque towns, rolling hills and breathtaking views anyone could ask for.
While exploring the countryside, visitors are in for a treat as it's home to many traditional festivals dedicated to local foods and festivities. In different parts of Italy, you'll find that special festival or event taking place that celebrates traditional customs and beliefs – but no matter where you look, you're sure to find welcoming locals doing their best to make you feel right at home.
One of the highlights any visitor can look forward to when exploring Italy's countryside is joining in on the joyous music and nightlife experiences taking place around them. Everywhere from cafes and trattorias, open-air concerts, street musicians and even small buskers playing their beloved tunes – often inspired by traditional Italian folk songs – can be heard as soon as one steps in this country.
All performances provide cultural insights into daily life in typical Italian towns while entertaining guests all at once.
As well, there are numerous forms of religious activities scattered around such as parades honouring saints of certain towns or districts, traditional shows displaying artistic styles unique only to Italy such as marionettes or mask parades providing continuous opportunities to see how much Italians treasure their culture and ancient customs. It truly makes visiting the countryside an incomparable experience – history lives inside this friendly nation setting a perfect path for tourists with a spirit of adventure.