As the world continues to grapple with the challenges brought about by the Covid-19 pandemic, it is crucial for travelers to understand and adhere to the travel guidelines put in place by various countries. Italy, known for its rich history, stunning landscapes, and vibrant culture, is no exception.
In order to ensure the safety of both residents and tourists alike, Italy has implemented a set of strict travel guidelines designed to mitigate the spread of the virus. It is essential for anyone considering a trip to Italy to fully comprehend these guidelines in order to have a safe and fulfilling experience.
Before embarking on any journey, it is essential for travelers to be aware of the current Covid-19 situation in their desired destination. In this case, an overview of Italy's Covid-19 situation including statistical data and current restrictions will provide important context for understanding the severity of the situation. By having up-to-date information regarding infection rates and local regulations, travelers can make informed decisions regarding their travel plans.
As travelers prepare for their trip to Italy, there are several must-have essentials and tips that can help ensure a safe journey. This section will provide valuable advice on necessary items such as personal protective equipment (PPE), sanitization products, and emergency contacts. Additionally, tips on how to practice social distancing while traveling will be discussed. By following these recommendations, travelers can minimize their risk of exposure to the virus throughout their trip.
Understanding and adhering to Italy's official travel guidelines is crucial for entry into the country. This section will outline the specific regulations and requirements that must be followed when entering Italy. From providing negative Covid-19 test results prior to departure or quarantine upon arrival, knowing all official procedures beforehand will prevent any unforeseen complications during travel.
By highlighting these key considerations in our introduction, readers will gain insight into why understanding Italy's travel guidelines is so essential during the ongoing pandemic. With the right knowledge and preparation, travelers can navigate their way safely through Italy while enjoying all that this beautiful country has to offer.
Overview of Italy's Covid-19 Situation
Italy has been greatly impacted by the Covid-19 pandemic, with a high number of confirmed cases and a significant number of deaths. As of the latest statistical data, there have been over X million confirmed cases in Italy, making it one of the most affected countries in Europe. However, it is important to note that Italy has made significant progress in managing the situation and reducing the spread of the virus.
Currently, Italy has implemented various restrictions to control the transmission of Covid-19. These restrictions include mandatory mask-wearing in public spaces, social distancing measures, limitations on gatherings and events, and travel restrictions both within the country and from international destinations. It is crucial for travelers to stay updated on these restrictions as they are subject to change based on the evolving situation.
In terms of travel restrictions, Italy has categorized countries into different risk zones based on their infection rates. Travelers from these countries may be subject to different entry requirements such as mandatory testing or quarantine upon arrival. It is advisable for travelers to check with the official sources such as the Italian Ministry of Health or their local embassy for the most up-to-date information on current travel restrictions before planning their trip.
Despite these challenges, Italy's tourism sector is ready to welcome visitors while ensuring their safety. Stringent health and safety protocols have been implemented in hotels, restaurants, tourist attractions, and transportation services across the country. It is important for travelers to adhere to these protocols and follow all guidelines provided by local authorities to ensure a safe and enjoyable trip.
As cases decrease and vaccination efforts continue globally, it is expected that Italy will further relax its travel restrictions in the near future. Travelers can look forward to exploring iconic landmarks such as the Colosseum in Rome or enjoying scenic views along the Amalfi Coast once again. However, it remains essential for everyone to stay vigilant, follow health guidelines diligently and respect any ongoing regulations put in place by local authorities.
Preparing for Your Trip
Research and Planning
Before embarking on your journey to Italy, it is crucial to conduct thorough research and plan accordingly. Stay updated with the latest travel advisories and guidelines issued by both your home country and Italy's government. Familiarize yourself with the current Covid-19 situation in Italy, including any regional or local restrictions that may be in place. This will help you make informed decisions about your itinerary and ensure a safe trip.
Travel Insurance Coverage
Obtaining travel insurance that specifically covers Covid-19-related expenses is highly recommended. Check if the insurance provides coverage for medical treatment, emergency evacuation, cancellations or interruptions due to Covid-19, as well as any quarantine requirements. It is essential to review the policy carefully to understand its limitations and exclusions.
Health and Safety Kit
Pack essential items to prioritize your health and safety during travel. Include items such as face masks, hand sanitizers (with at least 60% alcohol content), disinfectant wipes, gloves, and a thermometer. These items will help protect yourself and others from potential exposure to the virus while traveling.
Stay Informed about Entry Requirements
Italy has specific entry requirements for travelers during the pandemic. It is crucial to stay informed about these regulations before your trip. Check if there are any mandatory documentation, such as negative test results or vaccination certificates, required for entry into Italy. Additionally, comply with any pre-departure testing or quarantine measures imposed by your home country before traveling.
Packing Essentials
When packing for your trip to Italy during Covid-19, consider carrying ample supplies of personal hygiene products such as soap, hand sanitizer, tissues, and toilet paper as a precautionary measure. It is also advisable to pack enough medication for the duration of your trip, with extra supplies in case of any unforeseen circumstances. Additionally, pack comfortable and breathable face masks to ensure compliance with Italy's mask requirements.
Contactless Payments and Digital Documents
To minimize contact and reduce the risk of transmission, opt for contactless payment methods such as credit cards or mobile payment apps instead of cash whenever possible. It is also advisable to digitize your travel documents, including passports, identification cards, and travel itineraries. This will allow you to present necessary documentation without physical exchange and facilitate a smoother journey.
By taking these essential steps to prepare for your trip to Italy, you can ensure a safe and enjoyable experience while adhering to the necessary Covid-19 guidelines. Remember to continuously monitor updates from reliable sources throughout your journey for any changes or new regulations that may arise.
Italy's Travel Guidelines
Italy has implemented official regulations and requirements for entry in response to the ongoing Covid-19 pandemic. These guidelines are crucial for ensuring the safety of both travelers and the local population. It is essential that anyone planning a trip to Italy familiarizes themselves with these guidelines to avoid any inconvenience or complications during their travel.
One of the key regulations for entry into Italy is the completion of a self-declaration form, which can be obtained from the Ministry of Foreign Affairs website or from Italian embassies and consulates abroad. This form requires travelers to provide information about their personal details, including their address in Italy and the purpose of their visit.
Another important requirement is proof of a negative Covid-19 test result taken within 48 hours before entering Italy. The test must be a molecular or antigenic test, such as a PCR test or a rapid antigen test. Travelers should ensure that they receive their test results before departing for Italy as failure to present a negative result may result in denied entry.
Furthermore, all travelers must comply with Italy's quarantine rules. Currently, those arriving from European Union (EU) countries are not required to quarantine unless they have recently visited high-risk countries outside the EU. However, travelers from non-EU countries are subject to a mandatory 10-day quarantine upon arrival in Italy.
| Requirement | Description |
| --- | --- |
| Completion of Self-Declaration Form | Provide personal details and purpose of visit |
| Negative Covid-19 Test Result | Molecular or antigenic test within 48 hours before entry |
| Compliance with Quarantine Rules | Mandatory 10-day quarantine for travelers from non-EU countries |
It is important to note that these regulations may change over time as the situation evolves, and it is recommended to stay updated with the latest guidelines before traveling to Italy. Following the official regulations and requirements will help ensure a smooth and safe entry into the country, allowing travelers to enjoy their trip while minimizing the risk of spreading or contracting Covid-19.
Navigating Italy
When planning a trip to Italy during the Covid-19 pandemic, it's crucial to consider the various transport options available and the safety measures in place within the country. Whether you're traveling domestically or exploring different regions, understanding these guidelines will help ensure a safe and smooth journey.
Italy offers a comprehensive transport network, including trains, buses, taxis, and rental cars, making it easy to explore the country. However, due to the ongoing health crisis, there are certain precautions that travelers need to be aware of. It is recommended to prioritize transportation methods that allow for social distancing and have implemented proper sanitization protocols.
Public transportation like buses and trains have implemented enhanced cleaning procedures and reduced capacity to maintain physical distancing. Face masks are mandatory on all forms of public transport. Passengers are advised to maintain a safe distance from others whenever possible while waiting for their ride and avoid crowded areas.
For those who prefer more flexibility when getting around Italy, renting a car can be an ideal option. Rental car companies have also intensified their cleaning protocols by thoroughly disinfecting vehicles between rentals. Additionally, having your own vehicle allows you to have more control over your exposure to others.
Accommodation during Covid-19
When traveling to Italy during the Covid-19 pandemic, it is crucial to consider the safety measures and best practices for accommodation. Whether you are staying in a hotel, rental property, or alternative lodging option, there are several guidelines you should follow to ensure a safe and enjoyable stay.
Best Practices for Accommodation
Research and choose accommodations that have implemented enhanced cleaning protocols and follow strict hygiene standards. Look for properties that display certifications or badges indicating adherence to safety measures.
Prioritize accommodations with contactless check-in and check-out options. This minimizes physical interaction and reduces the risk of virus transmission.
Consider booking accommodations that offer flexible cancellation policies. Given the uncertainties surrounding travel during a pandemic, it is essential to have the option to change or cancel your reservation without penalty if needed.
Avoid crowded common areas such as lobbies or elevators. Maintain social distancing and follow any specific guidelines provided by the property.
Bring your own personal items when possible, such as toiletries, towels, and bedding. This reduces contact with shared objects that may not be thoroughly sanitized.
Alternative Accommodation Options
In addition to traditional hotels, there are alternative accommodation options that may offer added safety measures during Covid-19:
Vacation Rentals: Renting a private villa or apartment allows you to minimize contact with others while enjoying the comforts of home. Make sure to choose rentals with high cleanliness ratings and inquire about their Covid-19 protocols.
Camping: Opting for outdoor accommodations like campsites or glamping sites provides an opportunity to enjoy nature while maintaining social distancing. Ensure that campsites adhere to health and safety guidelines issued by local authorities.
Farm Stays: Agriturismos, or farm stays, offer a unique experience where you can immerse yourself in Italy's countryside. These properties often have fewer guests and prioritize sustainability and cleanliness.
Bed and Breakfasts: Smaller establishments such as B&Bs may have fewer guests compared to larger hotels, allowing for a more intimate setting with increased safety.
By following these best practices and considering alternative options, you can make informed choices about your accommodation in Italy during Covid-19. Remember to stay updated on the latest guidelines and regulations provided by local authorities to ensure a safe and memorable stay.
Exploring Italy's Landmarks and Attractions
Italy is a country rich in history and culture, with countless landmarks and attractions that attract tourists from all over the world. However, due to the ongoing Covid-19 pandemic, visiting these famous sites has become more challenging. In this section, we will explore the current restrictions and precautions in place for exploring Italy's landmarks and attractions.
It is important to note that Covid-19 restrictions can vary depending on the region within Italy. The Italian government has implemented a color-coded system to categorize different regions based on their risk level: yellow, orange, or red zones. Each zone has its own set of rules and regulations regarding the opening of landmarks and attractions.
In general, many popular landmarks have implemented limited capacity measures to ensure social distancing. This means that visitors may be required to book their entry tickets in advance or choose specific time slots for their visits. It is advisable to check the official websites of these landmarks before your trip to gather information about booking procedures and any additional guidelines you need to follow.
Furthermore, it is crucial for visitors to adhere to safety protocols such as wearing masks, maintaining physical distance from others, and regularly sanitizing hands when exploring Italy's landmarks. It is also important to stay updated on any local restrictions or closures that may be specific to certain attractions.
While it may require some extra planning and adherence to guidelines, visiting Italy's landmarks and attractions during Covid-19 can still be a memorable experience. By staying informed about the latest restrictions, following safety precautions diligently, and respecting the rules set by authorities at each site you visit, you can enjoy your trip while keeping yourself and others safe.
Savouring Italy's Culinary Delights
Italy is renowned for its delicious cuisine, making it a must-visit destination for food lovers. However, during the Covid-19 pandemic, it's important to consider the safety measures and regulations in place when dining out in Italy. This section will provide guidance on how to enjoy Italy's culinary delights while staying safe.
When dining in restaurants or cafes in Italy, it is crucial to follow the safety guidelines set by local authorities. These guidelines may include wearing a mask when not seated at your table, respecting social distancing measures, and frequently sanitizing your hands. Many establishments also require customers to make reservations in advance to limit capacity and ensure proper distancing between tables.
To ensure the safety of both staff and diners, many restaurants have implemented additional precautions. These may include providing hand sanitizers at the entrance, offering digital menus or disposable menus, and regularly disinfecting high-touch surfaces such as tables, chairs, and door handles.
For those who prefer takeout or delivery options, many restaurants in Italy have adapted their services to cater to this demand. You can easily find restaurants that offer contactless pickup or delivery through online platforms or their own websites. It's important to maintain good hygiene practices when handling takeout or delivery packages by washing your hands before and after consuming your meal.
To further enhance safety measures, some regions in Italy have introduced specific regulations regarding food service establishments. For example, some regions may require temperature checks for staff members before they start their shift or restrict occupancy levels based on the size of the establishment.
In summary, while enjoying Italy's culinary delights during Covid-19, it is essential to adhere to local guidelines and recommendations. Whether dining in or opting for takeout/delivery services, practicing good hygiene habits such as wearing masks when necessary and sanitizing hands regularly will contribute to a safe dining experience for everyone involved.
Follow local guidelines: Respect social distancing measures and wear masks when required.
Maintain good hygiene: Regularly sanitize your hands and utensils before and after dining.
Consider takeout/delivery options: Many restaurants offer contactless pickup or delivery services.
Be aware of regional regulations: Different regions in Italy may have specific requirements for food service establishments.
Mandatory Quarantine and Testing
Upon arrival in Italy, it is important to be prepared for the mandatory quarantine and testing requirements that are in place due to Covid-19. These measures have been put into effect to ensure the safety of both residents and travelers alike.
Currently, all passengers arriving in Italy from any foreign country are required to undergo a 10-day quarantine. This can be done at a location of your choosing, such as a hotel or private residence. It is crucial to plan ahead and arrange accommodation for this period prior to your trip. During the quarantine, individuals must also stay in constant contact with the local health authorities and follow any instructions provided.
In addition to the mandatory quarantine, travelers arriving in Italy are also subject to testing requirements. Many airports across Italy now have on-site testing facilities where passengers can take a rapid antigen or PCR test upon arrival. Alternatively, travelers have the option of presenting a negative result from a test taken no more than 72 hours before their scheduled departure time. It is important to note that even with a negative test result, the mandatory quarantine is still required.
As for departing from Italy, it is advisable to check if your home country has any specific requirements or restrictions in place regarding Covid-19 testing before departure. Italy currently provides testing facilities at major airports for outgoing passengers who require a negative test result within 48-72 hours of their scheduled departure time. It is recommended to verify these details with your airline or embassy prior to traveling.
By understanding and preparing for these mandatory quarantine and testing procedures upon arrival and departure from Italy, travelers can ensure compliance with regulations while protecting themselves and others during their journey. It is essential to stay updated on any changes or additional requirements that may come into effect as the situation evolves.
Beyond Covid-19
With the ongoing distribution of vaccines against Covid-19, there is hope for a brighter future in terms of travel prospects in Italy. As we move beyond the current pandemic, it is essential to stay updated on vaccination updates and how they impact travel regulations. Italy, like many other countries, has been actively vaccinating its population in an effort to control the spread of the virus and facilitate a safe return to normalcy.
The Italian government has been closely monitoring the effectiveness of vaccinations and adjusting its travel guidelines accordingly. As more people receive their vaccinations, there is potential for relaxed restrictions and greater ease in traveling to and within Italy. However, it is important to keep in mind that these changes will take time to implement fully, as global vaccination efforts are still underway.
While vaccinations bring optimism for future travel prospects, it is crucial to continue following safety measures and guidelines even after getting vaccinated. We must remain vigilant in practicing good hygiene habits, wearing masks when necessary, and adhering to local regulations. By doing so, we can contribute to the continued progress and eventual eradication of the virus.
In conclusion, as Italy continues its fight against Covid-19 with vaccination efforts underway, there is hope for improved travel prospects in the near future. With effective vaccines being administered globally, it is only a matter of time before we see a significant shift towards safer and more accessible travel options.
However, until then, it remains crucial for travelers to stay informed about current guidelines and take necessary precautions while exploring this beautiful country. Together, let us look forward to a time when our wanderlust can be fulfilled once again in the land known for its rich history, culture, and captivating beauty – Italia.
Frequently Asked Questions
Does Italy require Covid vaccination for entry?
Italy does require Covid vaccination for entry. As of August 6, 2021, Italy implemented new rules that mandate proof of full vaccination or a negative Covid-19 test result to enter the country. Specifically, travelers from the United States are required to show a certificate of vaccination issued by an authorized body in their home country, proving that they have completed the recommended doses of a European Medicines Agency (EMA) approved vaccine.
Alternatively, travelers can present a negative molecular or antigenic test taken within 48 hours before arrival in Italy. The vaccination requirement aims to ensure the safety and wellbeing of both residents and visitors amid the ongoing pandemic.
What does a US citizen need to enter Italy?
To enter Italy as a US citizen, you will need several documents besides proof of Covid-19 vaccination or a negative test result. First and foremost, you must possess a valid passport that remains valid for at least three months beyond your planned departure date from Italy.
Additionally, it is crucial to complete the European Travel Information and Authorization System (ETIAS) registration before your trip; this online form collects basic personal information and travel details. While ETIAS is not required until its implementation in late 2022, it is advisable to complete it sooner rather than later to ensure compliance with future regulations.
Do you need a mask in Italy?
Yes, wearing masks is mandatory in certain situations and locations throughout Italy. Currently, individuals aged six years or older are obliged to wear face masks when indoors in public spaces such as shops, public transportation (including airports), restaurants (excluding during seated dining), cultural sites (e.g., museums), cinemas, healthcare facilities, and other establishments open to the public.
Furthermore, face coverings should be worn outdoors when social distancing cannot be maintained effectively. Following these mask-wearing guidelines helps prevent the spread of Covid-19 and protects both residents and visitors alike while enjoying various activities across Italy's vibrant cities and scenic landscapes.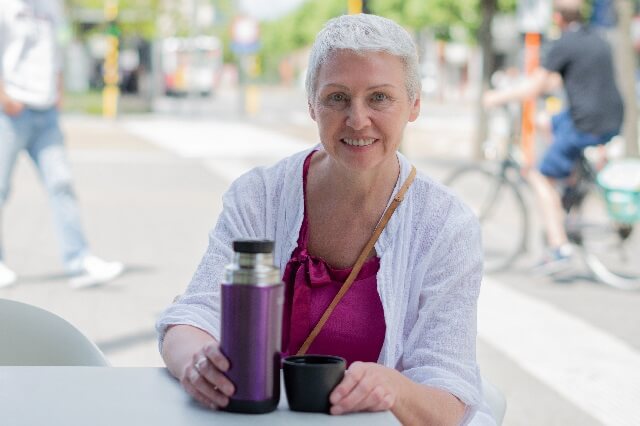 I'm a passionate traveler, writer, and Italophile. My fascination with Italy's history, art, and culture has led me on countless adventures across the Italian landscape. Through "I Live Italy," I share my love for this extraordinary country and aims to inspire others to explore its boundless beauty.