Italy in October offers a unique and enchanting experience, from the rich history and art of Rome to the romantic canals of Venice. But to truly enjoy this magnificent country, it's essential to pack the right wardrobe that balances style, comfort, and practicality. In this guide, we will take you through the key aspects of creating your perfect travel wardrobe for Italy in October.
When it comes to packing for Italy in October, the weather plays a crucial role. From sunny days to cooler evenings, it's important to be prepared for fluctuating temperatures. We will discuss the general climate patterns across different regions of Italy during October, giving you insights into typical rainfall and sunshine hours so that you can plan your activities accordingly.
To ensure a comfortable stay without sacrificing style, we will provide recommendations on versatile clothing pieces that can be mixed and matched for different occasions. Lightweight and breathable fabrics suitable for transitional weather are must-haves in your travel wardrobe. Additionally, we'll highlight the need for a few warmer items such as jackets or sweaters because even in October, Italy's charm is best enjoyed when you're feeling cozy.
By considering the uneven cobblestone streets and long walks that are characteristic of Italian cities, we will help you select stylish footwear options that are also practical. Moreover, as a mark of respect when visiting religious sites or dining in upscale establishments, we'll guide you on appropriate attire requirements including coverage of shoulders and knees.
Throughout this article, we aim to inspire you with outfit ideas by showcasing essential accessories that elevate your outfits to complete an Italian-inspired look. Additionally, we'll share packing tips and tricks to maximize space while minimizing wrinkles so that your travel wardrobe remains sleek and organized throughout your trip.
So get ready to unleash your fashionable wanderlust as we conquer Italy together with confidence. This guide will equip you with all the necessary knowledge and advice needed to curate a travel wardrobe perfectly suited for exploring Italy in October.
Understanding Italy's Climate in October
As you prepare for your trip to Italy in October, it is essential to understand the climate and weather patterns during this time of the year. Italy experiences varying weather conditions across its different regions, making it important to pack accordingly. Here, we will discuss the general climate in Italy during October, including temperature ranges, rainfall, and sunshine hours.
In October, Italy begins transitioning from summer to autumn. While southern regions such as Sicily and Calabria still enjoy mild temperatures averaging around 21-23°C (70-74°F), northern regions like Milan and Venice start experiencing cooler temperatures ranging between 8-17°C (46-63°F). Generally, daytime temperatures remain pleasant, but it is advisable to pack layers for the cooler evenings.
Rainfall varies across the country in October. Regions such as Rome and Florence experience a moderate amount of rainfall with an average of nine rainy days per month, while areas like Venice have higher chances of rain with approximately ten rainy days. However, rainfall tends to be sporadic rather than constant throughout the day.
| Region | Average Temperature Range (°C) | Rainy Days | Sunshine Hours |
| --- | --- | --- | --- |
| Sicily | 21-23 | 7 | 6 |
| Rome | 13-21 | 9 | 6 |
| Florence | 11-19 | 8 | 5 |
| Venice | 8-17 | 10 | 4 |
By keeping these weather patterns in mind, you can ensure that you pack appropriate clothing for your trip to Italy. Don't forget to check local weather forecasts closer to your travel dates, as conditions can vary from year to year. With the right clothing and preparation, you'll be able to enjoy your Italian adventures comfortably while embracing the beauty of October in this stunning country.
Packing Essentials
In order to have a comfortable stay in Italy in October, it is essential to pack versatile clothing items that can be mixed and matched for different activities and occasions. This section will provide recommendations on the must-have pieces for your travel wardrobe.
Lightweight and Breathable Fabrics
When packing for Italy in October, it's important to consider the transitional weather. Opt for lightweight and breathable fabrics that can help you stay comfortable throughout the day. Fabrics like cotton, linen, and silk are great choices as they allow your skin to breathe and regulate body temperature. These fabrics are also versatile enough to be dressed up or down depending on the occasion.
The Importance of Layering
Italy's weather during October can be unpredictable, with fluctuations in temperature between regions and throughout the day. This makes layering key to staying comfortable. Pack items that can easily be layered, such as light sweaters, cardigans, or jackets. These layering pieces not only provide warmth when needed but also add dimension to your outfits.
Choose Versatile Pieces
To maximize your travel wardrobe, focus on packing versatile clothing items that can be mixed and matched to create various outfits. Opt for neutral colors like black, white, navy, or beige as they are easy to pair with different colors and patterns. A few basic tops, such as t-shirts or blouses, paired with pants or skirts in different lengths can create endless outfit possibilities.
Don't forget about dresses. They are a great option for an effortless yet put-together look. Choose a few versatile dresses that can be dressed up with heels or dressed down with sneakers for a more casual vibe.
By packing lightweight fabrics, considering layering options, and selecting versatile clothing pieces, you'll have a travel wardrobe that allows you to feel comfortable while looking stylish throughout your stay in Italy in October.
Must-Have Footwear
Exploring the charming streets of Italy requires the right footwear that is both stylish and practical. In this section, we will discuss the must-have footwear options for navigating Italy's cobblestone streets and enjoying long walks without compromising comfort or fashion.
When it comes to exploring Italy, comfortable walking shoes are essential. Opt for sneakers or athletic shoes with good arch support and cushioning to keep your feet happy throughout the day. Look for styles that combine functionality with style, as you want a pair that can easily transition from daytime sightseeing to evening strolls.
Ankle boots are another fantastic option for exploring Italy's streets in October. They offer more coverage and stability compared to sneakers while still remaining stylish. Look for boots with a low heel and a rubber sole for better traction on uneven surfaces. Whether paired with jeans, dresses, or skirts, ankle boots add a fashionable touch to any outfit while ensuring all-day comfort.
It's important to consider cultural norms when choosing footwear for visiting religious sites in Italy. Closed-toe shoes are expected out of respect, so it is wise to include a pair in your travel wardrobe. Comfortable loafers or ballet flats are excellent choices that are both respectful and versatile.
To ensure maximum comfort during your travels in Italy, invest in quality socks that provide cushioning and moisture-wicking properties. This will help prevent blisters and keep your feet dry throughout the day.
By packing these stylish and practical footwear options, you can explore Italy's streets confidently and comfortably while immersing yourself in its rich culture and breathtaking sights.
Here's a suggested checklist of must-have footwear options for exploring Italy:
Comfortable walking shoes (sneakers or athletic shoes).
Ankle boots with low heels.
Closed-toe shoes (loafers or ballet flats).
Quality socks for added comfort.
Remember to choose footwear options that suit your individual style while adhering to comfort needs and cultural expectations. With the right footwear, you can enjoy all that Italy has to offer without sacrificing fashion or comfort.
Dressing for Cultural Etiquette
Italy is a country with rich cultural heritage and traditions, and it is important to dress appropriately when visiting certain locations. In Italy, particularly when visiting religious sites or dining in upscale establishments, there are certain cultural norms and modest dress expectations that should be respected. Dressing appropriately not only shows respect for the local customs but also ensures a more comfortable experience.
When visiting churches, cathedrals, or other religious sites in Italy, it is customary to cover your shoulders and knees. This is seen as a sign of respect towards the sacred space. Women should avoid wearing sleeveless tops, short skirts or shorts, while men should avoid wearing sleeveless shirts or shorts above the knee. It is always a good idea to carry a lightweight scarf or cardigan that can easily be thrown over your outfit when necessary.
For dining in upscale establishments or attending special events like opera performances or concerts, it is recommended to dress slightly more formal. Men can opt for smart-casual attire such as collared shirts and trousers, while women can choose dresses, skirts paired with blouses, or elegant pantsuits. Avoid wearing overly casual outfits such as t-shirts, jeans, athletic shoes or flip-flops.
However, it's important to note that Italy is generally a stylish country where people take pride in their appearance. Even in casual settings like strolling through the streets or having lunch at local cafes, Italians tend to dress well. Therefore, packing clothes that make you feel confident and put-together will help you blend in with the locals and enhance your overall experience.
In summary, dressing appropriately in Italy means respecting the local cultural norms while still expressing your personal style. Remember to cover your shoulders and knees when visiting religious sites and opt for slightly more formal attire when dining in upscale establishments or attending special events. Packing lightweight scarves or cardigans will come in handy for these instances. Ultimately, embracing fashion-forward choices and dressing with confidence will ensure an unforgettable trip to Italy in October.
Accessorizing in Style
Italy is known for its impeccable sense of style and fashion, so it's important to accessorize your outfits in order to truly embrace the Italian fashion culture. The right accessories can elevate your look and make a statement while exploring the beautiful streets of Italy in October. Here are some essential accessories to consider when packing your travel wardrobe:
Classic Handbag: A classic handbag is a must-have accessory for any stylish traveler. Opt for a medium-sized bag that can hold all your essentials while still being comfortable to carry around all day. Look for timeless designs and neutral colors that can easily match with different outfits.
Wide-Brimmed Hat: Not only does a wide-brimmed hat add a touch of elegance to your ensemble, but it also provides protection from the sun. Choose a hat made from breathable materials like straw or cotton, which will help keep you cool during those sunny autumn days.
Stylish Sunglasses: Shielding your eyes from the sun is essential, especially when visiting cities with plenty of outdoor attractions like Rome or Florence. Choose a pair of sunglasses that not only provide UV protection but also complement your face shape and personal style.
In addition to these statement pieces, there are practical accessories that are essential for day trips and sightseeing:
Small Crossbody Bag: When exploring busy cities or crowded tourist attractions, it's best to have your essentials within easy reach. A small crossbody bag allows you to keep your belongings secure while leaving your hands free to take photos or browse through local markets.
Scarves and Cardigans: Whether it's to cover up when entering religious sites or simply adding an extra layer for warmth, lightweight scarves and cardigans are versatile accessories that can transform your outfit instantly.
When selecting accessories for Italy in October, remember to choose items that reflect both comfort and style. Italian fashion favors elegant simplicity combined with functionality, so opt for accessories that enhance your outfit without compromising your comfort. With these essential accessories, you'll be ready to explore Italy in style and make a fashion statement wherever you go.
Packing Tips and Tricks
Efficient Packing Techniques
When preparing for your trip to Italy in October, efficient packing techniques can help you maximize space in your luggage and ensure that your clothing remains wrinkle-free. One popular method is rolling your clothing items instead of folding them. Rolling not only saves space but also helps prevent wrinkles. You can roll individual pieces or even create outfits by rolling together coordinating items like tops and bottoms.
Another great way to save space is by using packing cubes or compression bags. Packing cubes are lightweight, zippered organizers that allow you to separate and compress different types of clothing. Compression bags work similarly but use a vacuum seal to remove excess air, further reducing the size of your clothing. Both options help keep your items organized and compact, making it easier to fit everything into your suitcase.
Strategic Layering
In October, the weather in Italy can be quite variable, with temperature fluctuations throughout the day. To ensure comfort in changing conditions, it's important to pack strategically by prioritizing layering pieces. Look for lightweight sweaters or cardigans that can easily be added or removed as needed. Opt for versatile options that can be paired with different tops and bottoms to create various outfits.
Additionally, consider packing a few scarves in different colors and patterns. Scarves not only add a fashionable touch to any outfit but also provide warmth when needed. They can be worn around the neck or draped over the shoulders for extra coverage on cooler days.
Wrinkle-Resistant Fabrics
To minimize wrinkles in your travel wardrobe, opt for fabrics that are naturally wrinkle-resistant or have wrinkle-resistant properties. Synthetic materials like polyester tend to resist wrinkles better than natural fibers like cotton or linen. Look for travel-friendly clothing made from wrinkle-resistant fabrics such as spandex blends, jersey knits, or microfibers.
Another tip is to choose clothing items that are less prone to showing wrinkles. For example, textured or patterned fabrics can effectively camouflage any creases that may occur during travel. Additionally, packing garments tightly and layering them between other clothing items can help prevent excessive wrinkling.
By implementing these packing tips and tricks, you can maximize space in your luggage while minimizing wrinkles in your travel wardrobe. With a well-organized and wrinkle-free suitcase, you'll be ready to confidently explore Italy's charming streets and immerse yourself in its rich culture.
Creating Versatile Outfits
As you prepare for your trip to Italy in October, it's essential to curate a travel wardrobe that is not only practical but also stylish. The key to achieving this is by creating versatile outfits that can be mixed and matched for different activities and occasions. By packing smartly, you can ensure that you have the perfect attire for exploring Italy's charming streets, visiting cultural landmarks, dining at upscale restaurants, and everything in between.
One mix-and-match styling idea is to start with a comfortable pair of jeans or trousers as your base. This can be paired with a variety of tops such as breathable cotton shirts or lightweight sweaters, depending on the weather.
For cooler days, layering is key – adding a jacket or a cardigan can provide both warmth and style. To dress up your outfit for a dinner out or an evening event, consider incorporating a statement blouse or a chic blazer.
When it comes to dresses, choose ones that are versatile enough to be dressed up or down. A midi dress in a classic print or solid color can be paired with sandals and a sun hat during the day for sightseeing tours. In the evening, switch to ankle boots or pumps and accessorize with statement jewelry for a more polished look.
Remember that accessories are key when it comes to elevating your outfits. A classic handbag in a neutral color will effortlessly complement any ensemble. Consider packing a wide-brimmed hat not only for its style factor but also for protection from the sun during outdoor excursions. And don't forget about sunglasses – they not only shield your eyes from the sun but also add an element of glamour to your look.
By mixing and matching these versatile clothing pieces and incorporating thoughtful accessories, you'll be able to create numerous stylish outfits suitable for different activities throughout your trip to Italy in October. Experiment with different combinations and don't be afraid to embrace your personal style. With a well-curated travel wardrobe, you'll feel confident and fashionable as you explore all the beauty that Italy has to offer.
Conclusion
In conclusion, packing the right travel wardrobe for a trip to Italy in October is essential for a comfortable and stylish adventure. Understanding Italy's climate during this month, with its varying weather patterns and temperature ranges, allows travelers to prepare accordingly. Versatile clothing items are key, as they can be mixed and matched for different activities and occasions.
Lightweight and breathable fabrics are recommended, while layering becomes important for transitional weather. Additionally, it is crucial to have a few warmer items like jackets or sweaters on hand.
When it comes to footwear, choosing stylish yet practical options is paramount. The streets of Italy are often uneven cobblestone, so comfortable walking shoes or ankle boots are ideal choices. It's also necessary to respect cultural norms by wearing closed-toe shoes when visiting religious sites.
Understanding the local cultural etiquette is important as well; modest attire is expected in certain locations such as religious sites or upscale establishments. Having lightweight scarves or cardigans on hand allows visitors to easily cover their shoulders and knees when necessary.
Accessorizing plays a significant role in completing an Italian-inspired outfit. Essential accessories like a classic handbag, wide-brimmed hat, or stylish sunglasses can elevate any look effortlessly. For day trips and sightseeing, a small crossbody bag proves practical and convenient.
To pack efficiently and minimize wrinkles in luggage, rolling clothing items maximizes space while packing cubes or compression bags keep everything organized. Lastly, it's all about creating versatile outfits that suit different activities. The blog post provides specific mix-and-match styling ideas using the suggested clothing items and accessories so that readers can experiment and customize their own looks based on personal style preferences.
Frequently Asked Questions
What should I pack for Italy in October?
When packing for Italy in October, it is important to keep in mind that the weather can vary throughout the country. Generally, you can expect cooler temperatures and occasional rain showers during this month, so it is wise to pack layers. Bring a mix of sweaters, long-sleeve shirts, and lightweight jackets to adapt to changing conditions.
Additionally, pack a few pairs of pants or jeans, as well as some comfortable walking shoes for exploring cities or countryside. Don't forget an umbrella or raincoat to be prepared for any unexpected rainfall.
Can I wear white jeans in Italy in October?
Yes, you can absolutely wear white jeans in Italy in October! Contrary to older fashion rules, wearing white after Labor Day is no longer considered inappropriate in most places. White jeans can be versatile and stylish during this season if paired with appropriate clothing items.
You can create chic autumn looks by teaming them up with cozy sweaters or trendy blazers. Remember that layering is crucial due to the changeable weather, so adding complementary colors and textures will help you create fashionable outfits while staying comfortable.
What should I pack for Amalfi Coast in October?
When preparing for a trip to the Amalfi Coast in October, it's essential to consider both the coastal and inland areas' characteristics. The Amalfi Coast typically experiences mild temperatures during this time of year, ranging from 60°F (15°C) to 70°F (21°C).
It is advisable to pack lightweight clothing such as breathable tops, t-shirts, shorts or skirts made of light fabrics. Including a few pairs of long pants and light sweaters would be helpful too since evenings might become cooler near the coast.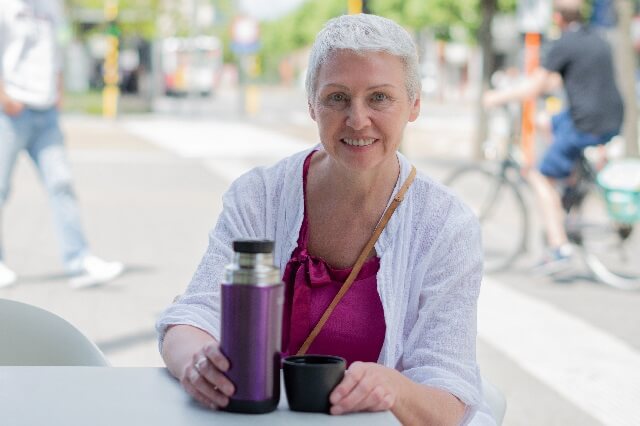 I'm a passionate traveler, writer, and Italophile. My fascination with Italy's history, art, and culture has led me on countless adventures across the Italian landscape. Through "I Live Italy," I share my love for this extraordinary country and aims to inspire others to explore its boundless beauty.