Traveling to Positano Italy is a dream for many travelers seeking the perfect blend of stunning landscapes, rich history, and vibrant culture. Nestled along the Amalfi Coast, this picturesque town is renowned for its pastel-colored houses perched on the cliffs, panoramic views of the Mediterranean Sea, and charming cobblestone streets.
Whether you're drawn to Positano's romantic ambiance, world-class cuisine, or luxurious beaches, this article will guide you through everything you need to know about planning an unforgettable trip to this captivating destination.
Positano isn't just any ordinary vacation spot – it's a quintessential Italian experience that captures the hearts of all who visit. With its allure as a popular celebrity haunt and its role as a backdrop in numerous films, Positano has cultivated a reputation as a must-visit destination for travelers seeking a taste of la dolce vita.
The town's irresistible charm and timeless beauty have made it an icon of the Italian coast, drawing in visitors from around the world.
In this guide, we'll delve into everything from how to get to Positano and where to stay once you arrive, to uncovering the must-see attractions and experiences that make this enchanting town so special. Whether you're a first-time traveler or a seasoned explorer looking for new insights into this idyllic paradise, our comprehensive overview will provide you with all the information you need to embark on an extraordinary journey to Positano.
Getting There
Getting to Positano can be an adventure in itself, but the stunning views and charming atmosphere make the journey well worth it. Here are some tips for reaching this beautiful destination:
Best modes of transportation: The most common way to reach Positano is by taking a ferry from Naples or Sorrento. Alternatively, you can also travel by bus or car from nearby cities. If you prefer a more scenic route, consider hiring a private boat transfer for a memorable arrival.
Tips for navigating the local transportation system: Once you arrive in Positano, the town is best explored on foot due to its narrow streets and limited parking options. Additionally, there are local buses that connect different areas of the town and surrounding regions.
Recommended routes for different travel preferences: If you're coming from Naples, taking a ferry provides breathtaking views of the Amalfi Coast from the water. On the other hand, traveling by bus offers a unique perspective of the region's landscape as you wind your way along the coastal cliffs.
Regardless of which mode of transportation you choose, arriving in Positano is an experience filled with anticipation and excitement as you catch your first glimpse of this picturesque Italian town.
Where to Stay
When visiting Positano, it is essential to carefully consider where to stay in order to make the most of your trip. The town offers a range of accommodation options to suit different budgets and preferences. From luxury hotels with breathtaking views of the Amalfi Coast to cozy bed and breakfasts nestled in the heart of Positano, there is something for every traveler.
Accommodation Options
Positano boasts a variety of accommodation options, including high-end hotels, charming guesthouses, and family-run bed and breakfasts. For those seeking a luxurious experience, there are five-star hotels perched on the cliffs overlooking the Mediterranean Sea. Travelers looking for a more intimate setting can opt for boutique guesthouses tucked away in the winding streets of Positano. Additionally, budget-friendly options such as hostels and affordable hotels are available for those looking to save on accommodations.
Best Areas to Stay
The best areas to stay within Positano are along its picturesque coastline or nestled within its charming streets. Many visitors prefer to stay near the Spiaggia Grande beach or along Via Cristoforo Colombo for easy access to shops, restaurants, and attractions. If you desire a quieter environment, consider staying in one of the residential neighborhoods further inland from the coast.
Budget-Friendly and Luxury Accommodation Recommendations
For travelers seeking a lavish experience, iconic luxury hotels such as Le Sirenuse and Hotel Poseidon offer unparalleled views and top-tier amenities. On the other hand, budget-conscious travelers can find affordable accommodations at family-owned guesthouses like Villa Mary Suites or B&B Casa Nilde. Regardless of your budget, it is crucial to book your stay well in advance due to the high demand for accommodations in Positano during peak travel seasons.
Must-See Attractions
The Church of Santa Maria Assunta
One of the most iconic and must-see attractions in Positano is the Church of Santa Maria Assunta. This stunning church dates back to the 10th century and is known for its beautiful dome and intricate, majolica-tiled dome. Visitors can also admire the 13th-century Byzantine icon of the Black Madonna, which is highly revered by locals and visitors alike. The church's prime location near the beach makes it a beloved landmark in Positano.
The Path of the Gods
For nature lovers and outdoor enthusiasts, a visit to the Path of the Gods is a must-do when in Positano. This scenic trail offers breathtaking views of the Amalfi Coast and takes hikers through picturesque villages, lush forests, and panoramic landscapes. The trail can be challenging in some parts, but the investment is well worth it for those seeking an unforgettable adventure in Positano.
Villa Rufolo
History buffs will appreciate a visit to Villa Rufolo, an ancient estate with stunning gardens that are said to have inspired Richard Wagner's opera Parsifal. The villa's architecture features a mix of Moorish and Gothic styles, creating a unique ambiance that captivates visitors. With its sweeping views of the Mediterranean Sea from terraced gardens, Villa Rufolo offers a glimpse into Positano's rich history and cultural heritage.
Exploring Positano
Positano is a charming town with a variety of activities and experiences to offer travelers. When exploring Positano, there are numerous opportunities for immersing yourself in the local culture and enjoying the stunning natural beauty of the Amalfi Coast. Here are some recommended activities and experiences to consider during your visit:
Take a leisurely stroll through the picturesque streets of Positano, admiring the colorful buildings and stunning coastal views.
Visit the Spiaggia Grande, the town's main beach, to relax on the pebbled shores and soak up the Mediterranean sun.
Explore the historic churches and architecture, including the beautiful Chiesa di Santa Maria Assunta with its iconic dome.
In addition to these must-see attractions, there are also unique cultural experiences and local customs to observe while in Positano. Consider participating in traditional events or festivals, such as religious processions or folklore celebrations. You may also have the opportunity to engage with local artisans and learn about traditional crafts such as ceramics or lace-making.
For those interested in shopping, dining, and nightlife, Positano offers a range of options to suit every taste. Explore boutique shops selling locally-made goods, dine at family-owned restaurants serving authentic Italian cuisine, and enjoy evenings sipping cocktails at seaside bars. Whether you prefer a laid-back atmosphere or vibrant energy, Positano has something for everyone.
Day Trips and Excursions
When visiting Positano, there are several nearby destinations that are worth exploring to enhance your travel experience. One popular day trip option is a visit to the historic city of Pompeii, which is located just a short distance from Positano. This archaeological site offers an incredible glimpse into ancient Roman life, with well-preserved ruins and artifacts that date back to 79 AD when Mount Vesuvius erupted.
Another worthwhile excursion is a trip to the Isle of Capri, known for its stunning natural beauty and glamorous atmosphere. Visitors can take a ferry from Positano to Capri and spend the day exploring picturesque villages, pristine beaches, and breathtaking viewpoints.
For those interested in experiencing more of Italy's charming coastal towns, a visit to the Amalfi Coast is highly recommended. The scenic drive along the coastline offers panoramic views of the sea and cliffs, with opportunities to stop in quaint fishing villages like Amalfi and Ravello. Additionally, outdoor enthusiasts may want to consider a hiking excursion along the Sentiero degli Dei (Path of the Gods), a renowned trail that winds through the rugged terrain above the Amalfi Coast.
To make the most of your time outside of Positano, it's essential to plan your excursions in advance and consider factors such as transportation options, tour availability, and opening hours for attractions. By carefully organizing your day trips and excursions, you can create a varied itinerary that showcases both the cultural richness of Positano and the surrounding areas.
| Day Trip Destination | Highlights |
| --- | --- |
| Pompeii | Well-preserved ruins from ancient Roman times |
| Isle of Capri | Breathtaking natural beauty and upscale ambiance |
| Amalfi Coast | Picturesque coastal towns and scenic viewpoints along the coastline |
Food and Drink
Positano, Italy is a haven for food and drink enthusiasts, offering a delightful array of traditional dishes and local specialties. The culinary scene in Positano is characterized by its emphasis on fresh, locally-sourced ingredients and time-honored recipes that have been passed down through generations. From charming family-owned trattorias to upscale dining establishments with panoramic views of the Amalfi Coast, there is no shortage of options for indulging in delectable Italian cuisine.
One must-try dish in Positano is the renowned "Scialatielli ai Frutti di Mare," a pasta dish made with thick, ribbon-like noodles and an assortment of fresh seafood such as mussels, clams, and shrimp. Another local favorite is "Insalata di Polipo," a refreshing salad featuring tender octopus marinated in lemon juice, olive oil, and parsley.
For those with a sweet tooth, the "Delizia al Limone" is a must-order dessert – a luscious lemon sponge cake that perfectly encapsulates the flavors of the region.
When it comes to dining out in Positano, visitors can look forward to savoring their meals against the backdrop of breathtaking coastal vistas. Many restaurants boast terraces overlooking the shimmering waters of the Tyrrhenian Sea, providing an idyllic setting for enjoying a leisurely meal paired with a glass of local wine.
Additionally, don't miss out on visiting one of Positano's lively bars or enotecas to sample regional wines like Lacryma Christi and indulge in classic cocktails infused with citrus flavors.
Given Positano's proximity to the sea and fertile countryside, visitors can expect an abundance of freshly-caught seafood and locally-grown produce featured in many dishes throughout the town. This emphasis on quality ingredients combined with skilled culinary techniques makes dining in Positano an unforgettable experience for food enthusiasts from around the world.
| Must-Try Dishes | Recommended Restaurants |
| --- | --- |
| Scialatielli ai Frutti di Mare | La Tagliata |
| Insalata di Polipo | Chez Black |
| Delizia al Limone | Ristorante da Vincenzo |
Practical Tips and Advice
When traveling to Positano, it is important to be prepared and informed in order to make the most of your trip. As a first-time traveler to this enchanting Italian town, there are a few practical tips and pieces of advice that can help enhance your experience.
One of the most important aspects to consider when visiting Positano is transportation. The town is not accessible by train, so the best modes of transportation to reach Positano are by bus or car.
Navigating the local transportation system can be a bit challenging, as the roads are narrow and winding, but there are many tour companies and private drivers available for hire. It's recommended to research different routes based on your travel preferences, whether it's taking a scenic drive along the Amalfi Coast or opting for a more convenient bus ride.
Additionally, when planning your trip to Positano, it's important to consider the high season from June to August when the town is bustling with tourists. If you prefer a quieter experience, consider visiting during the shoulder seasons in spring or fall. Packing light and comfortable clothing is also advised due to the steep terrain and cobblestone streets in Positano. And don't forget to bring comfortable walking shoes for exploring the town and its attractions.
Lastly, while traveling in any destination, it's essential to be mindful of safety precautions and local customs. Always be aware of your surroundings, especially in touristy areas where pickpocketing may occur.
It's also important to respect local customs and traditions, such as dressing modestly when visiting religious sites or greeting locals with a polite "buongiorno" (good morning). By being respectful and prepared with these practical tips and advice, you'll be able to fully enjoy your travel-to-italy/" target="_blank" rel="follow noopener">journey through Positano.
Conclusion
In conclusion, traveling to Positano Italy offers a unique and enchanting experience for visitors. From its stunning coastal views to its rich history and culture, there are plenty of reasons why Positano is a must-visit destination for travelers. Whether you're looking to relax on the beach, explore historical landmarks, or indulge in delicious Italian cuisine, Positano has something for everyone.
As highlighted throughout this guide, there are various transportation options for getting to Positano, including by car, bus, ferry, or private transfer. Once in town, visitors can choose from a range of accommodation options suited to different budgets and preferences. From luxury hotels with panoramic views to charming bed and breakfasts nestled in the hillsides, there's no shortage of places to stay in Positano.
Furthermore, the town's culinary scene is not to be missed, with traditional Italian dishes and fresh seafood being some of the highlights. Travelers are also encouraged to take advantage of the many day trip opportunities that exist within close proximity to Positano.
Overall, a trip to Positano promises unforgettable experiences and lasting memories that will make it a truly special destination for any traveler. So pack your bags and get ready to embark on your own journey to this picturesque Italian town.
Frequently Asked Questions
Where do you fly into for Positano Italy?
The closest airport to Positano, Italy is the Naples International Airport (NAP). From there, visitors can take a combination of bus, train, and ferry to reach Positano.
What is the best way to get to Positano?
The best way to get to Positano depends on individual preferences and travel plans. Some may opt for a private transfer from Naples or Sorrento, while others may choose to take a scenic drive along the Amalfi Coast. Additionally, ferry services operate between nearby towns and cities, providing another mode of transportation for reaching Positano.
Is it better to go to Positano or Amalfi?
Whether it's better to go to Positano or Amalfi largely depends on what each traveler is seeking in their vacation. Positano is known for its colorful buildings cascading down the cliffside, picturesque beaches, and charming atmosphere.
On the other hand, Amalfi offers its own unique attractions such as its stunning cathedral, historical center, and vibrant streets. Each destination has its own appeal, so it ultimately comes down to personal preferences when deciding between the two.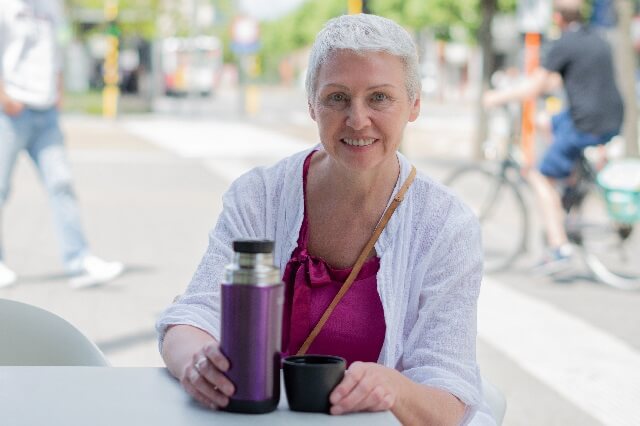 I'm a passionate traveler, writer, and Italophile. My fascination with Italy's history, art, and culture has led me on countless adventures across the Italian landscape. Through "I Live Italy," I share my love for this extraordinary country and aims to inspire others to explore its boundless beauty.