Paletta's Famous Italian Spaghetti Sauce and Meatballs
Sauce
4 tablespoons olive oil
2-3 cloves garlic, chopped
1 pound meat – your choice of pork chops, brisket,
veal chops or chicken (optional)
1 (6 ounce) can tomato paste, diluted with 3 cans hot water
1 (28 ounce) can peeled tomatoes, plus 1 can water
Paletta's Special Spices (available at Paletta's), to taste
Salt, to taste
Pepper, to taste
Dried or canned mushrooms (optional)
[wp_ad_camp_2]
Meatballs
1 pound veal, finely ground
1 pound pork, finely ground
1 cup breadcrumbs
1 egg
2 tablespoons chopped parsley
1 tablespoon grated Parmesan cheese
Salt, to taste
Pepper, to taste
Olive oil, to fry meatballs (optional)
To Serve
Mozzarella cheese
Submarine sandwich rolls
Grated Parmesan cheese
OR
1 pound spaghetti
Salt
Grated Parmesan or Romano cheese
For Sauce: Heat oil in a large saucepan over moderate heat. Add garlic and cook, stirring often, until lightly browned, about 1 minute. Add meat if desired, and cook until meat is browned on all sides. Add tomato paste diluted with hot water. Strain tomatoes through a sieve (or pass through a food mill), and add along with 1 can water. Add Paletta's Special Spices, salt and pepper. Add mushrooms if desired. (If using dried mushrooms, wash thoroughly and soak in hot water for about 20 minutes. Add mushrooms and the strained water in which they have been soaked.) Bring to a boil, cook for 10 minutes, then reduce the heat to low and let the sauce simmer gently for 2 hours, skimming off extra fat as it rises to the surface.
For Meatballs: In a large bowl combine the ground veal, ground pork, breadcrumbs, egg, parsley, cheese, salt and pepper, and enough hot water (about 1/3 cup) to allow the ingredients to mix well. Gently shape into balls, then cook in sauce or fry in olive oil, then add to sauce to complete the cooking.
To Finish Meatball Sub: Layer sauce, meatballs and mozzarella cheese on roll, and top with Parmesan.
To Finish Spaghetti and Meatballs: Add spaghetti and salt to a large pot of boiling water. Cook for 12 to 15 minutes, or until tender. Do not overcook. Put a layer of spaghetti on a large platter. Add a layer of sauce, then sprinkle with grated cheese. Repeat two more times, then mix with two forks. Serve, topped with Meatballs and Parmesan cheese. Serve immediately.
Makes 4-5 servings.

Carrabba's Italian Grill Meatballs
1/2 pound ground pork
1/2 pound ground veal
1/2 pound ground beef
2 large eggs, lightly beaten
1/4 cup grated Parmesan cheese
4 cloves garlic, finely chopped and sautéed
1/3 cup dry bread crumbs
1/4 cup finely chopped parsley
Salt and freshly ground pepper
1 cup pure olive oil
Combine all the ingredients in a medium bowl, except olive oil and season with salt and pepper to taste. Heat the oil in large sauté pan over medium-high heat. Roll the mixture into 1 1/2 inch balls and fry until golden brown, but not cooked through completely. (Remove with a slotted spoon to a plate lined with paper towels.)
(In general, most people use just ground beef in their spaghetti sauce. Instead Bobby suggests the combination of three meats: ground pork, ground veal, ground beef – the same meat combination used for meat loaf. Veal and pork can make this dish a little more expensive, but whether it is a meat sauce or a sauce with meatballs, the added depth of flavor truly surpasses that of a singular ground beef sauce.)
Spaghetti with Italian Meatballs in Tomato Sauce
INGREDIENTS:
2 1/2 cups brown breadcrumbs
5/8 cup milk
2 tbsp butter
1/4 cup whole-wheat flour
7/8 cup beef stock
14 ounce can chopped tomatoes
2 tbsp sugar
1 tbsp chopped fresh tarragon
1 large onion, chopped
4 cups ground steak
1 tsp paprika
4 tbsp olive oil
1 pound spaghetti, salt and pepper
Fresh tarragon sprigs, to garnish
PREPARATION:
Soak the breadcrumbs in the milk for 30 minutes.
Melt half the buttre in a pan. Stir in the flour and cook for 2 minutes. Gradually stir in the beef stock and cook, stirring , for a further 5 minutes. Add the tomatoes, tomato paste, sugar, and tarragon. Season well and simmer for 25 minutes.
Mix the onion, steak, and paprika into the breadcrumbs and season. Shape into 14 meatballs.
Heat the oil and remaining butter in a skillet and fry the meatballs until brown all over.
Place them in a deep casserole, pour the tomato sauce over the meatballs, cover and bake in a preheated oven at 350 F for 25 minutes.
Cook the spagetti in a pan of lightly salted boiling water for about 2to 3 minutes, until tender, but still firm to the bite.
Meanwhile, remove the meatballs from the oven and allow them to cool for 3 minutes.
Serve the spagetti, garnished with tarragon sprigs.
[wp_ad_camp_4]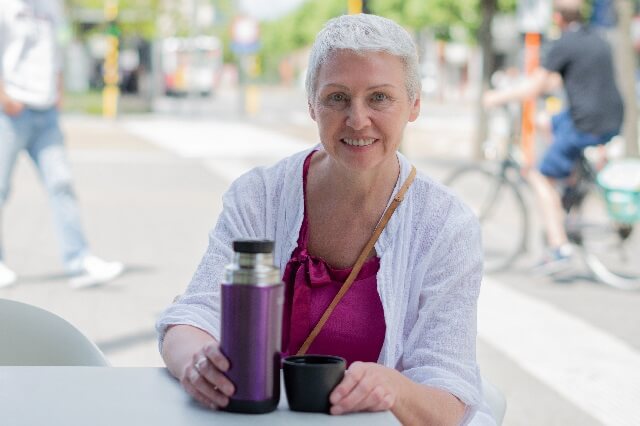 I'm a passionate traveler, writer, and Italophile. My fascination with Italy's history, art, and culture has led me on countless adventures across the Italian landscape. Through "I Live Italy," I share my love for this extraordinary country and aims to inspire others to explore its boundless beauty.