Italy travel in May offers the perfect opportunity to explore this enchanting country in all its glory. With the promise of great weather, smaller crowds, and lower prices, May is truly an ideal month to experience the magic of Italy. Whether you're dreaming of wandering through the historic streets of Rome, indulging in exquisite Tuscan cuisine, or cruising along the breathtaking Amalfi Coast, a trip to Italy in May will not disappoint.
In this article, we will delve into the wonders that await in Italy during this time and offer practical tips for planning your ultimate Italian adventure. Get ready to immerse yourself in the beauty, culture, and idyllic landscapes that make Italy an irresistible destination.
When it comes to experiencing Italy at its finest, May stands out as an exceptional month. Not only does it boast delightful weather with mild temperatures and plenty of sunshine, but it also offers a respite from the large crowds that frequent popular tourist spots during peak season.
Traveling in May allows you to enjoy iconic attractions without jostling through throngs of tourists and long lines. Additionally, lower prices can be found for accommodations and attractions during this shoulder season, making it more budget-friendly for travelers.
In the following sections of this article, we will take a closer look at some must-visit destinations during your Italy travel in May. From exploring ancient ruins and world-renowned art galleries in Rome and Florence to basking under the Mediterranean sun on the Amalfi Coast or getting lost amidst Venice's labyrinthine canals; there is something for every type of traveler.
We will also uncover hidden gems off the beaten path that offer a more authentic Italian experience away from the typical tourist hotspots. So pack your bags and get ready for an unforgettable journey through one of Europe's most captivating countries – Italy awaits.
Exploring the Eternal City
Rome, Italy's capital and a city steeped in history, is a must-visit destination during the month of May. As spring turns into summer, Rome comes alive with delightful weather, making it the perfect time to explore its iconic landmarks and charming streets. In this section, we will delve into the charm of Rome in May and highlight some of the must-visit attractions and activities.
One of the most famous attractions in Rome is the Colosseum, an ancient amphitheater that dates back to 70 AD. In May, visitors can take advantage of smaller crowds by visiting early in the morning or late in the afternoon to fully appreciate this architectural marvel.
Another must-see site is Vatican City, home to St. Peter's Basilica and the Sistine Chapel. In May, the lines for entry are shorter compared to peak tourist season, allowing visitors more time to admire these stunning artworks without feeling rushed.
Italians love spending time outdoors during the springtime, and visitors can embrace this lifestyle by exploring Rome's beautiful parks and gardens. The Villa Borghese Gardens offer a peaceful respite from the bustling city center and boast stunning views over Rome. Additionally, Piazza Navona comes alive during this time with street performers, artists showcasing their work, and outdoor cafes perfect for people-watching while enjoying a scoop of gelato.
| Attraction | Best Time to Visit |
| --- | --- |
| Colosseum | Early morning or late afternoon |
| Vatican City (St. Peter's Basilica and Sistine Chapel) | Mid-week and early morning |
| Villa Borghese Gardens | Throughout the day |
| Piazza Navona | Afternoon and evening |
A Taste of Tuscany
Florence, the capital city of Italy's enchanting region of Tuscany, is a must-visit destination for travelers in May. With its artistic masterpieces, stunning architecture, and charming streets lined with gelato shops and cafes, Florence offers a truly unforgettable experience. In addition to exploring this cultural hub, the Tuscan countryside surrounding the city is also worth venturing into during this time of year.
The Charms of Florence
Known as the birthplace of the Renaissance, Florence boasts a wealth of artistic treasures waiting to be discovered. A visit to the Uffizi Gallery is a must for art enthusiasts, where they can marvel at iconic works by Botticelli, Leonardo da Vinci, and Michelangelo. Walking across the historic Ponte Vecchio bridge transports visitors back in time, offering panoramic views of the Arno River and picturesque buildings lining its banks.
Dominating Florence's skyline is the magnificent Duomo, an architectural masterpiece that houses remarkable artwork within its walls. Climbing to the top of the dome rewards visitors with breathtaking views over the city and surrounding hills. Exploring Florence's narrow cobblestone streets also means stumbling upon hidden gems like quaint churches or outdoor markets filled with local produce and crafts.
Exploring the Tuscan Countryside
Just a short drive away from Florence lies peaceful landscapes dotted with vineyards and olive groves – this is the heartland of Tuscany. May brings mild temperatures perfect for exploring these idyllic surroundings. Visitors can venture into charming towns such as San Gimignano or Siena to immerse themselves in medieval history and enjoy local delights like Chianti wine and traditional Tuscan cuisine.
Wine lovers will find themselves in paradise while visiting Tuscany's famous wineries. May is an ideal month to indulge in wine tasting excursions that take you through rolling hills covered in vineyards bursting with fresh green leaves. This is also a time when festivals and wine events, such as the Chianti Classico Expo, take place, giving visitors the opportunity to try some of Italy's finest wines.
For those seeking outdoor activities amidst beautiful scenery, exploring Tuscany on foot or by bike is highly recommended. There are numerous walking and cycling trails that crisscross the region, offering breathtaking views of vineyards, ancient stone farmhouses, and picturesque landscapes that are teeming with vibrant flowers during May.
With its captivating city of Florence and the enchanting Tuscan countryside just waiting to be explored, traveling to Tuscany in May ensures an unforgettable Italian experience filled with art, history, delicious cuisine, and breathtaking landscapes.
The Maritime Magic of the Amalfi Coast in May
Italy's Amalfi Coast is known for its unparalleled beauty and charm, and visiting in May offers travelers the opportunity to experience its maritime magic at its finest. The stunning coastal towns of Positano, Amalfi, and Ravello come alive during this month with vibrant colors, delightful weather, and delicious seafood. Whether you're a nature lover, a history enthusiast, or simply seeking relaxation by the sea, the Amalfi Coast in May has something for everyone.
An Idyllic Coastal Escape
In May, the Amalfi Coast enjoys pleasant weather with temperatures ranging from the mid-60s to mid-70s Fahrenheit (18 to 24 degrees Celsius). This mild and sunny climate creates the perfect conditions for exploring the region's dramatic coastline. Take leisurely coastal walks along picturesque cliffside paths that offer breathtaking views of the Mediterranean Sea.
Indulge in boat tours that allow you to discover hidden coves and secluded beaches accessible only by water. And don't forget to savor moments of relaxation on some of Italy's most scenic shores.
Picturesque Towns and Delightful Cuisine
Positano, with its pastel-colored buildings cascading down steep hillsides toward the sea, is one of the Amalfi Coast's most beloved destinations. Explore its winding streets lined with boutiques selling locally made ceramics or fashionable clothing. Enjoy fresh seafood dishes at seaside restaurants while watching the sun set over Positano's iconic Spiaggia Grande beach.
Amalfi town offers historical sights such as the impressive Cathedral of Saint Andrew and charming shops filled with handcrafted paper products. Its waterfront is perfect for a traditional Italian meal accompanied by stunning coastal views.
Inland from the coast lies Ravello, a peaceful village renowned for its enchanting gardens and panoramic vistas over the Mediterranean Sea. Be sure to visit Villa Cimbrone and Villa Rufolo, which hosts an annual music festival in May, to immerse yourself in the area's artistic spirit.
A Destination for Food and Wine Enthusiasts
The Amalfi Coast is known for its culinary delights, and visiting in May allows you to indulge in the region's freshest ingredients. Take advantage of this time to savor traditional dishes like "spaghetti alle vongole" (spaghetti with clams) or "scialatielli ai frutti di mare" (local pasta with seafood). Pair your meals with local wines such as Furore Bianco or Lacryma Christi, made from grapes grown on the volcanic slopes of nearby Mount Vesuvius.
For wine enthusiasts, a visit to one of the many vineyards nestled in the hilly countryside surrounding the coast is a must. In May, these vineyards are abuzz with activity as they prepare for the upcoming harvest season. Take a guided tour to learn about the winemaking process and sample exquisite wines while enjoying breathtaking views of terraced vineyards against a backdrop of azure waters.
Visiting the Amalfi Coast in May is an opportunity to immerse yourself in its maritime magic. Whether you're seeking natural beauty, authentic cuisine, or simply a relaxing escape by the sea, this captivating destination will not disappoint.
Discovering the Floating City
Venice, often referred to as the "Floating City," is a destination that enchants visitors from around the world with its unique charm and breathtaking beauty. In May, Venice offers an even more magical experience, as the city is less crowded compared to peak tourist season. This section will unveil the romantic allure of Venice during the month of May, highlighting the quiet canals, beloved attractions, and offbeat experiences that make it a must-visit destination.
One of the main advantages of visiting Venice in May is the lack of crowds. While this enchanting city attracts millions of tourists throughout the year, May offers a quieter atmosphere to explore at a more leisurely pace.
Visitors can stroll through narrow alleys and bustling squares without feeling overwhelmed by throngs of people. The famous St. Mark's Square is particularly enjoyable during this time, where you can savor a cup of coffee or indulge in a delicious gelato while taking in the surroundings.
When exploring Venice in May, be sure to take advantage of serene gondola rides through the city's iconic canals. These traditional Venetian boats allow you to navigate through narrower waterways impassable by larger vessels, providing an intimate and authentic way to experience this romantic city. Additionally, visiting attractions like Doge's Palace and St. Mark's Basilica becomes even more delightful without long queues or overcrowding.
Venturing off the beaten path in Venice during May is also highly recommended. Explore lesser-known neighborhoods like Cannaregio or Dorsoduro, where you can escape from the bustling tourist areas and discover hidden gems such as local artisan shops and charming cafes. These peaceful corners offer a glimpse into daily life in Venice away from the hustle and bustle.
Eager travelers who want to immerse themselves further into Venetian culture should consider attending unique events that take place in May. The Festa della Sensa is one such event held annually on Ascension Day, where the city celebrates its historical ties to the sea with a procession of boats and a symbolic ceremony in St. Mark's Square. This festival offers visitors an opportunity to witness Venice's rich maritime heritage.
Experience the romantic charm and tranquility of Venice in May, when the city reveals its true allure. Whether you're wandering along its canals, exploring hidden corners, or participating in local festivals, this captivating destination promises an unforgettable experience that will linger in your memories for years to come.
Chasing the Real Italy
Italy is known for its popular destinations like Rome, Florence, and Venice, but there is so much more to discover beyond these major cities. For travelers seeking a more authentic experience, venturing off the beaten path in Italy can be incredibly rewarding. May is the perfect time to explore these lesser-known gems, as the weather is ideal and there are fewer tourists compared to peak summer months.
One of the offbeat destinations worth visiting in May is Cinque Terre. This collection of five colorful fishing villages along the Italian Riviera offers breathtaking views of rugged coastlines and terraced vineyards. Travelers can hike between the villages or take a scenic train ride, enjoying the pleasant temperatures and avoiding the larger crowds that usually arrive later in the summer.
Lake Como is another hidden gem that shines in May. Nestled among snow-capped mountains and surrounded by charming towns, Lake Como offers tranquility and natural beauty. Visitors can explore picturesque villas, take boat rides on the lake, or simply relax on one of the many lakeside promenades. With fewer tourists around, it's easier to immerse yourself in the local culture and truly appreciate the charm of this enchanting region.
Umbria, often referred to as "the green heart of Italy," is another off-the-beaten-path destination that rewards travelers with its unspoiled landscapes and medieval hilltop towns. May is an excellent time to visit Umbria as it showcases blooming wildflowers and lush greenery throughout its countryside.
Travelers can visit historic sites such as Assisi with its famous basilica dedicated to Saint Francis or stroll through charming towns like Orvieto or Montefalco. The lack of crowds allows visitors to connect with locals and experience traditional festivals that are often held during this month.
By exploring these lesser-known destinations in Italy during May, travelers can escape from the larger tourist crowds and experience a more authentic side of Italian life. With fewer tourists, it's easier to engage with locals, discover hidden gems, and appreciate the country's rich history, culture, and natural beauty.
So why not venture off the beaten path this May and chase the real Italy? You won't be disappointed by the unique experiences that await you in these hidden treasures of Italy.
Celebrating Italian Festivals in May
Italy is known for its vibrant festivals and events that showcase the country's rich culture and traditions. May is a particularly special time to experience these celebrations, as various cities come alive with colorful parades, music performances, and delicious food. In this section, we will dive into the exciting world of Italian festivals in May, highlighting a few events that should not be missed.
One of the most enchanting festivals in May is the Infiorata flower festival in Spello. This small town in Umbria transforms its streets into beautiful floral carpets, created by locals using thousands of petals. The intricate designs depict religious scenes or cultural themes and visitors can witness the process of creating these stunning masterpieces. The festival also includes live music performances, traditional dances, and local culinary delights.
Another captivating event during May is the Festa della Sensa in Venice. This centuries-old tradition celebrates the relationship between Venice and the sea. It involves a symbolic wedding ceremony between Venice and the Adriatic Sea, where the Mayor throws a gold ring into the water to represent prosperity and luck for the city. Visitors can witness this unique event while enjoying boat races, concerts, and historical reenactments.
For those seeking something more adventurous, the Corsa dei Ceri in Gubbio is an exhilarating celebration not to be missed. Held on May 15th each year, this race features three teams carrying huge wooden ceri (candles) through the narrow streets of Gubbio up to Mount Ingino. It is a thrilling spectacle that demonstrates both tradition and competition as each team strives to reach the mountaintop first.
Travelers planning their trip to Italy in May have ample opportunities to immerse themselves in these lively festivals across various regions. It's recommended to check local event calendars beforehand to ensure you don't miss out on any exciting festivities during your visit.
Infiorata flower festival in Spello
Festa della Sensa in Venice
Corsa dei Ceri in Gubbio
Practical Tips for Traveling to Italy in May
Traveling to Italy in the month of May can be a wonderful experience, but it's important to be prepared and plan ahead. Here are some practical tips that will help make your trip smooth and stress-free.
Firstly, when it comes to booking accommodations, it's advisable to make your reservations well in advance. May is a popular time to visit Italy, so hotels and vacation rentals tend to fill up quickly. By booking early, you ensure that you have a wide range of options to choose from and can secure the best prices.
When packing for your trip, be sure to bring comfortable clothing suitable for mild temperatures. May weather in Italy can vary depending on the region, but generally, it offers pleasant temperatures ranging from the mid-60s to mid-70s Fahrenheit (around 18-24 degrees Celsius). It's also a good idea to pack an umbrella or lightweight rain jacket as there may be occasional showers.
Navigating transportation in Italy is relatively easy thanks to its extensive public transportation system. Trains are a popular option for getting around the country, offering convenience and efficiency. However, it's recommended to book train tickets in advance, especially for popular routes like Rome-Florence or Florence-Venice, as they can sell out quickly during peak travel periods.
Another practical tip is to check for any regional holidays or closures that may occur during May. Some attractions or shops may have limited hours or be closed entirely on certain holidays or local festas. It's always wise to double-check opening times and plan accordingly so you don't miss out on any must-see sights.
Furthermore, don't forget that Italy is known for its delicious cuisine and regional specialties. Take advantage of the abundance of fresh produce by indulging in seasonal dishes such as artichokes in Rome or strawberries in Naples. May is also an ideal time for sipping Italian wines, so seize the opportunity to try local selections in various regions.
Lastly, it's always a good idea to learn a few basic Italian phrases before your trip. While many Italians speak English, especially in tourist areas, making an effort to communicate in their native language can go a long way in building rapport and receiving excellent service.
By following these practical tips, you'll be well-prepared for an unforgettable journey through Italy in May. With its perfect weather, fewer crowds, and lower prices, this month offers the ultimate Italian experience that will surely leave you with treasured memories.
Conclusion
In conclusion, traveling to Italy in May truly offers the ultimate Italian experience. The combination of perfect weather, smaller crowds, and lower prices make this month an ideal time to explore the rich cultural heritage and stunning landscapes of this beautiful country.
Whether you choose to immerse yourself in the history and charm of Rome, wander through the streets of Florence and taste the delectable cuisine in Tuscany, soak up the sun along the picturesque Amalfi Coast, or get lost in the enchanting canals of Venice, May provides a unique opportunity to enjoy these iconic destinations without the overwhelming throngs of tourists found during peak season.
Moreover, venturing off the beaten path to lesser-known gems like Cinque Terre, Lake Como, or Umbria allows for a more intimate and authentic Italian experience. The tranquility and solitude found in these hidden treasures create lifelong memories that cannot be replicated during busier months.
Don't miss out on experiencing some of Italy's vibrant festivals in May either. From the stunning Infiorata flower festival in Spello to the traditional Corsa dei Ceri in Gubbio, these events showcase local traditions, delicious food, and an infectious atmosphere of celebration.
Frequently Asked Questions
Is May good time to visit Italy?
May is generally a great time to visit Italy. The weather is usually pleasant, with spring in full swing and temperatures ranging from cool to warm, depending on the region. The major tourist attractions are less crowded compared to the peak summer season, making it easier to explore and enjoy the sights without long queues or overcrowding.
Additionally, May in Italy brings colorful blooms and lush landscapes, enhancing the overall beauty of the country. Keep in mind that it's always wise to check specific events or holidays that may influence your plans.
Is Italy warm enough in May?
In May, Italy experiences comfortably warm temperatures across most of the country. While it can still be slightly cooler in northern regions and at higher elevations like the Italian Alps or Dolomites, southern parts of Italy such as Sicily and Puglia enjoy pleasantly warm weather during this time.
With average temperatures ranging from the mid-60s°F (around 18-20°C) up to around 80°F (27°C), you can typically expect mild days and cool evenings throughout Italy in May.
Which part of Italy is best to visit in May?
Choosing the best part of Italy to visit in May largely depends on personal preferences and interests. However, some regions particularly shine during this month. Tuscany is a popular choice due to its breathtaking countryside views, vineyards, and charming towns like Florence and Siena.
The Amalfi Coast is another fantastic option with its stunning coastal scenery, picturesque villages perched on cliffsides, and opportunities for hiking along scenic trails overlooking the Mediterranean Sea. If you're interested in historical sites and ancient ruins, consider exploring Rome or Pompeii during your visit in May when the weather is pleasant but not too hot for extensive sightseeing adventures. Ultimately, no matter which part of Italy you choose for your trip in May, the country offers a rich combination of culture, history, natural beauty, and culinary delights that will make your visit memorable regardless of location.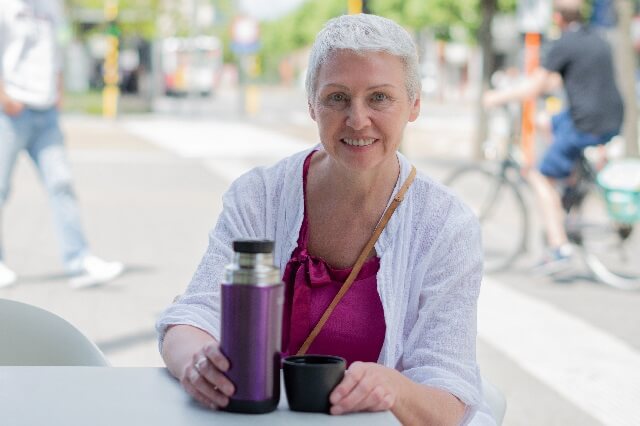 I'm a passionate traveler, writer, and Italophile. My fascination with Italy's history, art, and culture has led me on countless adventures across the Italian landscape. Through "I Live Italy," I share my love for this extraordinary country and aims to inspire others to explore its boundless beauty.