Italy in August is a dream destination for many travelers seeking to experience the best of summer in one of the most beautiful countries in the world. With its stunning coastlines, rich history, picturesque landscapes, and delectable cuisine, Italy offers an unforgettable experience that will leave you longing for more.
As the temperatures rise and the sun shines brightly, Italy comes alive with a vibrant energy that is hard to resist. Whether you're looking to relax on pristine beaches, explore ancient ruins, indulge in mouthwatering meals, or simply immerse yourself in the unique culture and atmosphere of this enchanting country, Italy has something to offer everyone.
One of the highlights of visiting Italy in August is the opportunity to explore its captivating beach towns along the Italian Riviera. From the glamorous Portofino to the colorful Cinque Terre and breathtaking Amalfi Coast, these coastal gems offer idyllic settings for swimming, sunbathing, and soaking up the lively Mediterranean ambiance.
Rome, with its timeless allure and historical significance, also beckons travelers during this month. The Colosseum, Roman Forum, and Vatican City are just a few of the iconic landmarks that await exploration. Additionally, local events and festivals taking place throughout August provide a unique insight into Rome's vibrant cultural scene.
In Tuscany, picturesque landscapes dotted with vineyards and medieval towns offer a serene escape from the bustling cities. Florence's Renaissance architecture delights art enthusiasts while Siena's historic center captures the essence of old-world charm. Wine tasting experiences further enhance your visit to this region known for its culinary excellence.
August is also an ideal time to discover Venice's magical atmosphere. As visitors stroll through narrow alleys and cross charming bridges over picturesque canals, they can take in world-renowned attractions like St. Mark's Square and Rialto Bridge. Attending events such as the Venice International Film Festival adds another layer of excitement to this enchanting city.
On the enchanting island of Sicily, a paradise awaits those seeking pleasant weather and cultural richness. From the ancient ruins of Palermo to the breathtaking views of Taormina, visitors can delve into history while enjoying stunning beaches and delectable cuisine that reflects the island's diverse influences.
Italy in August is also a haven for food and wine enthusiasts. Regional specialties like prosciutto di Parma and truffles from Umbria tantalize taste buds, while festivals dedicated to food and wine allow visitors to savor authentic flavors. Popular foodie destinations such as Emilia-Romagna, Piedmont, and Umbria offer a culinary adventure like no other.
As you plan your trip to Italy in August, there are some important considerations to keep in mind. Booking accommodations and flights well in advance is essential during this peak tourist season. It's also advisable to research less crowded areas to avoid the busiest tourist hotspots. And with the summer heat, staying cool and hydrated is crucial for enjoying your time in Italy fully.
Italy's August paradise awaits those seeking an unforgettable summer getaway. Whether you're drawn to its captivating beach towns, rich historical gems, picturesque landscapes, magical cities, or delectable cuisine, Italy offers something for every traveler. So pack your bags, immerse yourself in la dolce vita, and let Italy work its undeniable charm on you this August.
Exploring the Beach Towns of the Italian Riviera
Italy's stunning coastline is a major draw for tourists, particularly during the month of August. The Italian Riviera, with its picturesque beach towns and vibrant coastal atmosphere, is a must-visit destination for those seeking a summer getaway. Whether you're looking to relax on the sandy shores or explore charming seaside villages, the Italian Riviera offers something for everyone.
One of the most popular beach towns along the Italian Riviera is Portofino. This glamorous fishing village is known for its colorful buildings, luxury yachts, and beautiful harbor. Visitors can spend their days soaking up the sun at Paraggi Beach or take a stroll along the waterfront promenade lined with high-end boutiques and seafood restaurants.
Another must-visit destination on the Italian Riviera is Cinque Terre. Comprised of five villages – Monterosso al Mare, Vernazza, Corniglia, Manarola, and Riomaggiore – Cinque Terre offers stunning views of colorful houses perched atop cliff sides. Visitors can hike between the villages along scenic trails that overlook the crystal-clear waters of the Mediterranean.
For those seeking a more lively atmosphere, head to the Amalfi Coast. This stretch of coastline is renowned for its dramatic cliffs, vibrant towns like Positano and Amalfi themselves, and idyllic beaches like Spiaggia del Fornillo and Marina Grande. Don't miss out on visiting Villa Rufolo in Ravello or taking a boat tour to discover hidden coves and grottoes.
Whether you choose Portofino, Cinque Terre, or Amalfi Coast as your destination along the Italian Riviera in August, make sure to indulge in activities such as swimming in turquoise waters or sunbathing on pristine sandy beaches. Immerse yourself in the vibrant coastal atmosphere while savoring delicious seafood dishes and enjoying refreshing gelato from local shops.
Discovering the Historical Gems in Rome
Rome, the eternal city, offers a captivating blend of history, culture, and art that makes it a must-visit destination for travelers. In August, Rome is at its finest, with pleasant weather and a vibrant atmosphere. This section will explore the historical gems that await visitors in Rome during this month.
One cannot miss iconic landmarks like the Colosseum, Roman Forum, and Vatican City when visiting Rome. These sites offer a window into the rich history of the city and are best experienced during August when the weather is warm and conducive to outdoor exploration. Marvel at the grandeur of the Colosseum as you imagine ancient gladiatorial battles taking place within its walls.
Explore the ruins of the Roman Forum and immerse yourself in the remnants of ancient civilization. A visit to Vatican City is a must to witness masterpieces such as Michelangelo's Sistine Chapel and St. Peter's Basilica.
In addition to these famous landmarks, August also offers visitors a chance to partake in local events or festivals happening in Rome during this month. One popular event is "Estate Romana," which translates to "Roman Summer." It encompasses various cultural activities including open-air concerts, film screenings, theater performances, and art exhibitions held across different venues in Rome. This festival provides a unique opportunity for travelers to engage with local artists and immerse themselves in Rome's artistic scene.
To fully appreciate the historical significance of Rome while avoiding crowds and extreme heat in August, it is recommended to plan visits early in the morning or later in the afternoon. This way, you can beat some of the tourist rush while enjoying cooler temperatures. It is also advisable to purchase skip-the-line tickets for popular attractions or consider hiring a knowledgeable tour guide who can provide insights into Rome's history and architecture.
Unveiling the historical gems of Rome during your visit in August will not only leave you awe-inspired but also create lasting memories of this mesmerizing city. From ancient ruins to vibrant festivals, Rome offers a perfect combination of history, culture, and excitement for any traveler.
Unveiling the Serene Beauty of Tuscany
Tuscany is often described as a serene paradise with its picturesque landscapes, charming medieval towns, and temperate climate. In the month of August, this region in central Italy truly shines, offering visitors an unforgettable experience. Whether you are a fan of art, history, wine, or simply breathtaking scenery, Tuscany has it all.
One of the must-visit cities in Tuscany is Florence, a hub of Renaissance art and architecture. Take a stroll through the streets lined with magnificent palaces and cathedrals, visit world-renowned museums like the Uffizi Gallery and Accademia Gallery to see masterpieces by Michelangelo and Botticelli, and don't forget to climb to the top of Brunelleschi's Dome for unparalleled views of the city.
Another gem in Tuscany is Siena, famous for its medieval charm and annual horse race known as the Palio di Siena. Explore the narrow streets lined with beautiful historic buildings, visit the magnificent Siena Cathedral adorned with stunning marble facades and intricate mosaics, and indulge in local delicacies at one of the many inviting restaurants.
Of course, no trip to Tuscany would be complete without visiting Pisa and admiring its iconic leaning tower. Take a leisurely walk along the Arno River before discovering other architectural treasures in Pisa's Piazza dei Miracoli such as the Baptistery and Camposanto Monumentale.
For those seeking a slower pace amidst nature's beauty, a drive through Tuscany's countryside will offer endless vineyards, rolling hills covered in sunflowers or cypress trees, and charming hilltop towns like San Gimignano and Montepulciano. Stop by local wineries along the way for wine tastings or sample typical Tuscan dishes at agriturismos – farmhouses that also serve traditional meals made with fresh local ingredients.
In summary,
| Tuscan Cities | Attractions |
| --- | --- |
| Florence | Renaissance art, Uffizi Gallery, Accademia Gallery, Brunelleschi's Dome |
| Siena | Medieval charm, Siena Cathedral, Palio di Siena horse race |
| Pisa | Leaning Tower of Pisa, Arno River, Piazza dei Miracoli |
Tuscany in August is truly a destination that offers something for everyone. Whether you are seeking cultural exploration in the bustling cities or tranquility amidst nature's beauty, this region will not disappoint. Plan your trip in advance to make the most of your time and prepare to be captivated by the serene beauty of Tuscany.
Experiencing the Magical Atmosphere of Venice
Venice, often referred to as the "Floating City," is a truly magical and unique destination to experience in the month of August. This section will delve into why August can be a great time to visit Venice, recommend top attractions to explore, and suggest unique experiences that shouldn't be missed.
In August, Venice comes alive with its vibrant atmosphere and numerous events. The weather is generally warm and pleasant, making it ideal for exploring the city's charming streets and picturesque canals. One of the highlights during this month is the Venice International Film Festival, which takes place at the end of August and attracts celebrities from around the world. It is a fantastic opportunity to catch glimpses of your favorite actors or directors while enjoying world-class cinema.
When visiting Venice in August, make sure to explore its top attractions. St. Mark's Square, known as Piazza San Marco in Italian, is one of the most famous squares in the world and should not be missed. Marvel at the intricate architecture of St. Mark's Basilica or take a climb up the Campanile di San Marco for stunning panoramic views of Venice.
Another must-visit site is the Rialto Bridge, an iconic landmark that spans across the Grand Canal. Built in 1591, it offers breathtaking views and leads you straight into bustling Rialto Market where you can immerse yourself in Venetian culture by trying local delicacies and shopping for fresh produce.
To truly experience the magic of Venice, consider taking a gondola ride along its enchanting canals. Glide through narrow waterways while being serenaded by gondoliers and admire historic buildings with their unique architectural styles such as Gothic palaces and Byzantine facades.
Overall, August offers a wonderful opportunity to experience the magical atmosphere of Venice. From attending prestigious film festivals to exploring iconic landmarks and floating along romantic canals on a gondola ride, there are endless possibilities for an unforgettable visit to this captivating city.
Exploring the Enchanting Island of Sicily
Sicily is an enchanting island located just off the southern tip of mainland Italy. With its pleasant weather and rich cultural heritage, it is a perfect destination to explore in August. From ancient ruins to stunning beaches and mouthwatering cuisine, Sicily has a lot to offer for travelers seeking both relaxation and adventure.
Discovering the Cultural Treasures
One of the highlights of visiting Sicily in August is the chance to explore its historical sites and cultural treasures. The capital city of Palermo is a vibrant hub with its mix of Arab, Norman, and Baroque architectural styles. Visitors can explore landmarks like Palazzo dei Normanni, which houses the Palatine Chapel with its magnificent mosaics, or delve into history at the Catacombs of the Capuchins.
Another must-visit destination in Sicily is Taormina, known for its ancient Greek-Roman theater overlooking Mount Etna. This picturesque town offers breathtaking views, charming streets lined with shops and cafes, and access to beautiful beaches.
Embracing Nature's Bounty
Nature lovers will find plenty to admire in Sicily's diverse landscapes. One cannot miss the opportunity to visit Mount Etna, Europe's tallest active volcano. In August, hiking excursions are popular as the weather is favorable for exploration.
The journey up the volcano offers panoramic views of lava flows and unique geological formations. Another natural wonder not to be missed is Scala dei Turchi, a striking white cliff formation located near Agrigento. Its distinctive steps-like appearance plunging into crystal-clear turquoise waters makes it a surreal sight.
Savoring Culinary Delights
Sicily's cuisine is renowned for its flavorsome dishes influenced by various civilizations that have left their mark on this island throughout history. Visitors can enjoy traditional Sicilian specialties such as arancini (fried rice balls), pasta alla Norma (pasta with eggplant and ricotta cheese), and cannoli (crispy pastry tubes filled with sweet ricotta cream).
In August, the island comes alive with food festivals celebrating local produce like tomatoes, pistachios, and seafood. These festivals provide an opportunity to indulge in Sicilian delicacies while experiencing the vibrant atmosphere of street markets and live performances.
With its fascinating history, stunning natural landscapes, and delectable cuisine, Sicily is a captivating destination to explore in August. Whether you are seeking cultural immersion or relaxation on beautiful beaches, this enchanting island offers something for everyone. Plan your trip to Sicily now and get ready to create unforgettable memories in Italy's paradise.
Indulging in the Food and Wine of Italy in August
Italy is famous for its delicious cuisine and world-renowned wine, making it a paradise for food and wine lovers. August is an excellent time to indulge in the culinary delights of Italy as the country celebrates its rich gastronomic traditions through various regional specialties and food festivals. In this section, we will explore the diverse flavors that Italy has to offer during this month.
Regional Specialties
Each region in Italy boasts its own unique culinary specialties, and August is the perfect time to savor them. In Emilia-Romagna, known as the "food valley" of Italy, you can taste authentic Parmigiano Reggiano cheese, balsamic vinegar from Modena, and traditional cured meats like prosciutto di Parma. Piedmont is renowned for its truffles, hazelnuts, and wines such as Barolo and Barbaresco. Umbria offers delectable dishes like porchetta (slow-roasted pork), black truffles, and savory lentil soups.
Festivals Dedicated to Food and Wine
August in Italy is truly a treat for foodies as numerous festivals celebrate regional delicacies. The Sagra del Pesce (Fish Festival) in Camogli on the Italian Riviera attracts seafood enthusiasts who can savor freshly caught fish prepared in various mouthwatering ways.
The Pranzo dell'Assunta in Palermo honors Sicilian cuisine with outdoor feasts consisting of local specialties like arancini (stuffed rice balls) and cannoli (traditional pastries). In Tuscany's Chianti region, the Festa dell'Uva celebrates the grape harvest with wine tastings, music, and parades.
Popular Foodie Destinations
If you are looking for a true foodie destination in Italy during August, Emilia-Romagna should be at the top of your list. Besides its delicious food, the region is home to renowned wineries where you can sample some of the best Italian wines like Lambrusco and Sangiovese.
Piedmont is a paradise for wine lovers as well, with vineyards that produce exceptional Barolos and Barbarescos. Umbria's charming towns like Assisi and Spoleto not only offer beautiful scenery but also mouthwatering local dishes that pair perfectly with regional wines.
Italy in August offers a culinary journey that will delight even the most discerning food and wine enthusiasts. From indulging in regional specialties to immersing yourself in lively food festivals, there is no shortage of culinary experiences to enjoy in this beautiful country during the summer month. So pack your appetite and prepare to savor the flavors of Italy while creating unforgettable memories along the way.
Planning Tips and Considerations for Traveling to Italy in August
As you plan your trip to Italy in August, it's important to consider some practical tips and considerations to ensure a smooth and enjoyable vacation. August is peak tourist season in Italy, with many locals taking their own vacations, so it's essential to plan ahead and make necessary arrangements.
Firstly, be sure to book your accommodations and flights well in advance. Popular destinations can fill up quickly during this time of year, so reserving your accommodations early will secure your preferred choices. Additionally, booking your flights early can help you find better deals and avoid last-minute price surges.
Keep in mind that August is when many Italians take their summer holidays as well. This means that some shops, restaurants, and attractions may have limited hours or even be closed temporarily. It's a good idea to research the opening times of specific places you want to visit and plan accordingly.
Also, keep in mind that popular tourist attractions can get extremely crowded, especially on weekends and holidays. To avoid long lines and wait times, consider purchasing skip-the-line tickets or planning your visits for less busy times of day.
Another consideration for traveling in August is the heat. Italy experiences high temperatures during this month, particularly in southern regions like Sicily. Be prepared for hot weather by packing lightweight clothing made from breathable fabrics and wearing sunscreen regularly. Stay hydrated by carrying a water bottle with you at all times and taking advantage of opportunities to rest and cool down indoors or under shade.
Lastly, if you want to explore some of Italy's iconic cities but prefer a quieter experience away from the crowds, consider venturing off the beaten path to smaller towns or less busy neighborhoods within larger cities. This way, you can still experience the charm and beauty of Italy while avoiding the overwhelming tourist masses.
By following these planning tips and considerations for traveling to Italy in August, you can have an unforgettable summer vacation without any unnecessary stress or complications. Start making your arrangements early, stay flexible, and remember to take breaks and stay cool during the hot weather. Italy's August paradise awaits you.
Conclusion
In conclusion, Italy in August truly offers a paradise-like experience for travelers. Whether it's exploring the enchanting beach towns of the Italian Riviera, delving into the historical gems of Rome, savoring the serene beauty of Tuscany, experiencing the magical atmosphere of Venice, or indulging in the cultural richness of Sicily, there is something for everyone in this diverse and captivating country.
During August, visitors can bask in the warm weather and enjoy activities like swimming, sunbathing, wine tasting, and exploring ancient ruins. From iconic landmarks like the Colosseum and Vatican City to stunning landscapes in Tuscany and vibrant festivals dedicated to food and wine throughout Italy, there is no shortage of things to see and do.
While Italy may be bustling with tourists during August, careful planning can help travelers avoid crowded areas. Booking accommodations and flights in advance is recommended, as well as exploring lesser-known regions or attractions. It's also important to stay cool and hydrated during the summer heat by taking breaks indoors or enjoying a refreshing gelato from one of Italy's many gelaterias.
If you're still deciding on your summer getaway destination, consider Italy as your top choice. The paradisiacal charms of this country are unmatched during August. So pack your bags and immerse yourself in its rich history, breathtaking landscapes, sumptuous cuisine, and warm hospitality. Don't hesitate to share your experiences or ask any questions about traveling to Italy – your next unforgettable adventure awaits.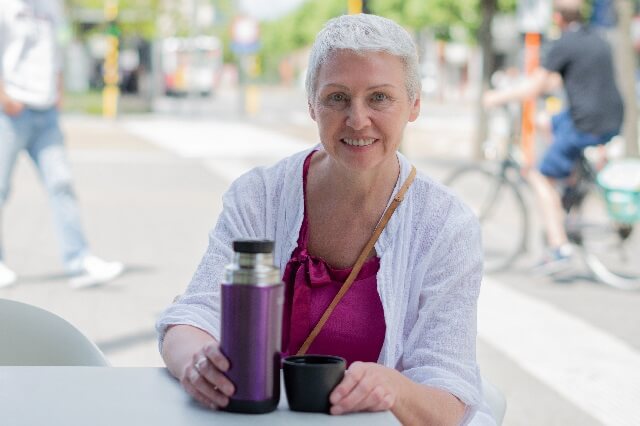 I'm a passionate traveler, writer, and Italophile. My fascination with Italy's history, art, and culture has led me on countless adventures across the Italian landscape. Through "I Live Italy," I share my love for this extraordinary country and aims to inspire others to explore its boundless beauty.