Florence, Italy, the birthplace of the Renaissance, captivates visitors with its rich history, architectural wonders, and vibrant culture. Whether you're an art enthusiast, a history buff, or simply in search of a charming European getaway, Florence offers something for everyone. But with so much to see and do, it's important to choose the best month to maximize your experience in this enchanting city.
Situated in central Italy, Florence experiences distinct seasons that each bring their own unique charm to the city's landscapes and cultural events. From the winter festivals and museums free of crowds in January to the vibrant parades and special exhibitions honoring Florence's artistic heritage in February, each month presents a different flavor of the city.
March brings the blooming of flowers and trees as spring takes hold in Florence. The pleasant weather is perfect for strolling through its enchanting streets and gardens. April celebrates Florence's Renaissance heritage with April being Leonardo da Vinci's birth month. It offers an opportunity to explore iconic masterpieces at the legendary Uffizi Gallery and participate in outdoor concerts held in historic venues throughout the city.
In May, as temperatures rise and summer approaches, Florence reveals its warmest side. Alfresco dining becomes a delightful pastime as locals and tourists alike bask in the beauty of scenic spots like the Boboli Gardens. The famous Maggio Musicale Fiorentino festival enchants audiences with world-class opera performances and classical concerts.
Regardless of when you choose to visit Florence, it will surely leave an unforgettable impression on your senses. So whether you prefer cooler temperatures during autumn or blossoming flowers in springtime, plan your trip wisely to ensure that you make the most out of your time exploring this magical Italian city.
January
January is a wonderful month to visit Florence, Italy and discover its winter charm. As the low tourist season, January allows visitors to truly immerse themselves in the local culture without the crowds typically found during peak travel months. This provides a unique opportunity to experience Florence in a more authentic way.
One of the highlights of visiting Florence in January are the festive events that take place. Epiphany, celebrated on January 6th, marks the end of the Christmas season and is a significant holiday in Italy. On this day, you can witness the traditional La Befana festivities, where an old witch figure delivers gifts and sweet treats to children throughout the city. It's a fascinating cultural event that showcases Italian traditions and folklore.
For art enthusiasts, January is an ideal time to explore Florence's renowned museums and galleries. With fewer tourists around, you can fully appreciate masterpieces such as Botticelli's "The Birth of Venus" at the Uffizi Gallery or Michelangelo's "David" at Galleria dell'Accademia without battling through crowds. This allows for a more immersive art experience and the opportunity to spend quality time contemplating these iconic works.
Visiting Florence in January offers a unique chance to experience its winter charm while avoiding large crowds. The combination of festive events and uncrowded museums makes it a perfect month for art lovers and those seeking an authentic cultural experience. Whether you're captivated by La Befana or excited about exploring Florence's artistic treasures, January promises a memorable trip to this magical city.
February
In the month of February, Florence comes alive with a celebration of love and art. Known as one of the most romantic cities in the world, Florence is the perfect destination for couples looking to create unforgettable memories. Valentine's Day in Florence is a truly magical experience, with the city adorned in decorations and offering a range of romantic activities for couples to enjoy.
One highlight of February in Florence is the start of Carnevale, an annual festival celebrated throughout Italy. In Florence, Carnevale kicks off with vibrant parades and extravagant costume parties. The streets are filled with laughter and excitement as locals and tourists alike join in on the festivities. It's the perfect time to immerse yourself in the lively atmosphere and witness the artistic expression that comes alive during this time.
Alongside the romantic ambiance and lively celebrations, February also offers special exhibitions and events honoring Florence's artistic heritage. Museums and galleries showcase unique displays that pay tribute to renowned artists such as Michelangelo, Leonardo da Vinci, and Botticelli. This presents a fantastic opportunity for art enthusiasts to delve deeper into Florence's rich cultural scene without having to navigate through crowds.
For those seeking both love and art intertwined together, February is undoubtedly an ideal month to travel to Florence. Whether you're strolling hand in hand through historic streets or exploring masterpieces by some of history's greatest artists, this enchanting city provides a backdrop that will truly make your heart soar.
March
March is a magical time to visit Florence, as the city comes alive with the vibrant colors and fragrances of spring. Here, we explore the reasons why March is the perfect month to embrace the blooming beauty of Florence.
Witness the City's Transformation
In March, Florence undergoes a stunning transformation as flowers bloom and trees regain their leaves. The once barren streets become adorned with colorful blossoms, creating a picturesque backdrop for exploring this enchanting city. The weather in March is mild and pleasant, making it ideal for strolling through the streets and gardens without worrying about extreme temperatures or crowds.
Ideal Weather for Outdoor Exploration
With temperatures ranging from 10-18 degrees Celsius (50-64 degrees Fahrenheit), March offers comfortable weather for outdoor activities in Florence. This is the perfect time to visit popular attractions such as the Ponte Vecchio and Piazzale Michelangelo, where you can marvel at breathtaking views of the cityscape below. Take leisurely walks along the Arno River or through Boboli Gardens, where you can enjoy a picnic amidst beautiful scenery.
Festivals and Events
March in Florence brings with it several festivals and events that showcase the culture and traditions of this historic city. One notable celebration is Festa della Donna (International Women's Day) on March 8th when women are honored with various events and activities throughout the city. Another significant event in March is St. Joseph's Day on March 19th when locals commemorate patron saint Joseph with processions, music, and delicious traditional sweets.
Additionally, art enthusiasts will find plenty to explore during this month. Many museums and galleries in Florence offer special exhibitions showcasing renowned masterpieces or emerging artists. This quieter month allows visitors to appreciate these artworks without dealing with large crowds.
April
In the beautiful month of April, Florence truly comes alive with its vibrant Renaissance heritage. As one of the birth months of the legendary artist Leonardo da Vinci, April is a perfect time to delve into the city's rich artistic heritage and explore its iconic masterpieces. One cannot miss the opportunity to visit the renowned Uffizi Gallery during this month and witness firsthand the beauty and brilliance of Renaissance art.
The Uffizi Gallery, located in the heart of Florence, houses an extensive collection of artwork from some of history's greatest artists, including Leonardo da Vinci, Michelangelo, Botticelli, and Raphael. April provides a great chance to explore this treasure trove without battling long queues or overwhelming crowds. With fewer visitors compared to peak months, you can take your time appreciating each masterpiece at your own pace.
Apart from visiting museums and galleries, April also marks the beginning of outdoor concerts and open-air performances in historic venues across Florence. As spring graces the city with pleasant weather, locals and visitors alike can enjoy musical performances set against breathtaking backdrops like Piazza della Signoria or Fortezza da Basso. This amalgamation of art and nature creates a truly magical atmosphere that immerses you in Florence's artistic spirit.
To make the most out of your April visit to Florence, it is worth noting that various events and festivals take place during this month as well. One such event is the International HandiCraft Trade Fair (Mostra Internazionale dell'Artigianato), where artisans from around Italy showcase their crafts and skills. Attending this fair allows you to appreciate the craftsmanship behind traditional Florentine products such as leather goods, ceramics, and jewelry.
In summary, visiting Florence in April is an ideal time for art enthusiasts to soak in the city's Renaissance heritage without being overwhelmed by crowds. From exploring world-renowned museums to enjoying open-air performances against magnificent backdrops, there is no shortage of art and cultural experiences to be had. Plan your visit to Florence in April, and you will be rewarded with a journey through history and creativity that is truly unforgettable.
| Highlights | April in Florence |
| --- | --- |
| Visiting Uffizi Gallery | An opportunity to witness iconic Renaissance masterpieces without long queues or overwhelming crowds. |
| Outdoor Concerts | Enjoy musical performances amidst stunning historical settings, creating a magical atmosphere. |
| All Saints' Day Celebrations | Experience unique local traditions during this religious holiday, including visiting cemeteries. |
May
May is a wonderful month to visit Florence, providing the perfect opportunity to bask in the warmth and beauty of this enchanting city. With pleasant weather and a wealth of cultural events, May offers a truly memorable experience for travelers. Whether you're looking to indulge in outdoor activities, immerse yourself in art and music, or simply savor the atmosphere of Florence, this month has something for everyone.
Pleasant Weather and Scenic Dining
One of the highlights of visiting Florence in May is the pleasant weather that allows for alfresco dining and picnics in scenic spots like the Boboli Gardens. The city comes alive with locals and tourists enjoying meals at outdoor cafes and restaurants, making it a perfect time to savor traditional Tuscan cuisine paired with a glass of wine. As you dine outdoors, you can take in the stunning views of historic buildings and charming cobblestone streets bathed in warm sunshine.
Maggio Musicale Fiorentino Festival
May is also home to one of Florence's most renowned cultural events: the Maggio Musicale Fiorentino festival. Established over 80 years ago, this festival offers world-class opera performances and classical concerts throughout May.
It attracts international artists as well as music enthusiasts from around the globe who gather to experience outstanding performances in iconic venues like Teatro del Maggio Musicale Fiorentino. Whether you're a seasoned opera lover or a curious newcomer to classical music, attending one of these performances is an unforgettable experience.
San Giovanni Celebrations
Furthermore, May culminates with celebrations honoring San Giovanni, the patron saint of Florence, on June 24th. This event is marked by a spectacular fireworks display lighting up the night sky over historical landmarks such as Piazzale Michelangelo and Ponte Vecchio. In addition to fireworks, parades and festivities fill the streets as the city comes together to pay homage to its patron saint. This celebration presents a unique opportunity to witness the vibrant spirit and deep-rooted traditions of Florentines.
September
As the summer crowds begin to disperse, September presents an ideal opportunity to visit Florence and experience the city's autumnal charms. With mild weather and a more relaxed atmosphere, this month allows you to explore outdoor sights like the iconic Ponte Vecchio and breathtaking Piazzale Michelangelo without the bustling crowds. In addition, September marks the wine harvest season in the surrounding Tuscan countryside, offering a unique opportunity to savor the flavors of the region.
One of the key benefits of visiting Florence in September is the transition from peak tourist season to a quieter period. While popular attractions may still have visitors, lines tend to be shorter and discounted prices are often available for accommodations and attractions. This makes it an ideal time for travelers who prefer a more leisurely pace and want to avoid long queues.
In terms of weather, September provides mild temperatures that are perfect for exploring outdoor sights and wandering through Florence's charming neighborhoods at a comfortable pace. It is also an excellent time for photography enthusiasts as they can capture stunning images of the city against a backdrop of autumn foliage.
During your visit in September, you can take part in various cultural events that showcase Florence's rich heritage. For art enthusiasts, museums and galleries offer special exhibitions during this slower month, providing an opportunity to dive deeper into Florence's artistic legacy without large crowds.
Additionally, you can immerse yourself in local traditions by participating in celebrations for All Saints' Day on November 1st. This includes visiting cemeteries where families pay tribute to their loved ones and observing traditional customs.
To summarize, September offers a charming blend of mild weather, relaxed atmosphere, and cultural experiences that make it one of the best months to visit Florence. Whether you're interested in exploring outdoor landmarks like Ponte Vecchio or indulging in regional flavors during the wine harvest season, there are plenty of reasons why fall in love with Florence in September.
| Benefits of Visiting in September | Events and Activities |
| --- | --- |
| – Transition from peak tourist season to a more relaxed atmosphere | – Special exhibitions in museums and galleries |
| – Shorter lines and discounted prices for accommodations and attractions | – All Saints' Day celebrations and local traditions |
| – Mild weather ideal for outdoor sightseeing | – Wine harvest season in the Tuscan countryside |
November
November is the perfect month for travelers seeking a quieter and more peaceful experience in Florence, Italy. As the summer crowds disperse, visitors can take advantage of off-peak travel, enjoying shorter lines and discounted prices. This allows for a more leisurely exploration of the city's cultural treasures.
One unique aspect of traveling to Florence in November is the opportunity to experience All Saints' Day celebrations. This important holiday on November 1st is observed throughout Italy, and Florence is no exception. Visitors can witness local traditions such as visiting cemeteries to pay respects to loved ones and leaving flowers at gravesites. It provides a chance to immerse oneself in Italian culture and gain insight into the importance of family and remembrance.
Art enthusiasts will also find plenty to appreciate during this quieter month. Museums and galleries offer special exhibitions, providing a chance to engage with masterpieces without the usual crowds. This allows for a more intimate and contemplative experience, where visitors can take their time to truly appreciate the beauty and craftsmanship of renowned artworks.
Conclusion
In conclusion, when it comes to choosing the best month to travel to Florence, Italy, there is truly something magical for every season. Whether you prefer the peacefulness of winter or the vibrant celebrations of spring and summer, Florence offers a unique experience throughout the year.
For those seeking a more intimate experience and a deep dive into the local culture, January is the perfect time to visit. With fewer tourists, you can fully immerse yourself in the enchanting streets of Florence and take advantage of art exhibitions without the crowds. In February, Florence comes alive with love and art, making it an ideal destination for couples looking for a romantic getaway or art enthusiasts who want to celebrate Carnevale in style.
As spring arrives in March and April, Florence welcomes visitors with blooming flowers and pleasant weather. It's an opportune time to explore outdoor sights such as gardens and historic venues while also indulging in Florence's rich Renaissance heritage through visits to renowned museums like the Uffizi Gallery.
Come May, the warmth and beauty of Florence are at their peak. Alfresco dining by scenic spots like Boboli Gardens becomes an unforgettable experience. The famous Maggio Musicale Fiorentino festival offers world-class opera and classical concerts. And if you happen to be there on June 24th, you can join in on the festivities celebrating San Giovanni, Florence's patron saint.
September brings a transition from summer crowds to a more relaxed atmosphere in Florence. Mild weather allows for optimal exploration of outdoor sights like Ponte Vecchio and Piazzale Michelangelo. Additionally, September marks the wine harvest season in Tuscany's surrounding countryside, providing a unique opportunity to taste regional flavors.
For those who prefer quieter travel experiences with shorter lines and discounted prices, November is an ideal month to visit Florence. This slower month offers special exhibitions in museums and galleries that cater specifically to art enthusiasts.
Frequently Asked Questions
What is the off season in Florence Italy?
The off season in Florence, Italy can vary depending on the specific industry or activity you are referring to. In general, the peak tourist season in Florence is during the summer months of June, July, and August when the city experiences a surge in visitors. Therefore, the off season typically includes the months outside of this period.
Many tourists avoid visiting Florence during the winter months, particularly from November to February, as it tends to be colder and there are fewer outdoor attractions available. Additionally, cities like Florence often see a decrease in tourism around January and February due to winter holidays and post-holiday travel exhaustion.
How many days do you need in Florence Italy?
The number of days you need to fully explore Florence, Italy can vary depending on your interests and preferences. However, it is generally recommended to spend at least three full days in Florence to truly appreciate its rich cultural heritage and experience its main attractions.
This timeframe allows visitors to explore iconic sites such as the Uffizi Gallery and Accademia Gallery (home to Michelangelo's David), stroll along the famous Ponte Vecchio bridge, visit the breathtaking Duomo complex including Brunelleschi's Dome, and leisurely wander through historic neighborhoods like Oltrarno. Of course, if you have more time available, extending your stay will allow for a deeper immersion into the city's art, history, cuisine, and charming atmosphere.
What is the coldest month in Florence Italy?
The coldest month in Florence, Italy is typically January. During this time of year, temperatures can drop significantly with average lows ranging from 3°C (37°F) to 5°C (41°F).
It's important to note that while January may be considered the coldest month overall, temperatures can still fluctuate throughout winter with occasional milder spells or sudden drops below freezing point. Visitors should come prepared with warm clothing, including jackets, hats, scarves, and gloves to ensure comfort while exploring this beautiful Italian city during its colder months.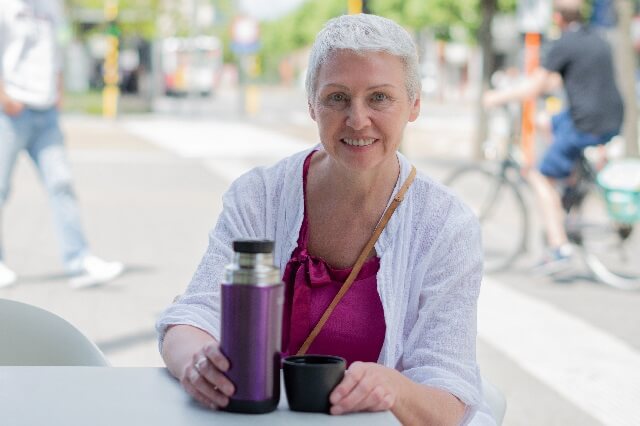 I'm a passionate traveler, writer, and Italophile. My fascination with Italy's history, art, and culture has led me on countless adventures across the Italian landscape. Through "I Live Italy," I share my love for this extraordinary country and aims to inspire others to explore its boundless beauty.