Embarking on a journey to Switzerland and Italy promises an unforgettable adventure filled with stunning landscapes, rich cultures, and vibrant cities. But with so much to see and do, planning the ultimate trip can feel overwhelming. In this article, we will guide you through the best way to travel these two countries, ensuring that you make the most of your time and create memories that last a lifetime.
Before diving into the specifics of each destination, it's essential to understand the geography of Switzerland and Italy. Both countries offer a diverse range of experiences, from picturesque alpine villages in Switzerland to ancient ruins in Italy. By familiarizing yourself with their must-visit destinations, you can craft an itinerary that caters to your interests and allows you to experience the best of both worlds.
One crucial aspect to consider when planning your trip is choosing the perfect time to visit. Weather conditions and crowd levels vary depending on the season, so understanding these factors will greatly impact your overall experience. Additionally, transportation options play a vital role in exploring these countries efficiently. Whether it be flights, trains, or rental cars – each has its advantages and drawbacks. We will delve into these choices to help you make informed decisions for seamless travel between destinations.
By taking a comprehensive approach in our article, we aim to assist you in creating an itinerary that highlights the best cities and regions while immersing yourself in local culture. Not only will we provide tips on budgeting wisely for maximum savings but also offer advice on time-saving strategies and sightseeing tips so that you can make every moment count during your Swiss-Italian escapade.
So let us take you on a transformative journey through Switzerland and Italy as we share valuable insights on where to go, what to see, how to plan efficiently, and most importantly – how to create memories of a lifetime in these captivating countries.
Understanding the Geography
Switzerland is a country known for its stunning landscapes, and understanding the geography will help you plan your ultimate trip. While the country may be small in size, it offers a diverse range of destinations that cater to different interests. Here are some must-visit destinations in Switzerland:
Zurich: As Switzerland's largest city, Zurich serves as a great starting point for your journey. It is not only a major transportation hub but also offers a wealth of cultural attractions such as museums, art galleries, and historical landmarks.
Lucerne: Located in central Switzerland, Lucerne is famous for its picturesque setting on Lake Lucerne and its charming Old Town. Don't miss out on visiting the iconic Chapel Bridge and exploring the surrounding Swiss Alps.
Geneva: Situated on the French border, Geneva is an international city known for diplomacy and cosmopolitan vibes. With its beautiful lakefront setting and impressive Jet d'Eau fountain, Geneva offers a mix of natural beauty and cultural experiences.
Interlaken: Nestled between two breathtaking alpine lakes – Lake Brienz and Lake Thun – Interlaken is an adventure enthusiast's paradise. It serves as a gateway to the Jungfrau Region, where you can indulge in activities like hiking, skiing, paragliding, and more.
Zermatt: If you're looking to experience the Swiss Alps at their best, Zermatt is a must-visit destination. Home to the iconic Matterhorn peak, this car-free village offers unparalleled views, world-class ski resorts, and outdoor adventures.
| Destination | Main Attractions |
| --- | --- |
| Zurich | Museums, art galleries |
| Lucerne | Chapel Bridge, Swiss Alps |
| Geneva | Lake Geneva, Jet d'Eau fountain |
| Interlaken | Adventure sports, Lake Brienz and Lake Thun |
| Zermatt | Matterhorn peak, ski resorts |
Exploring the Charm of Italy
Italy is a country that is rich in history, culture, and natural beauty. From the iconic city of Rome to the picturesque region of Tuscany, there are countless sights and experiences to explore. In this section, we will take a closer look at some of the top sights and experiences that should not be missed during your trip to Italy.
One of the most famous sights in Italy is the Colosseum in Rome. This ancient amphitheater is a symbol of the Roman Empire and is an impressive sight to behold. Visitors can walk inside the Colosseum and imagine what it was like during its heyday when gladiator battles took place.
Another must-visit destination in Italy is Florence, the birthplace of the Renaissance. The city is home to countless works of art, including Michelangelo's "David" statue and Botticelli's "The Birth of Venus." It also boasts stunning architecture, such as the Florence Cathedral and Ponte Vecchio.
For those who love food and wine, a visit to Italy would not be complete without exploring the culinary delights of Bologna. Known as the gastronomic capital of Italy, Bologna offers delicious regional specialties such as tortellini, mortadella, and ragù. Visitors can also take part in cooking classes or food tours to fully immerse themselves in Italian cuisine.
Italy is also known for its beautiful landscapes and stunning coastlines. The Amalfi Coast is a popular destination for its colorful cliffside villages, crystal-clear waters, and amazing seafood. The Cinque Terre region with its five picturesque fishing villages perched on cliffsides is another must-see destination for its natural beauty.
Whether you're interested in history, art, food or natural beauty, Italy has something for everyone. Make sure to plan your itinerary accordingly to include these top sights and experiences that will make your trip unforgettable.
| Top Sights and Experiences in Italy | Description |
| --- | --- |
| Colosseum, Rome | An ancient amphitheater and symbol of the Roman Empire. |
| Florence | The birthplace of the Renaissance, known for its art and architecture. |
| Bologna | The gastronomic capital of Italy, offering delicious regional specialties. |
| Amalfi Coast | A picturesque coastline with colorful cliffside villages and beautiful beaches. |
| Cinque Terre | A region of five fishing villages perched on cliffsides, known for its natural beauty. |
Choosing the Perfect Time to Visit
When planning a trip to Switzerland and Italy, it is important to consider the perfect time to visit in terms of weather and crowd considerations. The weather can greatly impact your experience and the activities you can enjoy, while crowds can also affect your overall enjoyment of the destinations. By choosing the right time to visit, you can make the most of your trip and have a memorable experience.
In Switzerland, the weather varies depending on the region and the time of year. The country experiences a temperate climate with four distinct seasons.
The summer months from June to August are generally warm with temperatures ranging from 20°C to 30°C (68°F-86°F), making it an ideal time for hiking, outdoor activities, and exploring the stunning Swiss Alps. However, this is also peak tourist season, so popular tourist destinations like Zurich, Lucerne, and Interlaken may be crowded during this period.
On the other hand, spring (April to May) and autumn (September to October) offer milder temperatures ranging from 10°C to 20°C (50°F-68°F). These seasons are less crowded compared to summer but still offer pleasant weather for outdoor activities such as walking tours, scenic train journeys, and visiting picturesque towns like Montreux or Zermatt.
Winter in Switzerland (December to February) is perfect for snow lovers as that's when ski resorts come alive with winter sports enthusiasts. The temperature ranges from – 2°C to 7°C (28°F-45°F), depending on the altitude. Don't miss out on experiencing famous winter events like Christmas markets or attending one of the enchanting New Year's Eve celebrations that take place throughout Switzerland.
Italy has a diverse climate due to its geographical location. In general, late spring (May-June) and early autumn (September-October) are considered optimal times to visit Italy. During these months, temperatures range from 15°C to 25°C (59°F-77°F), and the weather is usually mild and sunny. Not only will you encounter fewer crowds, but you can also enjoy comfortable temperatures for sightseeing and exploring popular tourist destinations like Rome, Florence, or Venice.
Summers in Italy (July-August) can be hot and humid with temperatures soaring above 30°C (86°F). This is also when many Italians take their vacations, resulting in crowded tourist areas. If you plan on visiting during this time, consider heading to the coastal regions such as the Amalfi Coast or Cinque Terre to enjoy the beautiful beaches and cool off in the Mediterranean Sea.
Winter in Italy (December-February) offers a unique experience since temperatures are mild compared to other European countries. You can expect temperatures ranging from 5°C to 15°C (41°F-59°F) depending on the region. Winter months are less crowded, making it a great time to explore cities like Rome or Florence without the large tourist crowds. Don't miss out on experiencing traditional Italian festivals such as Christmas markets or joining in on Carnevale celebrations in Venice.
| Month | Switzerland Temperature Range (°C) | Italy Temperature Range (°C) | Rainfall (mm) |
| --- | --- | --- | --- |
| January | -2 to 4 | 5 to 12 | 23-48 |
| February | -1 to 5 | 6 to 13 | 21-53 |
| March | 2 to 9 | 8 to 16 | 27-66 |
| April | 6 to 14 | 11 to 18 | 54-90 |
By considering the weather and crowd considerations for Switzerland and Italy, you can choose the perfect time to visit that suits your preferences and maximize your enjoyment of these beautiful countries. Whether you prefer outdoor activities in warm weather or exploring historical sites without the crowds, there are options available throughout the year. Planning ahead will ensure that you have a memorable experience and create lasting memories in Switzerland and Italy.
Transportation Options
Transportation is a crucial factor to consider when planning a trip to Switzerland and Italy. With multiple options available, it can be overwhelming to decide on the best mode of transportation for your journey. This section will compare the advantages and disadvantages of flights, trains, and rental cars, helping you make an informed decision.
Flights
If you are short on time or traveling long distances within these countries, flying can be the most convenient option. Both Switzerland and Italy have well-connected airports that offer domestic and international flights. Flying allows you to cover large distances quickly, saving valuable time that can be spent exploring your destination.
Another advantage of flying is that it can often be more affordable than other modes of transportation, especially if you book in advance or take advantage of deals offered by budget airlines. However, it's important to consider additional costs such as airport transfers and luggage fees.
Trains
Travelling by train is a popular choice in both Switzerland and Italy due to their extensive rail networks. The trains in these countries are known for their punctuality, comfort, and scenic routes. Train travel offers the opportunity to soak in the breathtaking landscapes while easily moving from one city or region to another.
One major advantage of train travel is its accessibility. Trains provide excellent connections between major cities and even smaller towns, allowing you to explore off-the-beaten-path destinations with ease. Additionally, trains stations are often centrally located within cities, making them convenient for reaching your accommodation.
Rental Cars
Renting a car gives you the freedom and flexibility to explore at your own pace while enjoying picturesque drives through the countryside. Having a car allows you to access remote areas that may not be easily reachable by public transportations and venture off the typical tourist track.
However, driving in Switzerland and Italy can come with some challenges. Both countries have narrow winding roads, especially in mountainous regions, which may require careful navigation. Additionally, parking can be limited and expensive in some cities. It's important to research local traffic rules and regulations before embarking on a road trip.
Efficient Itinerary Planning
When planning a trip to Switzerland and Italy, it's important to efficiently organize your itinerary to make the most of your time. Both countries offer a wide array of stunning cities and regions that are worth exploring. Here, we highlight some of the best cities and regions that will surely leave you with unforgettable experiences.
Cities in Switzerland
Zermatt: Nestled at the foot of the iconic Matterhorn mountain, Zermatt is a picturesque Alpine village that offers breathtaking views, excellent skiing opportunities, and charming Swiss hospitality. Take a ride on the Gornergrat railway for stunning panoramas or indulge in some après-ski hot chocolate.
Lucerne: Known for its beautiful lake and perfectly preserved medieval architecture, Lucerne is a dream destination. Explore the Chapel Bridge, visit the Swiss Museum of Transport, or take a relaxing boat ride on Lake Lucerne while enjoying the stunning view of Mount Pilatus.
Geneva: Located on the shores of Lake Geneva with stunning views of Mont Blanc, Geneva is known for its international diplomacy but also offers plenty for travelers to explore. Visit St. Pierre Cathedral, stroll along Quai du Mont-Blanc, or enjoy some luxury shopping at Rue du Rhône.
Regions in Italy
Tuscany: Famous for its rolling hills, vineyards, and Renaissance art treasures, Tuscany is a must-visit region in Italy. Explore historical sites such as Florence's Duomo and Uffizi Gallery, wander through charming towns like Siena and San Gimignano, or enjoy wine tasting in Chianti.
Amalfi Coast: With its dramatic coastline dotted with colorful cliffside villages, the Amalfi Coast is one of Italy's most scenic regions. Visit Positano for its pastel-colored houses and stunning beaches, explore the charming town of Amalfi with its beautiful cathedral, or take a boat tour to the enchanting island of Capri.
Veneto: Home to Venice, one of the most romantic cities in the world, Veneto is a region that offers much more than just the famous canal city. Discover Verona's ancient Roman amphitheater, enjoy Prosecco tasting in Treviso, or visit Palladian villas in Vicenza for a taste of architectural beauty.
By including these cities and regions in your itinerary, you will have the opportunity to experience the diverse landscapes, rich history, and unique cultures that Switzerland and Italy have to offer. Remember to allocate enough time in each place to fully immerse yourself in its beauty and charm.
Accommodation Choices
When planning a trip to Switzerland and Italy, choosing the right accommodation is crucial in order to have the best experience possible. From luxury hotels to charming bed and breakfasts, both countries offer a wide range of options to suit every traveler's preferences and budget. Here are some considerations to keep in mind when deciding where to stay during your visit.
Hotels: Whether you prefer high-end luxury or more affordable accommodations, hotels are a popular choice for travelers. Major cities such as Zurich, Lucerne, Rome, and Florence offer a plethora of options ranging from five-star establishments with stunning views to boutique hotels full of character. It's important to research different hotel chains and read reviews to ensure you find one that matches your desired level of comfort and service.
Bed and Breakfasts (B&Bs): For those who enjoy a cozy and homey atmosphere, staying at a bed and breakfast can be an excellent choice. B&Bs are particularly common in the countryside regions of both Switzerland and Italy, offering guests a chance to experience traditional local hospitality. These accommodations often provide a more personalized touch compared to larger hotels, with hosts who can offer recommendations on nearby attractions and hidden gems.
Vacation Rentals: If you're traveling as a family or group of friends, renting an apartment or house can be an ideal option for added space and flexibility. Websites like Airbnb offer numerous listings across Switzerland and Italy, allowing visitors to feel like locals by having their own kitchen, living room, and even outdoor areas. Vacation rentals also tend to provide better value for money compared to hotel stays, especially for longer trips.
Farm Stays: A unique accommodation option available in rural areas is staying on a farm or agriturismo. This approach offers visitors the opportunity to immerse themselves in the local culture while enjoying the tranquil surroundings of nature. Many farms open their doors to guests and provide comfortable accommodations, often with the added bonus of fresh farm-to-table meals made from local ingredients.
When choosing where to stay in Switzerland and Italy, it's important to consider factors such as location, budget, preferred amenities, and personal preferences. Researching different options in each city or region you plan to visit will allow you to make an informed decision that aligns with the type of experience you wish to have during your trip.
Whether you're seeking luxury, charm, or authenticity, both countries have a variety of accommodation choices that cater to different tastes and needs.
Immersing in the Local Culture
In order to fully immerse yourself in the local culture while traveling in Switzerland and Italy, it is essential to explore the diverse and delightful cuisines, experience traditional customs and festivals, as well as witness unique events that showcase the heritage of these countries.
One of the best ways to experience the culture of any country is through its food. In Switzerland, don't miss the opportunity to indulge in Swiss cheese fondue or raclette, traditional dishes that highlight their world-famous cheeses. Another must-try dish is rösti, a Swiss-style grated potato pancake that can be served as a side dish or main course. For those with a sweet tooth, sample some Swiss chocolate from renowned chocolatiers such as Lindt or Toblerone.
Italy's culinary scene needs no introduction. From pizza in Naples to pasta in Bologna and gelato across the country, you'll find an abundance of mouth-watering options. Don't forget to try regional specialties like risotto alla Milanese in Milan or carbonara in Rome. And of course, how can you visit Italy without savoring authentic Italian espresso or cappuccino?
Besides food, immersing yourself in local traditions is a great way to truly experience the culture of both Switzerland and Italy. In Switzerland, take part in a traditional alphorn workshop where you can learn how to play this iconic instrument. You can also witness folk dances during festivals such as Fête de l'Espoir in Zurich or Basel Carnival.
Meanwhile, Italy offers numerous cultural events throughout the year including the famous carnival celebrations in Venice and Viareggio, where locals don masks and costumes for extravagant parades and parties. The Palio di Siena horse race held twice a year brings out intense rivalries between different neighborhoods within Siena's historic center. Witnessing these age-old traditions will give you a deeper appreciation for Italian culture.
By embracing these culinary delights, traditions, and events, you will gain a better understanding of the local culture and create unforgettable memories during your journey in Switzerland and Italy.
Maximizing Your Budget
Saving money and getting the best deals while traveling in Switzerland and Italy is essential for maximizing your budget. Here are some tips to help you make the most of your money:
Take Advantage of Public Transportation: One of the best ways to save money on transportation is by utilizing the extensive public transportation systems in both Switzerland and Italy. Trains, buses, and trams are reliable, efficient, and cost-effective options for getting around. Consider purchasing a Swiss Travel Pass or an Italian rail pass for unlimited travel within a designated period. These passes often include discounts on other attractions as well.
Plan Your Meals Wisely: Dining out can quickly add up, especially in popular tourist areas. To save money on food, consider eating at local markets or small authentic restaurants instead of tourist-centric establishments. Another option is to purchase groceries from supermarkets or delis and have a picnic in a park or scenic spot. Don't forget to try the street food; it's not only delicious but also budget-friendly.
Look for Deals and Discounts: Take advantage of various deals and discounts available to tourists in Switzerland and Italy. Look for discounted tickets to attractions, museums, or cultural events online or through visitor centers. Additionally, some cities offer city cards that provide free or discounted entry to multiple attractions along with free public transport.
Stay Outside Major Tourist Areas: Accommodation costs can be high in popular tourist areas such as Zurich, Lucerne, Rome, or Venice. Consider staying in smaller towns nearby where accommodation prices may be more reasonable. This allows you to experience local culture while saving money.
Be Flexible with Travel Dates: Depending on the time of year you visit Switzerland and Italy, prices may vary significantly. If possible, plan your trip during the shoulder seasons (spring or fall) when prices tend to be lower than peak tourist seasons but still offer pleasant weather conditions.
By following these tips and being mindful of your spending, you can maximize your budget while still enjoying all that Switzerland and Italy have to offer. Remember, saving money doesn't mean compromising on the quality of your experience; it simply means being savvy with your choices and seeking out the best deals available.
Making the Most of Your Time
When planning a trip to Switzerland and Italy, making the most of your time is essential in order to explore as much as possible in these beautiful countries. Fortunately, there are several time-saving strategies and sightseeing tips that can help you achieve this.
One effective strategy is to prioritize your must-see attractions and plan your itinerary accordingly. Research the top attractions in each city or region you will be visiting, and make a list of the ones that interest you the most. This way, you can ensure that you devote enough time to exploring these particular sights while also leaving some room for spontaneous discoveries along the way.
Another important tip is to take advantage of early morning or late evening hours when visiting popular tourist sites. These times tend to be less crowded, allowing you to truly appreciate the beauty and tranquility of these places. Additionally, booking timed-entry tickets online for busy attractions can save you valuable time waiting in long queues.
Consider purchasing all-inclusive city passes or attraction passes that offer skip-the-line access to multiple attractions. These passes often provide cost savings and allow you to visit several sites within a certain timeframe. They also typically include public transportation options, making it even more convenient for getting around.
Lastly, consider hiring a local guide for certain destinations or attractions. A knowledgeable local guide can provide valuable insights and history about the sites being visited, allowing you to fully immerse yourself in the experience. They can also offer shortcuts or alternative routes that may save you time during your exploration.
By implementing these time-saving strategies and following sightseeing tips, you can make the most of your limited vacation time in Switzerland and Italy. Remember to plan ahead, prioritize your must-see sights, take advantage of off-peak hours, consider attraction passes, and utilize local guides when necessary. With proper planning and efficient use of your time, you'll be able to create unforgettable memories during your trip through these incredible countries.
Safety and Practical Considerations
When traveling to any destination, safety should always be a top priority. This is especially true when visiting international countries like Switzerland and Italy. While these countries are generally safe for tourists, it is important to take certain precautions and be aware of potential risks. Here are some important travel advice and practical considerations to keep in mind when planning your trip to Switzerland and Italy.
Firstly, it is recommended to have travel insurance that covers medical expenses, trip cancellations, and lost or stolen belongings. This will provide you with peace of mind and financial protection in case of any unforeseen circumstances. Additionally, make sure to have copies of important documents such as your passport, ID cards, and travel itineraries stored electronically or with a trusted person back home.
In terms of safety, both Switzerland and Italy are relatively safe countries with low crime rates. However, it is always wise to remain vigilant in crowded tourist areas where pickpocketing can occur. Keep an eye on your personal belongings at all times and avoid displaying any signs of wealth or carrying excessive amounts of cash. It is also recommended to use official taxis or reputable transportation services rather than accepting offers from strangers for rides.
Furthermore, when exploring the natural landscapes in Switzerland and Italy, take necessary precautions in outdoor activities such as hiking or skiing. Research the weather conditions beforehand, wear appropriate clothing and footwear, follow safety instructions provided by local authorities or tour guides, and always inform someone about your plans before embarking on any adventure.
By following these safety tips and practical considerations while traveling in Switzerland and Italy, you can ensure a smooth journey filled with beautiful memories. Remember to stay informed about current travel advisories from your country's embassy or consulate for additional guidance during your trip. With proper planning and awareness, you can have a safe and enjoyable experience exploring the wonders of Switzerland and Italy.
Conclusion
In conclusion, planning a trip to Switzerland and Italy offers the opportunity to create memories of a lifetime. Both countries are rich in natural beauty, cultural landmarks, and unique experiences that are sure to leave a lasting impression on any traveler.
When exploring Switzerland, it is essential to visit must-see destinations such as Zurich, Lucerne, Interlaken, and Geneva. Each city offers its own charm and attractions, from stunning lakes and mountains to historical sites and vibrant city life. In Italy, no trip would be complete without experiencing the magic of Rome, Florence, Venice, and Tuscany. These cities are filled with architectural wonders, famous artwork, iconic canals, delicious cuisine, and picturesque countryside.
Choosing the perfect time to visit is also crucial for an unforgettable experience. Consider the weather conditions and crowd levels when planning your trip. Spring and early autumn tend to be ideal times as the weather is pleasant and there are fewer tourists crowding the popular attractions.
Transportation options in both countries are plentiful. Whether you choose to travel by flights, trains or rental cars depends on your preferences and itinerary. Each mode of transportation offers its own advantages in terms of comfort, scenic views or flexibility.
Efficient itinerary planning is essential for making the most of your time in Switzerland and Italy. Highlighting the best cities and regions will help you optimize your travel experience by maximizing sightseeing opportunities while minimizing travel time.
In terms of accommodation choices, both countries offer a range of options that suit different budgets and preferences. From luxury hotels to cozy bed-and-breakfasts or even unique Airbnb rentals in traditional houses or remote locations – there is something for everyone.
To fully immerse yourself in the local culture of both countries try sampling traditional foods such as Swiss cheese fondue or Italian pasta dishes; participating in local traditions like Swiss watchmaking or Italian winemaking; or attending cultural events such as festivals or art exhibitions.
Maximizing your budget is an important aspect of any trip. By following tips for saving money and getting the best deals on accommodation, transportation, and activities, you can make your dream trip to Switzerland and Italy more affordable.
Lastly, but importantly, ensuring your safety and considering practicalities while traveling in both countries is essential. It is always wise to be updated about local laws and customs, take necessary precautions against pickpockets or scams, and have travel insurance coverage.
Frequently Asked Questions
How easy is it to travel between Switzerland and Italy?
Traveling between Switzerland and Italy is relatively easy due to the excellent transportation infrastructure in both countries. There are several options available, including trains, buses, and flights. The most popular and convenient way is by train, with frequent connections between major cities like Zurich, Geneva, Milan, Venice, and Rome.
Trains are comfortable, efficient, and offer picturesque views of the Swiss Alps or the Italian countryside during the journey. Additionally, there are also direct flights available between Switzerland and Italy's major airports for those who prefer a quicker mode of transportation.
How to plan Italy and Switzerland?
Planning a trip to both Italy and Switzerland requires careful consideration of your interests and time constraints. Start by deciding on the duration of your trip and identify the cities or regions you'd like to visit in each country. Consider factors such as proximity to one another, transportation options available, and any specific attractions you want to experience.
It's recommended to spend at least a few days in each place to fully appreciate their unique charms. Make use of travel guides or online resources to research popular tourist destinations, local customs, accommodation options, and possible itineraries that suit your preferences. Finally, create a detailed itinerary that outlines your daily activities while allowing for flexibility to explore unplanned discoveries along the way.
Is the train from Switzerland to Italy scenic?
Yes, taking the train from Switzerland to Italy offers an incredibly scenic experience that allows travelers to soak in breathtaking landscapes throughout their journey. Whether you choose to embark on the UNESCO World Heritage-listed Bernina Express route through Graubünden or take a scenic train ride through Simplon Pass into northern Italy from cities like Zurich or Geneva – stunning vistas await you at every turn.
Marvel at snow-capped mountains piercing through fluffy clouds, lush green valleys dotted with charming villages, serene lakes glistening under the sun – all while comfortably seated inside a modern train equipped with large windows designed specifically for panoramic views. Particularly during spring or autumn seasons when nature adorns itself with vibrant colors, the train ride from Switzerland to Italy becomes an unforgettable visual feast for travelers.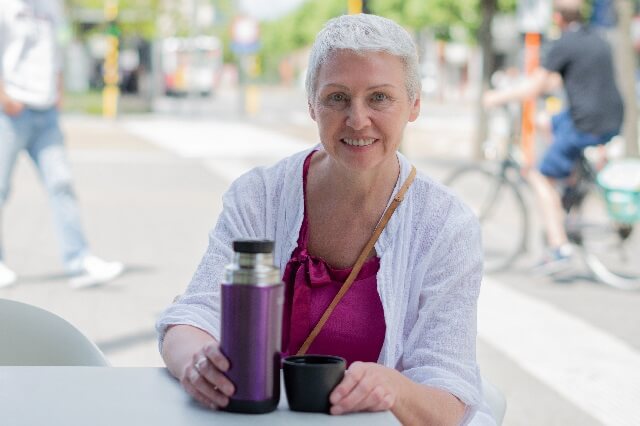 I'm a passionate traveler, writer, and Italophile. My fascination with Italy's history, art, and culture has led me on countless adventures across the Italian landscape. Through "I Live Italy," I share my love for this extraordinary country and aims to inspire others to explore its boundless beauty.