Welcome to Florence, Italy, a city renowned for its rich history, stunning architecture, and vibrant culture. As you plan your visit to this charming Renaissance city, it is important to consider the best ways to travel around and explore all that Florence has to offer. In this article, we will guide you through various transportation options that will allow you to navigate the city with ease and make the most of your time in Florence.
With an efficient public transportation system, getting around Florence is a breeze. We will provide an overview of the buses and trams available, along with tips on how to purchase and use tickets. Whether you are heading to popular attractions or off-the-beaten-path gems, we will recommend routes and stops that will make your journey seamless.
For those who prefer a slower pace and want to savor every detail of Florence's beauty, walking is the way to go. We will delve into the advantages of exploring on foot, from discovering hidden gems nestled in narrow cobblestone streets to experiencing genuine local interactions. Additionally, we'll provide walking itineraries for different neighborhoods and landmarks.
If you're looking for a unique way to immerse yourself in Florentine culture, embracing the cycling culture with bicycles is a fantastic option. Florence boasts bike-friendly infrastructure and rental services that make biking an enjoyable activity for both locals and tourists alike. We'll highlight the best routes and scenic cycling paths in and around the city for an unforgettable adventure.
Join us as we dive into these various modes of transportation in Florence – from Vespa tours that offer flexibility and insider insights to convenient taxi and ride-sharing options. Discover how boat tours along the famed Arno River can give you a different perspective of this enchanting city, or embark on day trips beyond Florence's borders for breathtaking landscapes just waiting to be explored.
Whether you have limited time or plenty of days at your disposal, combining different modes of transport based on your preferences can enhance your overall travel experience. Join us as we uncover the optimal ways to travel around Florence, Italy, and make sure your journey through this beautiful city is one you will treasure forever.
Public Transportation
With its efficient public transportation system, navigating the city of Florence is a breeze. The public transportation options include buses and trams, providing convenient and affordable ways to explore the city. Purchasing and using tickets for these modes of transport is simple, making it easy for visitors to get around.
To use the bus and tram system in Florence, travelers can purchase tickets at tobacco shops or vending machines located near major stops. These tickets are typically valid for a certain duration of time and can be used multiple times within that period. Once aboard the bus or tram, passengers need to validate their ticket using the machines available inside the vehicles.
When planning your itinerary, it's helpful to know some recommended routes and stops for popular attractions in Florence. Buses often connect important landmarks such as the Duomo, Ponte Vecchio, and Piazza della Signoria. Trams are an excellent option for reaching destinations on the outskirts of the city or accessing areas like Santa Maria Novella train station.
Using public transportation not only saves time but also allows visitors to experience local life alongside residents of Florence. It's a great way to immerse oneself in the vibrant atmosphere of this stunning Italian city while still enjoying the convenience and ease of getting around.
Walking
Florence, Italy is a city that begs to be explored on foot. Walking through its narrow streets and winding alleys allows visitors to truly immerse themselves in the rich history and vibrant culture of the city. There are several advantages to exploring Florence by foot, including the opportunity to discover hidden gems and enjoy local experiences that may otherwise be missed.
To make the most of your walking adventure, it's helpful to have a plan. Florence is divided into several neighborhoods, each with its own unique character and attractions. Consider starting your exploration in the historic center, where you'll find iconic landmarks such as the Duomo, Uffizi Gallery, and Ponte Vecchio. From there, venture into Oltrarno on the other side of the Arno River for a taste of local artisans and craftsmen along with peaceful gardens and picturesque squares.
When planning your walking itineraries, be sure to include time for frequent breaks at street-side cafes or gelato shops. These pit stops allow you to rest your feet while savoring Italian delights. It's also important to wear comfortable walking shoes to ensure a pleasant experience. The cobblestone streets of Florence can be uneven, so opt for sturdy footwear that provides proper support.
Start your walking adventure in the historic center and explore landmarks like the Duomo, Uffizi Gallery, and Ponte Vecchio
Continue your journey across the Arno River into Oltrarno for artisan shops and peaceful gardens
Take frequent breaks at local cafes or gelato shops
Wear comfortable walking shoes for a pleasant experience
Whether you choose to follow suggested walking itineraries or simply stroll aimlessly through Florence's charming streets, exploring on foot allows you to truly capture the essence of this enchanting city.
Bicycles
Florence, Italy is known for its rich history, stunning architecture, and enchanting landscapes. One of the best ways to truly embrace the spirit of this vibrant city is by immersing yourself in its cycling culture. With a bike-friendly infrastructure and rental services readily available, exploring Florence on two wheels can be an unforgettable experience.
Highlighting the city's bike-friendly infrastructure and rental services
Florence boasts an impressive network of bike lanes and paths, making it easy and safe to navigate the city on a bicycle. The extensive infrastructure includes dedicated cycling lanes that connect major attractions and neighborhoods, allowing travelers to pedal their way through Florence while enjoying picturesque views along the way.
In addition to the bike lanes, there are numerous bike rental services scattered throughout the city. These shops offer a variety of bicycles for rent, including traditional bikes as well as electric bikes for those who prefer assistance with pedaling. Rental prices are usually affordable and often include helmets, locks, and city maps to ensure a comfortable and enjoyable cycling experience.
Best routes and scenic cycling paths in and around Florence
Cycling in Florence opens up a whole new world of exploration beyond the typical tourist routes. For a leisurely ride with breathtaking scenery, consider heading towards Fiesole. This charming town is located just a few kilometers outside of Florence's city center and offers stunning views of the Tuscan landscape.
Another popular route for cyclists is along the Arno River. This flat path provides a relaxing journey where you can pass by iconic landmarks such as Ponte Vecchio while taking in the tranquil atmosphere of Florence from a different perspective.
If you're up for more adventure, venture out into the Chianti wine region just south of Florence. The rolling hills covered in vineyards provide a picturesque backdrop for your cycling journey. Along the way, you can stop at local wineries to sample some of Tuscany's finest wines.
Exploring iconic landmarks on two wheels
Cycling offers a unique way to explore Florence's iconic landmarks. With a bicycle, you can easily navigate the narrow streets and reach places that are not accessible by car or bus. Ride through the historic center and discover hidden gems tucked away in charming alleyways. Get up close to famous sights like the Duomo, Palazzo Pitti, and Piazza della Signoria, all while enjoying the freedom and flexibility that cycling provides.
For those who want a guided experience, there are bike tours available that will take you to the must-see attractions in Florence. These tours provide informative commentary by local guides who will share fascinating stories and historical facts about the city as you pedal your way through its enchanting streets.
Vespa Tours
Looking for a unique and exhilarating way to explore Florence? Consider taking a Vespa tour, where you can experience the city like a local. Riding through the charming streets of Florence on a vintage Vespa scooter not only offers an exciting adventure, but it also provides a deeper understanding of the city's culture and lifestyle.
One of the main benefits of taking a Vespa tour is the flexibility it offers. Unlike traditional guided tours, Vespa tours allow you to have more control over your itinerary and pace. You can choose to visit popular attractions or venture off the beaten path to discover hidden gems known only to the locals. With the wind in your hair and the freedom to navigate through narrow alleyways, you'll truly feel like a part of Florence's vibrant community.
When booking a Vespa tour in Florence, it is important to choose a reliable and reputable tour operator. There are several companies that offer guided Vespa tours, ensuring you have an experienced guide who can provide valuable insights into the city's history and culture along the way.
Some popular routes include exploring the historic center of Florence and its iconic landmarks such as Piazza della Signoria, Ponte Vecchio, and the Duomo. Additionally, there are options for longer tours that take you into Tuscany's picturesque countryside, allowing you to admire rolling vineyards and stunning panoramic views.
Before embarking on your Vespa adventure, it is essential to prioritize safety. Make sure to wear appropriate protective gear such as helmets and closed-toed shoes. Familiarize yourself with local traffic rules and regulations, as well as how to operate a scooter if you have little experience riding one. It's also advisable to choose a tour that includes insurance coverage for added peace of mind.
Experience Florence in a unique way by hopping on a Vespa scooter and immersing yourself in local culture while exploring famous landmarks and hidden corners. Whether you choose a guided tour or opt for a self-guided adventure, riding a Vespa offers an unforgettable experience of the city that you won't want to miss. So, get ready to feel the exhilarating energy of Florence as you zip through its vibrant streets on two wheels.
Taxis and Ride-Sharing
Florence offers convenient options for transportation such as taxis and ride-sharing services. Whether you prefer the convenience of a taxi or the flexibility of booking a ride through an app, these options provide a hassle-free way to navigate the city.
Availability of Taxis and Ride-Sharing Services in Florence
Finding a taxi in Florence is relatively easy, particularly in popular areas such as train stations, airports, and tourist landmarks. Taxis can be hailed from the street or found at designated taxi stands throughout the city. Additionally, ride-sharing services like Uber and Lyft are available in Florence, providing another convenient option for getting around.
Fare Information, Booking Tips, and Reliable Companies
It is important to familiarize yourself with the fare system before using taxis or ride-sharing services in Florence. Taxis typically charge based on a metered rate that includes a base fare plus additional charges per kilometer or time spent waiting. It is recommended to check the taxi fare rates displayed on the side window or seat of the taxi before starting your journey.
When it comes to ride-sharing services, fares are usually calculated based on distance traveled and demand at that particular time. It is advisable to have a functioning mobile data connection when using ride-sharing apps to ensure smooth communication with your driver.
In terms of reliable companies, there are several reputable taxi companies operating in Florence such as Radio Taxi 4242 and Taxi Blu. When it comes to ride-sharing services, Uber is widely available in Florence with a user-friendly app interface.
Instances where Taxis may be a Preferred Choice
While public transportation options like buses and trams cover most areas of Florence, there may be instances where taxis are preferred. Taxis can be especially useful when traveling with heavy luggage or during late hours when public transportation frequency may be reduced. They also provide a door-to-door service, ensuring direct access to your destination.
Additionally, taxis can be a convenient option for those with limited mobility or individuals seeking a more comfortable and private way of getting around the city. However, it is important to note that during peak tourist seasons or major events, it may be challenging to find available taxis. In such cases, booking through ride-sharing services can offer a reliable alternative.
By considering the convenience and benefits of taxis and ride-sharing services in Florence, visitors can choose the mode of transport that best suits their needs and preferences while exploring this beautiful Italian city.
Boat Tours
Florence, Italy is a city known for its rich history, stunning architecture, and picturesque views. One unique way to experience the beauty of Florence is through a boat tour along the Arno River. Boat tours provide visitors with a different perspective of the city and offer a relaxing and enjoyable way to explore its landmarks and highlights.
Boat tours along the Arno River allow you to see Florence from a completely different angle. As you float along the river, you will be able to admire the city's iconic bridges such as Ponte Vecchio and Ponte Santa Trinita, as well as catch glimpses of famous landmarks like Palazzo Pitti and the Uffizi Gallery. The views from the water provide a unique opportunity for stunning photographs and a memorable experience.
There are different types of boat tours available in Florence, catering to various preferences and interests. Some tours offer guided commentary about the city's history, architecture, and culture, providing valuable insights as you cruise along the river. Other tours may focus more on providing a romantic ambiance or an intimate dining experience aboard a luxury boat. With several options available, travelers can choose a tour that best suits their interests and desires while visiting Florence.
Boat Tours: Discover Florence Along the Arno River
– Unique perspectives of Florence from the water
– Different types of boat tours available
– Highlights and landmarks to spot during a boat tour
Day Trips
Florence, Italy is not only a city rich in history and culture but also serves as a gateway to stunning landscapes and charming towns just a short distance away. Taking day trips from Florence allows travelers to discover more of Tuscany's beauty and diversity. Whether you're looking for picturesque vineyards, medieval hilltop villages, or coastal escapes, there are plenty of options to choose from.
One popular day trip option from Florence is visiting the charming town of Siena. Known for its medieval architecture and historic center, Siena offers a different experience than the bustling streets of Florence. The town is best explored on foot, wandering through the winding streets and discovering hidden squares. Don't miss the magnificent Piazza del Campo, where the famous Palio horse race takes place twice a year.
Another must-visit destination near Florence is the beautiful region of Chianti. This wine-growing area is renowned for its rolling hills covered in vineyards and olive groves. Take a scenic drive through this picturesque countryside or join a wine tour to visit some of the most famous wineries in Italy. The idyllic villages of Greve in Chianti and Castellina in Chianti are worth exploring for their charming atmosphere and delicious Tuscan cuisine.
| Destination | Distance from Florence |
| --- | --- |
| Siena | Approximately 76 km |
| Chianti | Approximately 21 km |
| Cinque Terre | Approximately 143 km |
| San Gimignano | Approximately 54 km |
| Pisa | Approximately 85 km |
Each of these destinations offers a unique experience, allowing visitors to delve deeper into the beauty and history of Tuscany. Whether you prefer exploring ancient towns, tasting world-class wines, or taking in breathtaking coastal views, there is a day trip from Florence that will capture your interest.
To reach these destinations, there are various transportation options available. Travelers can opt for organized tours that provide comfortable transportation and expert guides. Alternatively, train services connect Florence with many of these nearby towns, offering a convenient and affordable way to explore the region at your own pace.
Embarking on day trips from Florence not only showcases the stunning landscapes and towns beyond the city but also provides a well-rounded experience of Tuscany's diverse attractions. From historic villages to vineyard-dotted hillsides, there is something for everyone just waiting to be discovered outside the city confines.
Conclusion
In conclusion, Florence offers a variety of optimal ways to travel around the city, allowing visitors to explore its beauty and charm with ease. Whether you choose to utilize the efficient public transportation system, embark on walking adventures, embrace the cycling culture, or experience Florence like a local on a Vespa tour, there is something for everyone.
Public transportation in Florence is highly recommended for efficient and convenient travel. With a well-connected network of buses and trams, navigating the city becomes seamless. By purchasing and using tickets correctly, visitors can reach popular attractions and landmarks easily. It is advisable to plan routes in advance to make the most out of your time in Florence.
For those who want to immerse themselves in the local atmosphere and discover hidden gems off-the-beaten-path, exploring Florence on foot is ideal. The advantages of walking include stumbling upon unexpected charms and experiencing everyday life as a local does. With tailored itineraries for different neighborhoods and landmarks, visitors can create their own unique experiences based on their interests.
To fully embrace the cycling culture of Florence, renting bicycles allows travelers to enjoy scenic paths while getting around efficiently. The city's bike-friendly infrastructure makes it easy to pedal your way through iconic landmarks. For an even more immersive experience, taking a Vespa tour is highly recommended. These tours offer flexibility and insider insights into the city's rich history and local culture.
In addition to these options, taxis and ride-sharing services provide convenience for travelers who prefer door-to-door transport or have time constraints. Boat tours along the Arno River offer a unique perspective of Florence's beauty from the water, showcasing stunning views of the city's landmarks. Furthermore, day trips beyond Florence provide opportunities to explore nearby towns and landscapes that are just a short distance away.
Frequently Asked Questions
What is the easiest way to get around Florence?
The easiest way to get around Florence is by walking. The city center is relatively small and compact, making it very pedestrian-friendly.
Many of the main attractions, such as the Duomo, Uffizi Gallery, and Ponte Vecchio, are within walking distance of each other. Walking not only allows you to soak in the beauty of the city at a leisurely pace but also gives you the opportunity to discover hidden gems and stumble upon charming shops and cafes along the way.
How many days in Florence is enough?
The number of days needed in Florence really depends on your personal preferences and interests. However, I would recommend spending at least three to four days in Florence to truly appreciate all that this magnificent city has to offer.
This will give you enough time to explore the historic center, visit world-renowned museums and galleries, indulge in delicious Tuscan cuisine, and even take day trips to nearby destinations like Pisa or Siena. With a well-planned itinerary and sufficient time, you can experience Florence's art, culture, history, and culinary delights without feeling rushed.
How do you get around the city in Florence?
Getting around Florence is fairly easy due to its efficient public transportation system. The most common mode of travel within the city is by bus.
ATAF buses operate throughout Florence and reach nearly every corner of the city with an extensive network of routes. Another popular option is using taxis; however, they can be quite expensive compared to other modes of transportation.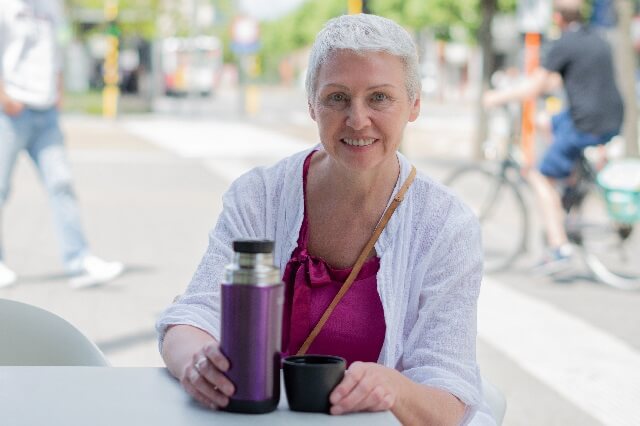 I'm a passionate traveler, writer, and Italophile. My fascination with Italy's history, art, and culture has led me on countless adventures across the Italian landscape. Through "I Live Italy," I share my love for this extraordinary country and aims to inspire others to explore its boundless beauty.