Siena, Italy, a city steeped in history and brimming with beauty, is a destination that captures the hearts of travelers from around the world. With its medieval charm, stunning architecture, and vibrant festivals, Siena offers a truly enchanting experience for those who venture to this Tuscan gem. In this article, we will delve into all aspects of traveling to Siena, providing you with insights on how to make the most of your visit.
Nestled in the heart of Tuscany, Siena is renowned for its captivating allure. As you wander through its narrow streets and piazzas, you'll be transported back in time by the medieval architectural marvels that have stood the test of time. The city's crown jewel is undoubtedly Piazza del Campo, an impressive cobbled square that serves as the focal point of Sienese life and hosts the exhilarating Palio horse race every July and August.
As one of Italy's most popular tourist destinations, Siena attracts visitors year-round. However, choosing the optimal time to visit can greatly enhance your experience. Whether you prefer mild temperatures for sightseeing or wish to coincide your trip with one of Siena's vibrant festivals, we'll guide you through the best times to visit based on weather conditions and local events.
Now that we've introduced the magnetic appeal of Siena Italy, let's turn our attention to travel planning. From transportation options to finding suitable accommodation and exploring top attractions and activities in Siena – we've got it covered. With our comprehensive guide in hand, you'll be well-equipped to embark on an unforgettable journey through this extraordinary city that brims with cultural heritage and scenic wonders.
Travel planning
Siena is a city that can be enjoyed year-round, but there are certain times of the year that offer optimal experiences for visitors. To make the most out of your trip to Siena, it is important to consider both the weather and the events taking place in the city.
The best time to visit Siena weather-wise is during the spring (April to June) and autumn (September to November) months. These seasons boast mild temperatures, ranging from 15°C (59°F) to 25°C (77°F), making it comfortable to explore the city on foot without feeling too hot or cold. Additionally, these seasons showcase beautiful blooming flowers and vibrant fall foliage, enhancing the overall charm of Siena.
Aside from favorable weather conditions, it is also worth considering visiting Siena during specific events or festivals. One of the most famous events in Siena is the Palio di Siena, a thrilling horse race that takes place in Piazza del Campo on July 2nd and August 16th each year.
This traditional event attracts visitors from around the world and offers a unique cultural experience. However, keep in mind that accommodations may be limited and prices can be higher during this time.
Another significant event in Siena is the Feast of Saint Catherine on April 30th. This celebration honors Saint Catherine of Siena, who was born in the city, and includes processions, concerts, and fireworks. It provides an opportunity to witness local traditions and immerse yourself in Sienese culture.
When planning your visit to Siena Italy, consider both the weather conditions as well as any special events or festivals happening during your desired travel dates. This will allow you to enjoy all that this enchanting city has to offer while having an unforgettable experience.
Getting to Siena Italy
One of the first steps in planning a trip to Siena Italy is figuring out how to get there. Fortunately, there are several transportation options available that can suit different budgets and travel preferences.
Flights: If you're coming from a different country or a distant location within Italy, flying to Siena may be the most convenient option. The closest airport to Siena is Florence Airport Peretola (FLR), which is located about 70 kilometers away. From the airport, you can take a taxi or a regional bus to reach Siena.
Another nearby airport is Pisa International Airport (PSA), which is about 130 kilometers away from Siena. From Pisa, you can take an express train or bus to get to Florence and then continue on to Siena.
Trains: Taking the train is a popular way to reach Siena as it offers scenic views and often faster travel times compared to buses. The main train station in Siena is called "Siena Station" or "Stazione di Siena," and it's conveniently located within walking distance of the city center.
If you're already in Italy, you can easily catch a train from major cities like Florence, Rome, or Milan. It's recommended to check schedules and book tickets in advance, especially during peak tourist seasons.
Buses: Traveling by bus is another viable option for getting to Siena Italy, especially if you're already exploring other parts of Tuscany or neighboring regions. There are several bus companies that operate routes to Siena, such as FlixBus and Sena Autolinee. From Florence, for example, you can take a direct bus that departs from Santa Maria Novella Station and arrives at Via Tozzi Bus Stop in Siena city center.
When planning your transportation to Siena Italy, it's important to consider factors such as cost, travel time, and convenience. It's also worth noting that Siena's historic center is mostly pedestrianized, so if you're driving, you'll need to park outside the city walls and walk or take public transportation to get around. Whichever transportation option you choose, once you arrive in Siena, be prepared to be enchanted by its captivating beauty and rich history.
Accommodation in Siena Italy
When planning a trip to Siena, the choice of accommodation can greatly enhance the overall experience. Siena offers a diverse range of options to suit every traveler's preferences and budget. From luxury hotels housed in historic buildings to cozy bed and breakfasts tucked away on quiet streets, there is something for everyone in this charming city.
For those seeking a splurge, Siena boasts several high-end hotels that exude elegance and sophistication. These properties often feature stunning views of the city's famous landmarks, such as the Siena Cathedral or the Piazza del Campo. Upscale amenities such as spas, rooftop pools, and gourmet restaurants ensure a luxurious stay for discerning travelers.
Travelers on a shoestring budget need not despair as there are plenty of affordable accommodations available in Siena. Budget-friendly hostels provide a comfortable atmosphere and communal spaces where guests can mingle with fellow travelers. These hostels often offer amenities such as shared kitchens and free Wi-Fi, making them an excellent choice for backpackers or solo adventurers.
Choosing the right neighborhood or area to stay in can also greatly influence your experience in Siena. The historic center is the most popular choice among tourists due to its proximity to major attractions and vibrant atmosphere.
This area is characterized by narrow cobblestone streets lined with medieval buildings, creating a truly immersive experience. However, those looking for a quieter stay might consider neighborhoods outside the historic center, where they can enjoy a more relaxed ambiance while still having easy access to central attractions.
| Accommodation Type | Average Price Range per Night |
| --- | --- |
| Luxury Hotels | $200-$500 |
| Mid-Range Hotels | $100-$200 |
| Bed and Breakfasts | $80-$150 |
| Budget Hostels | $20-$60 |
Finding the perfect accommodation in Siena Italy is an essential step in planning a memorable trip. Whether you're seeking luxury or budget-friendly options, Siena offers a variety of choices to cater to different preferences. Consider the location and amenities that are important to you, and get ready to immerse yourself in the beauty and history of this enchanting city.
Exploring Siena Italy
Must-Visit Attractions
When exploring Siena, there are a few key attractions that should not be missed. The first stop on any Siena itinerary should be the iconic Piazza del Campo. This shell-shaped square is not only a central gathering place for locals and tourists alike, but it is also the location of the thrilling Palio horse race held twice a year. Take some time to relax at one of the outdoor cafes in the piazza, absorbing the vibrant atmosphere.
Another must-see attraction in Siena is the Siena Cathedral (Duomo di Siena). This stunning medieval church showcases impressive Gothic architecture and houses magnificent masterpieces like Michelangelo's sculpture, "The Moses." Be sure to climb to the top of the cathedral tower for breathtaking panoramic views of Siena and its surroundings.
Additionally, a visit to Palazzo Pubblico is highly recommended. This medieval palace serves as both a museum and government building. Inside, you'll find the striking frescoes in the Sala della Pace (Room of Peace) by renowned Italian artists such as Ambrogio Lorenzetti. Don't miss climbing to the top of Torre del Mangia for unrivaled views of Siena's rooftops and beyond.
Unique Activities
While exploring Siena's famous attractions is essential, if you have some extra time, consider immersing yourself in unique experiences that this charming city has to offer. One such activity is taking a cooking class where you can learn how to prepare traditional Tuscan recipes using fresh local ingredients. Under the guidance of skilled chefs, you'll discover the secrets behind classic dishes like bruschetta, ribollita soup, or tiramisu.
For those seeking an adrenaline rush mixed with history and tradition, attending a traditional Palio horse race will leave you breathless. This ancient event takes place twice each summer in Piazza del Campo, where jockeys ride bareback at breakneck speeds around the square. Witnessing the passion and intensity of this race is an unforgettable experience that truly captures the spirit of Siena.
If you prefer a more leisurely pace, visit one of Siena's many wine bars or enotecas to indulge in a wine tasting experience. Siena is located in the heart of Tuscany, renowned for its exceptional wines such as Chianti and Brunello di Montalcino. Take the opportunity to savor these regional varietals accompanied by delectable local cheeses and cured meats, fully immersing yourself in Sienese culture.
So whether you're exploring historic landmarks or participating in unique activities, Siena has something for every traveler.
Immerse in Sienese Culture
Traditional Sienese Cuisine
When you travel-times/" target="_blank" rel="follow noopener">travel to Siena, Italy, one of the best ways to immerse yourself in the local culture is through its cuisine. Sienese cuisine is known for its simple yet flavorful dishes that showcase the region's finest ingredients. One traditional dish that you must try is Pici pasta, a thick hand-rolled noodle typically served with a variety of sauces such as ragù or cacio e pepe.
Another must-try specialty is Panforte, a rich and dense fruitcake made with nuts, spices, and dried fruits. This sweet treat has a long history in Siena and makes for a perfect souvenir or gift.
To truly experience the authentic flavors of Siena, consider dining at traditional local restaurants known as "osterias" or "trattorias." These establishments often feature hearty Tuscan dishes made with fresh, locally sourced ingredients.
Some popular choices include Osteria Le Logge, which offers an elegant ambiance along with an extensive menu featuring both classic and innovative dishes. For those on a budget, exploring local food markets like Mercato Centrale can provide an opportunity to sample a wide range of fresh produce, cheeses, and cured meats.
Savoring Local Wines
When it comes to wine, Siena and the surrounding region are home to some world-renowned varieties. The most famous is Chianti, which is produced in vineyards just outside of Siena. This red wine is known for its fruity flavors and pairs perfectly with many Tuscan dishes.
Another notable wine from the region is Brunello di Montalcino, made exclusively from Sangiovese grapes grown around the village of Montalcino. This highly regarded wine boasts a rich and complex flavor profile that improves over time.
To fully appreciate the local wines of Siena, consider visiting wineries in the nearby countryside for tastings and tours. Some wineries offer guided visits where you can learn about the winemaking process while sampling different varietals. This is a great way to not only taste exceptional wines but also gain insight into the history and culture of the region.
Exploring Tuscany
Siena Italy is not only a city filled with beauty and history, but it is also an ideal base for exploring the stunning region of Tuscany. While Siena itself offers countless attractions to explore, taking day trips to nearby towns and cities can provide an enriching and diverse experience. Here are some of the top day trip options from Siena:
San Gimignano: Known as the "Medieval Manhattan," San Gimignano is a UNESCO World Heritage Site that will transport you back in time with its well-preserved towers and medieval architecture. Take a stroll through its charming streets, visit the impressive Collegiate Church, and don't forget to sample the famous local Vernaccia wine.
Montalcino: Wine lovers cannot miss a visit to Montalcino, renowned for its world-class Brunello wine. Explore the picturesque hilltop town and indulge in wine tastings at the various vineyards scattered throughout the region. Make sure to also visit the imposing fortress that offers breathtaking views of the surrounding countryside.
Pienza: For those seeking a taste of Renaissance architecture, Pienza is a must-visit destination. This small town was transformed by Pope Pius II into an architectural masterpiece in the 15th century. Wander through its narrow streets, admire the Palazzo Piccolomini, and savor traditional pecorino cheese at one of its many gourmet shops.
Chianti Wine Region: Embark on a scenic drive through the enchanting landscapes of Chianti, famous for its rolling hills dotted with vineyards and olive groves. Stop at wineries along the way to sample delicious Chianti Classico wines and explore charming towns like Greve or Castellina in Chianti.
Florence: Although not exactly a "day trip" due to its proximity, Florence is easily accessible from Siena by train or bus and deserves a mention. The birthplace of the Renaissance, Florence is a treasure trove of art and history. Experience iconic sights such as the Duomo, Uffizi Gallery, and Ponte Vecchio, and soak up the vibrant atmosphere of this cultural capital.
When planning these day trips from Siena, it's important to consider transportation options. Renting a car provides the most flexibility and allows you to explore at your own pace. However, if you prefer not to drive, organized tours or public transportation options are also available.
Embarking on day trips from Siena Italy offers an opportunity to immerse yourself in the diverse landscapes and rich history of Tuscany. Each destination has its unique charm and attractions that will leave you wanting more. Whether it's medieval towns, world-class wines, or stunning countryside vistas, these day trips will surely enhance your visit to Siena and provide unforgettable experiences in this captivating region of Italy.
Practical Tips for Traveling to Siena Italy
When it comes to traveling to Siena, Italy, there are a few practical tips that can greatly enhance your experience. Familiarizing yourself with local customs and basic Italian phrases will make navigating the city much easier and enable you to connect with the locals on a more meaningful level. Additionally, understanding the various transportation options within Siena and being aware of important safety tips or local regulations will help ensure a smooth and enjoyable trip.
One of the first things to keep in mind when traveling to Siena is to respect the local customs and etiquette. Italians tend to be polite and formal, so it is recommended to greet people with "buongiorno" (good morning) or "buonasera" (good evening) and say "grazie" (thank you) whenever appropriate. It is also customary to dress modestly when visiting churches or other religious sites.
Learning a few basic Italian phrases can go a long way in making your interactions with locals more pleasant. Simple greetings like "ciao" (hello) or "arrivederci" (goodbye) can be used in everyday situations, while phrases like "scusi" (excuse me) or "parla inglese?" (do you speak English?) can come in handy when seeking assistance.
In terms of transportation within Siena, the city has an extensive network of buses that are convenient for getting around. The fares are typically affordable, and you can purchase tickets directly from the bus driver or from tobacconists. Taxis are also available but tend to be more expensive. It's worth noting that Siena's historic center is largely pedestrianized, so walking is often the best way to explore its narrow streets and alleys.
Lastly, it's important to be mindful of safety precautions while visiting Siena. Make sure to watch out for pickpockets, particularly in crowded areas like tourist attractions or public transportation hubs. It's also advisable to have a photocopy of your passport and other important documents and keep them separate from the originals. Additionally, familiarize yourself with any local regulations or restrictions, such as parking rules or designated smoking areas.
By following these practical tips, you'll be well-prepared to explore the exquisite beauty of Siena, Italy while embracing the warmth and charm of the local culture. So pack your bags, learn a few Italian phrases, and get ready for an unforgettable adventure in this breathtaking Tuscan city.
Conclusion
In conclusion, Siena Italy offers a captivating and enchanting experience for travelers seeking to immerse themselves in the beauty and history of this charming city. From its stunning architecture to its rich cultural heritage, Siena has something to offer every visitor. Whether you choose to explore the famous attractions like Piazza del Campo and Siena Cathedral or indulge in the delicious local cuisine and wine, Siena is sure to leave a lasting impression.
When planning your trip, consider the best time to visit based on the weather and events that take place throughout the year. Each season in Siena has its own unique charm, whether it's witnessing the lively horse race of Palio or enjoying a leisurely stroll through the narrow streets during springtime. The transportation options available allow for easy access to Siena, whether you prefer flying into nearby airports, taking a scenic train ride, or opting for affordable bus routes.
Accommodation options in Siena cater to all budgets and preferences. Choose from luxury hotels with breathtaking views of the city or budget-friendly hostels that provide a more authentic experience. Consider staying in neighborhoods that are close to main attractions for added convenience.
As you explore Siena's top attractions and activities, be sure to immerse yourself in its rich culture and traditions. Indulge in the local cuisine with traditional dishes like Pici pasta and Panforte. Visit local restaurants or food markets where you can taste authentic flavors firsthand. And don't forget about the renowned wines of Tuscany – be sure to try Chianti and Brunello di Montalcino while you're here.
Make time for day trips from Siena as well, as this allows you to further explore the beauty of Tuscany. Nearby towns like San Gimignano and Montalcino offer unique attractions and experiences that should not be missed.
Frequently Asked Questions
How do I get to Siena without a car?
Getting to Siena without a car is quite easy as there are several transportation options available. One popular method is to take a train from Florence to Siena. The train journey takes approximately 5 to 2 hours, depending on the type of train you choose.
Another option is to take a bus from Florence to Siena, which usually takes around 5 to 2 hours as well. The buses are comfortable and offer scenic routes through the Tuscan countryside. Additionally, if you prefer a more adventurous approach, you can consider cycling or hiking to Siena using the many trails and bike paths in the region.
How long is the train from Florence to Siena?
The train journey from Florence to Siena typically takes around 1.5 to 2 hours depending on the train service you select. It's important to note that there are different types of trains available, including regional trains and faster intercity trains.
Regional trains often make multiple stops along the way, which can slightly increase travel time, while intercity trains usually provide faster direct routes between the two cities. However, regardless of the type of train you choose, the overall duration of the journey remains reasonably consistent.
Should I take the bus or train from Florence to Siena?
Deciding whether to take a bus or train from Florence to Siena depends on personal preferences and specific circumstances. Both options have their advantages and it ultimately comes down to individual priorities for comfort, convenience, and timing. If you value flexibility and freedom, taking a bus may be preferable as they generally have more frequent departures throughout the day compared to trains which follow specific schedules.
Buses also tend to be more affordable than train tickets but could be subject to traffic conditions on highway routes between Florence and Siena. On the other hand, if your priority is speed and efficiency, then choosing a train might be ideal since they offer quicker travel times even though they have limited departures per day in comparison with buses.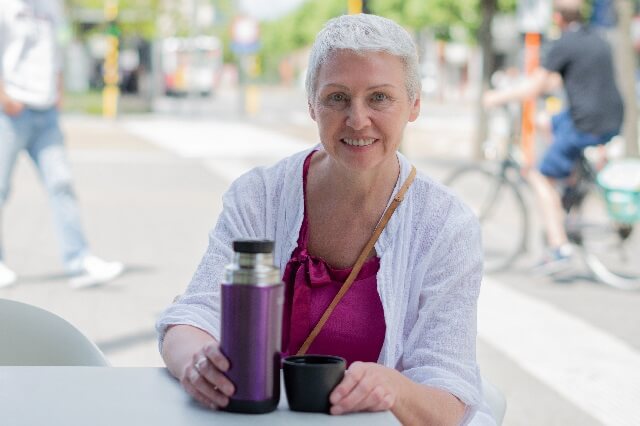 I'm a passionate traveler, writer, and Italophile. My fascination with Italy's history, art, and culture has led me on countless adventures across the Italian landscape. Through "I Live Italy," I share my love for this extraordinary country and aims to inspire others to explore its boundless beauty.