Italy is known for its rich history, stunning architecture, and delectable cuisine. And what better way to soak in the beauty of this mesmerizing country than by taking a train journey from Rome to Florence? The route between these two iconic cities offers travelers a wonderful opportunity to experience the charm of Italian train travel firsthand.
In this article, we will delve into the convenience and benefits of train travel in Italy, helping you understand why hopping on a train is the best way to explore this captivating nation. We will also provide detailed information on navigating the train stations in Rome, including insights on Termini and Tiburtina – two major hubs that connect travelers to various destinations across Italy.
Moving forward, we will help you choose the perfect train by exploring different classes and seat options available. Whether you prefer luxury or budget-friendly travel, there are options that cater to every traveler's needs. Additionally, we will highlight some must-see landscapes and scenic highlights along the route from Rome to Florence so you can make the most of your journey.
So buckle up as we take you on an exciting adventure through Italy's railway system. From insider tips for getting the best deals and discounts on train tickets to day trip ideas and excursions from both Rome and Florence, this article aims to be your ultimate guide for an unforgettable train travel experience in Italy.
Understanding the Convenience and Benefits of Train Travel in Italy
Train travel in Italy offers a number of convenience and benefits that make it an ideal mode of transportation for exploring the country. One of the main advantages of traveling by train is its efficiency and speed. The trains in Italy are known for their punctuality, making it easy to plan your itinerary and arrive at your destination on time. Additionally, the train network in Italy is extensive, connecting major cities and towns across the country, including Rome and Florence.
Another benefit of train travel in Italy is the comfort and convenience it provides. Trains offer spacious seating with plenty of legroom, allowing passengers to relax and enjoy their journey. Many trains also provide amenities such as onboard wifi and power outlets, making it easy to stay connected while on the go. In addition, most trains have ample storage space for luggage, eliminating the need to carry heavy bags around.
One of the major conveniences of train travel in Italy is the accessibility to city centers. Train stations are typically located in or near city centers, making it convenient for travelers to reach their hotels or desired destinations upon arrival. This eliminates the need for additional transportation from airports or bus terminals.
Overall, train travel in Italy offers convenience, comfort, and efficiency that can enhance your travel experience. Whether you're traveling from Rome to Florence or exploring other parts of the country, taking the train allows you to sit back, relax, and enjoy the scenic views along the way.
Convenience
Benefits
Efficiency and speed
– Punctual trains
Comfort
– Spacious seating with legroom

Onboard amenities such as wifi and power outlets.
Ample storage space for luggage

Accessibility
– Train stations located in or near city centers

Eliminates need for additional transportation
Navigating the Train Stations in Rome
When traveling from Rome to Florence by train, it is essential to be familiar with the train stations in Rome. Understanding the layout and features of these stations can help ensure a smooth and hassle-free journey.
The main train station in Rome is Roma Termini. As one of the largest train stations in Europe, Termini serves as a major transportation hub not only for trains but also for buses, taxis, and the city's metro system. It is conveniently located in the heart of Rome, making it easily accessible for travelers from different parts of the city.
Inside Termini, you'll find a wide range of facilities including ticket counters, information desks, restrooms, shops, cafes, and luggage storage facilities. There are also ATMs and currency exchange services available for your convenience.
Another important train station in Rome is Roma Tiburtina. Located on the eastern side of the city, Tiburtina is a modern and well-equipped station that offers convenient connections to various destinations across Italy. This station is especially convenient if you're coming from or heading towards central and northern Italy. Similar to Termini, Tiburtina provides all the necessary amenities such as ticket offices, waiting areas, restaurants, shopping outlets, and luggage storage facilities.
To navigate smoothly between these two stations or any other destination within Rome using public transportation, consider utilizing the city's efficient metro system. The subway lines run frequently and can take you to many key points around the city including both Termini and Tiburtina train stations. Additionally, you can make use of taxis or buses for more specific routes within Rome.
When traveling by train in Italy from Rome to Florence or any other destination, it's important to plan ahead and allow enough time for transfers between stations if necessary. By familiarizing yourself with the layout and amenities of these train stations in Rome – specifically Termini and Tiburtina, you can ensure a seamless travel experience and fully enjoy the charm of Italian train travel.
Choosing the Perfect Train
When traveling by train in Italy from Rome to Florence, it is important to choose the right class and seat option that best suits your needs and preferences. The Italian train system offers a variety of classes, each with its own amenities and price range. Here are some options to consider when selecting your train for this journey.
Standard Class
This is the most basic class available on Italian trains. While it may not offer all the luxuries of higher classes, it still provides a comfortable and affordable option for travelers. Standard class seats are generally spacious with enough legroom, and there are overhead storage compartments for luggage. For shorter journeys like Rome to Florence, this class is a popular choice among budget-conscious travelers.
Premium Class
Premium class offers an upgraded experience compared to standard class. It provides more comfortable seating, often with extra legroom and adjustable backrests. Passengers in premium class also have access to power outlets for charging electronic devices during the journey. In addition, complimentary snacks and beverages are usually offered onboard.
Business Class
For those seeking an even more luxurious travel experience, business class is the way to go. This class offers spacious seating arrangements with ample legroom and even more comfort features such as footrests and larger tables. Business class passengers also receive additional amenities like free Wi-Fi access, priority boarding, complimentary meals, and dedicated assistance from train staff.
It's important to note that different train operators may have variations in their classes and seat options, so it's always recommended to check the specific details when booking your ticket. Additionally, first-class options may be available on some trains for an even more upscale experience.
When selecting your seat within your chosen class, you will typically have the option of choosing between aisle or window seats. Aisle seats provide easy access to the train aisle, making it more convenient for passengers who want to move around during the journey. On the other hand, window seats offer breathtaking views of the Italian countryside as you travel from Rome to Florence.
Ultimately, the choice of class and seat depends on your personal preferences, budget, and travel requirements. Whether you opt for standard class or splurge on a premium or business class ticket, traveling by train allows you to enjoy the scenic beauty of Italy while reaching your destination in comfort and style.
The Scenic Journey
Italy is renowned for its picturesque landscapes and breathtaking views, and the journey from Rome to Florence is no exception. As you travel through the heart of Italy by train, you will be treated to a scenic journey like no other. From rolling hills and vineyards to charming towns and historic landmarks, there are several must-see landscapes along the Rome to Florence route that you won't want to miss.
The Tuscan Countryside
One of the highlights of the Rome to Florence route is passing through the beautiful Tuscan countryside. As you leave behind the bustling city of Rome, you'll soon find yourself surrounded by rolling green hills dotted with cypress trees. Take in the stunning views of vineyards, olive groves, and charming villages as you make your way north towards Florence. This region is known for its scenic beauty and is often referred to as the heart of Tuscany.
Val d'Orcia
Another must-see landscape along the route is Val d'Orcia, a UNESCO World Heritage site located between Siena and Montepulciano. This area is characterized by its gentle hills, cypress trees, and picturesque medieval villages such as Pienza and Montalcino. Be sure to have your camera ready as you pass through this enchanting region that has inspired countless artists throughout history.
Arno River Valley
As you approach Florence, the train journey takes you through the scenic Arno River Valley. The Arno River winds its way through Tuscany's capital city and offers panoramic views of the iconic landmarks such as Ponte Vecchio and Palazzo Vecchio. Keep an eye out for breathtaking vistas of Florence's skyline as you make your final approach into the city.
Whether you're a nature enthusiast or simply appreciate the beauty of your surroundings, the Rome to Florence train journey is an opportunity to immerse yourself in the stunning landscapes that make Italy so beloved. Sit back, relax, and take in the ever-changing scenery as you travel through the heart of this beautiful country.
Insider Tips for Getting the Best Deals and Discounts on Train Tickets
Train travel in Italy offers a convenient and efficient way to explore the beautiful country. To make the most of your journey from Rome to Florence, it is essential to secure the best deals and discounts on train tickets. Here are some insider tips to help you save money while enjoying your Italian train adventure.
Book in advance: One of the easiest ways to get the best deals on train tickets is by booking them well in advance. The Italian rail system, Trenitalia, often offers discounted fares for early bookings. By planning your trip ahead of time and purchasing your tickets early, you can secure significant savings.
Consider different train types: Trenitalia operates both high-speed trains and regional trains along the Rome to Florence route. While high-speed trains like the Frecciarossa and Italo may be faster, they tend to be more expensive than regional trains. If you have a flexible schedule, opting for a regional train can help you save money without sacrificing too much time.
Look out for promotions and special offers: Trenitalia regularly runs promotions and special offers that can provide great discounts on train tickets. Keep an eye out for these promotions on their website or subscribe to their newsletter to receive updates directly in your inbox. Additionally, check if there are any discounts available for specific groups such as seniors, children, or students.
By following these insider tips, you can enjoy significant savings on train tickets from Rome to Florence. Remember to plan ahead, compare different train options, and take advantage of promotions or special offers available through Trenitalia. With these strategies in mind, you can make your Italian train journey even more affordable while still experiencing all the beauty that Italy has to offer.
Making the Most of Your Time in Florence
Florence is a city that is easily accessible by train, with its two main train stations serving as transportation hubs for both domestic and international travelers. The first and busiest station is Firenze Santa Maria Novella (SMN), located right in the heart of the city center. This historic station dates back to the 1930s and is known for its stunning architecture and bustling atmosphere.
Upon arrival at SMN, travelers will find themselves in the heart of Florence, within walking distance of many popular attractions such as the Duomo, Piazza della Signoria, and Ponte Vecchio. The station itself also offers several amenities including shops, restaurants, cafes, and ticket services.
For those traveling to or from the Florence airport, there is another train station called Firenze Rifredi that serves as a major transportation hub. Located about 4 kilometers northwest of the city center, this station offers direct connections to several major Italian cities including Rome, Milan, and Venice.
In addition to these main train stations, Florence also has smaller regional stations that provide convenient access to surrounding towns and villages. For example, Campo di Marte station is located on the eastern side of Florence and offers connections to popular destinations such as Arezzo and Siena.
| Train Station | Location | Main Destinations | Amenities |
| --- | --- | --- | --- |
| Firenze Santa Maria Novella (SMN) | In the city center | Rome, Milan, Venice | Shops, restaurants, cafes |
| Firenze Rifredi | About 4km northwest of city center | Rome, Milan, Venice | Connects to Florence airport |
| Campo di Marte | In the eastern side of Florence | Arezzo, Siena | N/A |
Overall, Florence's unique train stations and transportation hubs make it easy for travelers to explore both the city itself and the surrounding areas. Whether you're looking to visit iconic landmarks or embark on day trips to nearby towns, the well-connected train network in Florence provides a convenient and efficient way to travel.
Exploring Rome and Florence from the Train
When traveling from Rome to Florence by train, not only do you have the opportunity to explore these two iconic Italian cities, but you can also embark on exciting day trips and excursions along the way. With their convenient railway connections, both Rome and Florence serve as ideal starting points for exploring nearby destinations. Here are some enticing options for day trips and excursions that can be easily reached by train from either city:
Pisa: A trip to Tuscany is not complete without a visit to the Leaning Tower of Pisa. From Florence, you can take a train journey of around 1 hour and 20 minutes to reach this famous architectural marvel. Don't forget to capture those classic tourist photos, where it appears as though you're holding up the leaning tower.
Siena: Another gem of Tuscany, Siena is known for its medieval architecture and charming narrow streets. From Florence, hop on a train that will take you directly to Siena in just about an hour and a half.
Orvieto: If you're interested in exploring an enchanting hilltop town, consider taking a day trip from Rome or Florence to Orvieto. Known for its magnificent Duomo and underground caves, Orvieto can be reached by train in under two hours from either city.
Assisi: If you want to immerse yourself in history and spirituality, consider visiting the birthplace of St. Francis – Assisi. The scenic journey from Rome or Florence takes around two and a half hours by train.
Cinque Terre: For those who love picturesque coastal scenery, Cinque Terre should be high on your list of day trips. From Florence or Rome, take a train journey to La Spezia first, then transfer onto another local train that will bring you to one of the five breathtaking villages of Cinque Terre.
With these day trip options, you can make the most of your time in Italy and explore beyond Rome and Florence. Whether you're interested in architecture, history, nature, or stunning coastlines, there's a day trip or excursion that suits every traveler's preferences. Just hop on a train and let the beauty of Italy unfold before you.
A Culinary Adventure
Italy is renowned for its delicious cuisine, and what better way to experience it than by indulging in authentic Italian food and wine during your train journey from Rome to Florence? This section will guide you through the culinary delights that await you along the route, ensuring a truly memorable gastronomic adventure.
Regional Specialties
As you make your way from Rome to Florence, you'll have the opportunity to savor a variety of regional specialties. In Rome, don't miss the chance to try classic dishes such as carbonara (made with eggs, cheese, pancetta or guanciale, and black pepper), cacio e pepe (pasta with pecorino cheese and black pepper), and supplì (fried rice balls filled with gooey mozzarella).
You can find these delectable treats at local trattorias near the train stations or even at some of the vendors inside the stations themselves.
As you venture towards Florence, be sure to sample some of Tuscany's most iconic dishes. Try ribollita (a thick vegetable soup made with bread), bistecca alla fiorentina (a large T-bone steak grilled over an open flame), and pappa al pomodoro (a delicious tomato soup made with stale bread). Pair these dishes with a glass of Chianti wine for an authentic Tuscan experience.
Wine Tasting
No culinary adventure in Italy would be complete without indulging in some fine wines. Along the Rome-Florence route, you'll pass through vineyards that produce world-renowned wines. Consider stopping at wineries for a tasting experience that will leave your taste buds craving more. From bold reds like Sangiovese and Montepulciano d'Abruzzo to crisp whites like Soave and Vernaccia di San Gimignano, there is a wine for every palate.
Some wineries offer guided tours that take you through the vineyards, cellars, and tasting rooms, providing a behind-the-scenes look at the wine-making process. Whether you're a connoisseur or simply enjoy a good glass of vino, these wine tastings are an excellent opportunity to expand your knowledge and appreciation for Italian wines.
Gourmet Delicacies
In addition to its famous dishes and wines, Italy is also known for its gourmet delicacies. As you travel from Rome to Florence, keep an eye out for local markets and specialty shops where you can pick up mouthwatering treats like truffles, olive oils, balsamic vinegar, and artisanal cheeses. These culinary treasures make for perfect souvenirs for yourself or as gifts for friends and family back home.
Remember to pack some small containers or zip-lock bags so that you can carry any perishable items safely during your journey. Additionally, many trains in Italy provide onboard catering services where you can purchase snacks and beverages, so be sure to explore the menu options available and indulge in some delectable treats during your train ride.
Embark on a culinary adventure during your train travel from Rome to Florence and uncover the diverse flavors of Italy along the way. From regional specialties to fine wines and gourmet delicacies, this journey promises an unforgettable gastronomic experience that will tantalize your taste buds and leave you craving more of Italy's culinary delights.
Taking the Train to Florence
Florence, known as the birthplace of the Renaissance, is a city filled with historic and cultural gems waiting to be explored. Taking the train from Rome to Florence is not only convenient, but it also allows travelers to unravel the fascinating history and heritage of this medieval city.
Once you arrive at Florence's main train station, Santa Maria Novella, you will find yourself in the heart of the city. This iconic station is not just a transportation hub, but also an architectural masterpiece dating back to the 1930s. Its stunning facade and intricate interior design are worth taking a moment to admire before stepping outside and immersing yourself in the enchanting streets of Florence.
From Santa Maria Novella, you can easily explore some of Florence's most famous landmarks such as Piazza del Duomo, home to the magnificent Florence Cathedral with its famous Dome designed by Brunelleschi. A short walk from here will lead you to another UNESCO World Heritage site, the Uffizi Gallery. Housing artworks by Leonardo da Vinci, Botticelli, Michelangelo, and many others, this museum is a must-visit for art enthusiasts.
To truly unravel the historic and cultural gems of this medieval city, consider utilizing Florence's efficient public transportation system. The train station is well connected to other parts of the city by buses and trams, making it easy for you to reach attractions such as Pitti Palace and Boboli Gardens or take a leisurely stroll along Ponte Vecchio.
| Attraction | Description |
| --- | --- |
| Piazza del Duomo | Home to Florence Cathedral with its iconic Dome |
| Uffizi Gallery | A world-renowned museum housing masterpieces of Renaissance art |
| Pitti Palace | A grand palace showcasing various art collections and gardens |
| Boboli Gardens | An expansive Renaissance garden with stunning views of the city |
| Ponte Vecchio | A historic bridge renowned for its shops housing jewelry and artisanal goods |
Unraveling the historic and cultural gems of Florence is a journey that will transport you back in time. Whether you are exploring iconic landmarks, immersing yourself in world-class museums, or simply getting lost in the charming streets of this medieval city, taking the train from Rome to Florence is the perfect way to begin your adventure.
Safety and Comfort
Italy is known for its commitment to safety and comfort when it comes to train travel. The Italian railways prioritize passenger experience, ensuring that travelers have a smooth and pleasant journey from Rome to Florence.
Safety is of utmost importance to the Italian railways. Trains are equipped with modern safety features and undergo regular maintenance checks to ensure that they are in optimal condition. Trained staff members closely monitor the trains and stations, providing assistance and maintaining a secure environment for all passengers. As a result, train travel in Italy is considered one of the safest modes of transportation in the country.
In addition to safety, comfort is also a high priority for the Italian railways. Trains offer spacious seating with ample legroom, allowing passengers to relax throughout their journey. Depending on the class chosen, travelers may also enjoy additional amenities such as power outlets and Wi-Fi access. Additionally, many trains offer onboard food and beverage services, so passengers can indulge in a snack or meal while traveling from Rome to Florence.
The Italian railways understand that comfort extends beyond just seating arrangements. They strive to provide a clean and well-maintained environment on board their trains, ensuring that restrooms are regularly cleaned and stocked with necessary supplies. This attention to detail enhances the overall passenger experience, making train travel an enjoyable option for those exploring Italy.
The commitment of the Italian railways to safety and comfort has made train travel between Rome and Florence an excellent choice for both domestic and international travelers. By prioritizing passenger needs, these railway systems continue to provide a reliable and enjoyable way for people to explore this beautiful region of Italy.
Conclusion
In conclusion, train travel in Italy from Rome to Florence offers a charming and timeless experience that should not be missed. The convenience and benefits of traveling by train are unmatched, providing a hassle-free journey with stunning landscapes along the way. Navigating the train stations in Rome is made easy with options like Termini and Tiburtina, both serving as transportation hubs for travelers.
Choosing the perfect train is an important decision, as it allows you to explore different classes and seating options that suit your preferences. Whether you're looking for comfort or affordability, there is a train to fit every traveler's needs. The journey itself is a scenic one, filled with highlights and must-see landscapes that showcase the beauty of the Italian countryside.
To make the most of your time in Florence, it is essential to explore the city's unique train stations and transportation hubs. This will allow you to easily navigate around the city and discover its historic and cultural gems. Additionally, day trip ideas and excursions from both Rome and Florence provide opportunities to further explore these magnificent cities.
A culinary adventure awaits those who take the train to Florence, as authentic Italian food and wine can be discovered en route. Indulge in delectable dishes that represent the rich gastronomic heritage of Italy while enjoying the comfort of your journey.
Lastly, safety and comfort are paramount priorities for Italian railways, ensuring that passengers have a pleasant experience throughout their entire journey. From well-maintained trains to efficient service, travelers can rest assured that they are in good hands when traveling by train in Italy.
Embrace the charm and timelessness of train travel in Italy from Rome to Florence. Experience the convenience, beauty, culinary delights, history, culture, and commitment to passenger experience that make this mode of transportation truly unforgettable. Start planning your Italian rail adventure today.
Frequently Asked Questions
How much does it cost a train from Rome to Florence Italy?
The cost of taking a train from Rome to Florence in Italy can vary depending on several factors. Generally, the ticket prices for this journey range from around €15 to €40 for a one-way trip. It is important to note that fares may differ based on the type of train you choose, such as high-speed trains or regional trains, as well as the time and date of travel.
Additionally, booking in advance or opting for specific fare options like promotional tickets can also affect the final cost. Overall, while there are fluctuations in prices, it is possible to find reasonably priced train tickets for this route.
Is it easy to take train from Rome to Florence?
Taking a train from Rome to Florence is generally considered an easy and convenient mode of transportation. The rail network connecting these two cities is well-developed, providing frequent and efficient services throughout the day. Trains depart regularly from Roma Termini station in Rome and arrive at Santa Maria Novella station in Florence, offering travelers multiple departure options.
The journey itself takes approximately 1 hour and 30 minutes with fast trains like the Frecciarossa or Italo high-speed services. With reliable schedules, comfortable seating, and minimal hassle with security checks compared to air travel, taking a train is often a popular choice for traveling between Rome and Florence.
Is it better to drive from Rome to Florence or take a train?
When deciding between driving from Rome to Florence or taking a train, several factors should be considered. Driving gives you more flexibility and control over your schedule as you don't have to adhere to fixed departure times like when taking a train.
It allows you to make stops along the way and explore other towns or attractions at your own pace. However, it's important to consider traffic conditions and parking availability in both cities which can be challenging at times.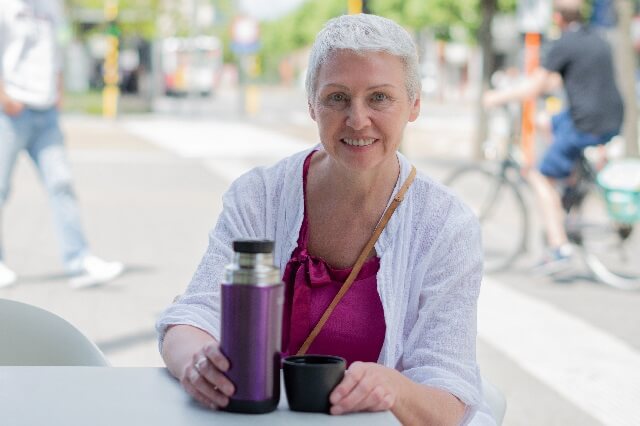 I'm a passionate traveler, writer, and Italophile. My fascination with Italy's history, art, and culture has led me on countless adventures across the Italian landscape. Through "I Live Italy," I share my love for this extraordinary country and aims to inspire others to explore its boundless beauty.