Ventimiglia, Italy travel offers an unforgettable experience for those seeking to explore the hidden gem of the Italian Riviera. Nestled along the coast, Ventimiglia is a charming coastal town that captivates visitors with its unique features and attractions. With its rich history, stunning beaches, bustling markets, and mouthwatering cuisine, Ventimiglia is a must-visit destination for travelers.
As you step into Ventimiglia, you'll be greeted by its picturesque streets lined with colorful buildings and adorned with ancient architecture. The town's Old Town takes you on a journey through history with its narrow cobblestone streets and captivating squares. Don't miss the chance to visit landmarks like the impressive Cathedral of Santa Maria Assunta and the stunning Hanbury Gardens.
For shopaholics, Ventimiglia's famous market days provide a shopper's paradise. From fresh local produce to fashionable clothing and accessories, the market offers a wealth of goods to explore. Whether you're haggling for a bargain or simply soaking in the vibrant atmosphere, these market days are not to be missed.
Of course, no trip to Ventimiglia would be complete without experiencing its stunning beaches. With crystal-clear waters and soft golden sand, these coastal havens offer an idyllic setting for relaxation and sun-soaked bliss. Families will find family-friendly beach options, while those seeking tranquility can discover secluded spots away from crowds.
Intriguingly diverse culinary delights await in Ventimiglia as well. The local cuisine showcases regional specialties such as "Ravioli di Zucca" (pumpkin ravioli) and "Stoccafisso alla Ventimigliese" (Ventimiglia-style stockfish). Authentic local restaurants and cafés serve up these delights alongside other tempting dishes that will leave your taste buds tingling with delight.
Ventimiglia also serves as an ideal base for exploring nearby attractions on day trips and excursions. The enchanting villages of Dolceacqua and Apricale, with their medieval charm, offer a glimpse into the region's rich history. Additionally, the glamorous Monte Carlo in Monaco is just a short distance away for those seeking a taste of luxury.
When it comes to accommodation, Ventimiglia offers a range of options to suit every traveler's needs. From luxurious hotels boasting stunning views to budget-friendly guesthouses tucked away in charming corners of the town, there is something available for everyone. Take advantage of insider tips to find the best deals and hidden gems that will make your stay even more memorable.
Ventimiglia, Italy is an underrated gem that deserves recognition as a travel destination. With its blend of history, relaxation, gastronomy, and natural beauty, Ventimiglia offers a truly unique experience on the Italian Riviera. Unveil this hidden gem and embark on a journey filled with unforgettable moments and cherished memories.
Getting to Ventimiglia
Ventimiglia, located on the Italian Riviera, may be a hidden gem, but it is easily accessible thanks to a range of transportation options. Whether you prefer to travel by train, bus, or car, getting to Ventimiglia is a breeze.
For those who enjoy the convenience and comfort of train travel, Ventimiglia is well-connected to major cities in Italy and Europe. The Ventimiglia Railway Station serves as a gateway to the town and offers regular train services. Travelers can reach Ventimiglia from nearby cities like Genoa and Nice within just a few hours. Additionally, there are direct train connections to other popular destinations such as Milan and Rome.
If you prefer the flexibility of driving, Ventimiglia is conveniently located near major highways. From Nice in France, take the A10/E74 highway towards Italy and follow signs for Ventimiglia. The drive offers scenic views of the coast and mountains. Traveling by car also allows visitors to explore the surrounding area at their own pace.
Another option is taking a bus to Ventimiglia. Several bus companies operate routes connecting Ventimiglia with nearby towns and cities in Italy and France. This can be a more affordable option for budget-conscious travelers.
When planning your journey to Ventimiglia, it's important to consider any potential travel restrictions or considerations. Check for any visa requirements or COVID-19 related guidelines before traveling. Additionally, keep in mind that traffic can be heavy during peak travel times or holidays, so plan accordingly.
Overall, reaching Ventimiglia is easy no matter your preferred mode of transportation. Whether you choose to arrive by train, bus, or car, you'll soon find yourself exploring the charming coastal town and all its hidden treasures.
| Transportation Option | Approximate Travel Time |
| --- | --- |
| Train from Genoa | 2 hours |
| Train from Nice | 1 hour |
| Car from Nice | 40 minutes |
| Bus from Milan | 4 hours |
| Bus from Marseille | 3.5 hours |
Exploring Ventimiglia's Old Town
Ventimiglia's Old Town, also known as Ventimiglia Alta, is a historical gem that takes visitors on a journey through the town's rich history. Situated on a hill overlooking the rest of Ventimiglia, this charming neighborhood is characterized by its narrow cobblestone streets, ancient buildings, and picturesque squares.
As you wander through the Old Town, you'll be transported back in time. The architecture reflects a mix of influences from different periods, including medieval, Renaissance, and Baroque. One of the must-visit landmarks in Ventimiglia Alta is the Cathedral of Santa Maria Assunta. This stunning cathedral dates back to the 11th century and features a beautiful bell tower and intricate frescoes inside.
Another highlight of exploring Ventimiglia's Old Town is the Hanbury Gardens. Located just outside the walls of the Old Town, these gardens are a botanical paradise that shouldn't be missed. Created in the late 19th century by Sir Thomas Hanbury, an Englishman with a passion for exotic plants, these gardens showcase over 6,000 species from around the world.
In addition to its architectural wonders and natural beauty, Ventimiglia's Old Town also offers delightful squares where you can relax and soak in the atmosphere. Piazza San Michele is one of these squares and is famous for its charming fountain and surrounding cafes. It's a great spot to enjoy a cup of espresso while people-watching or savoring some gelato.
Exploring Ventimiglia's Old Town truly provides a unique glimpse into its rich history and cultural heritage. From its ancient buildings to its hidden corners waiting to be discovered, every step reveals something special. Whether you're interested in history or simply love wandering through enchanting streets, Ventimiglia's Old Town is an absolute must-see during your visit to this captivating coastal town on the Italian Riviera.
Market Days in Ventimiglia
Ventimiglia is not only known for its historical sites and stunning beaches but also its vibrant market days, which make it a shopper's paradise. The local markets in Ventimiglia are a must-visit for travelers looking to immerse themselves in the bustling atmosphere and find unique goods and products.
One of the highlights of visiting Ventimiglia is exploring the famous weekly market held on Fridays. This market stretches through several streets and squares in the town center, offering visitors a wide array of items to browse and purchase. From fresh local produce, fruits, and vegetables to cheese, olive oil, and wines, food enthusiasts will find an abundance of flavors to indulge in. Additionally, shoppers can explore various stalls dedicated to clothing, accessories, household items, antiques, and much more.
To make the most out of the market experience in Ventimiglia, it is recommended to arrive early in the morning when the market opens. This allows visitors to avoid crowds and have first pickings of the best deals. It's also advisable to bring cash as some vendors may not accept credit cards. Bargaining is common at the markets in Ventimiglia, so don't be afraid to negotiate prices with sellers for a better deal.
| Market Day | Location |
| --- | --- |
| Friday Market | Town center streets and squares |
| Saturday Market | Via Hanbury (near the train station) |
| Promenade Market | Seafront promenade on Tuesday evenings during summer months |
Whether you're looking for delicious local produce, unique clothing items, or antique treasures, Ventimiglia's market days provide an unforgettable shopping experience. Don't miss the opportunity to explore these vibrant markets and bring home a piece of Ventimiglia's charm.
Relaxing on Ventimiglia's Stunning Beaches
Ventimiglia is not only known for its rich history and charming old town, but also for its stunning beaches that line the picturesque coastline. For travelers seeking sun, sand, and sea, Ventimiglia offers a range of beautiful beaches to relax and unwind.
The Beauty of Ventimiglia's Beaches
With crystal-clear waters and soft golden sand, Ventimiglia's beaches are truly a sight to behold. The tranquil atmosphere combined with the breathtaking views of the Mediterranean Sea make these beaches irresistible to visitors. Whether you're looking to soak up the sun, take a refreshing swim in the sea, or simply enjoy a leisurely stroll along the shoreline, Ventimiglia's beaches offer something for everyone.
The Best Beaches in Ventimiglia
Depending on your preferences, there are various beaches in Ventimiglia that cater to different needs. For families traveling with children, the Ponente Beach is an ideal choice. With its shallow waters and gentle slope, it provides a safe and enjoyable environment for kids to play. Additionally, this beach offers amenities such as beach umbrellas and loungers for rent.
For those seeking a more secluded beach experience away from crowds, the Balzi Rossi Beach is highly recommended. Nestled between cliffs and rocky formations, this hidden gem offers privacy and tranquility for those looking to escape the hustle and bustle of city life. Moreover, its clear turquoise waters provide excellent opportunities for snorkeling and exploring marine life.
Beach Activities and Water Sports
Beyond soaking up the Mediterranean sun and enjoying dips in the sea, Ventimiglia's beaches also offer a variety of activities and water sports for visitors to partake in. From paddleboarding and kayaking to jet skiing and parasailing, there are plenty of options available to add some excitement to your beach day.
Whether you're looking for relaxation or adventure by the sea, Ventimiglia's stunning beaches provide the perfect backdrop for a memorable beach vacation. So pack your sunscreen, towel, and sunglasses, and get ready to bask in the natural beauty of this hidden gem on the Italian Riviera.
Gastronomic Delights of Ventimiglia
Ventimiglia, Italy is not only a feast for the eyes but also a delight for the taste buds. The town is renowned for its delectable local cuisine that beautifully exemplifies the gastronomic traditions of the region. From savory dishes to sweet treats, Ventimiglia offers a wide array of culinary delights that are sure to satisfy any food lover's cravings.
Regional Specialties and Delicacies
One cannot explore the local cuisine of Ventimiglia without trying some of its most famous regional specialties and delicacies. Among these delights is the mouthwatering "Ravioli di Zucca" (pumpkin ravioli), which features delicate pasta pockets filled with a creamy pumpkin filling and served with a butter and sage sauce. This dish is a perfect blend of flavors and textures that will leave you wanting more.
Another must-try specialty is the "Stoccafisso alla Ventimigliese" (Ventimiglia-style stockfish). Stockfish, or dried cod, is extensively used in Italian cuisine, and Ventimiglia has its own unique way of preparing it. The fish is soaked in water until rehydrated and then cooked with tomatoes, onions, garlic, olives, and capers to create a rich and flavorful dish.
Authentic Local Restaurants
To truly savor the authentic flavors of Ventimiglia's cuisine, venturing into the local restaurants is a must. One such establishment worth visiting is Ristorante Hanbury, known for its picturesque location overlooking the sea and its commitment to using fresh local ingredients. Here, you can indulge in traditional Ligurian dishes made with locally sourced seafood and seasonal produce.
For those seeking a more casual dining experience, Trattoria del Porto offers rustic charm along with exquisite food. This family-run trattoria serves up hearty classics like homemade pasta dishes featuring local ingredients paired with regional wines. The warm and welcoming atmosphere of this restaurant adds to the overall dining experience, making it a favorite among locals and visitors alike.
Whether you choose to dine in an upscale restaurant or a charming trattoria, one thing is for certain – Ventimiglia will leave a lasting impression on your taste buds. The town's gastronomic delights truly reflect the rich culinary heritage of the Italian Riviera, making it an essential destination for any food enthusiast.
Day Trips and Excursions from Ventimiglia
Ventimiglia, nestled on the Italian Riviera, offers visitors not only its own enchanting attractions but also serves as a great base for exploring the surrounding area. From medieval villages to glamorous cities, there are numerous day trips and excursions that allow travelers to uncover the beauty and diversity of this region.
One must-visit destination is Dolceacqua, a charming village located just a short distance from Ventimiglia. Known for its medieval architecture and picturesque surroundings, Dolceacqua is like stepping back in time.
Take a stroll through its narrow streets flanked by ancient stone houses, cross its iconic humpback bridge over the Nervia River, and visit the impressive Doria Castle at the hilltop for breathtaking views of the village below. Don't miss trying "Michetta," a traditional local dessert made with almonds and honey, which can be found in one of Dolceacqua's delightful pastry shops.
Another nearby gem worth exploring is Apricale. Tucked away in the hills above Ventimiglia, Apricale enthralls visitors with its fairy-tale atmosphere. The village's medieval architecture remains remarkably intact, with stone houses clinging to narrow alleys and quaint squares adorned with flowering plants.
Get lost in Apricale's labyrinthine streets to discover hidden gems, like artisan workshops or small art galleries showcasing local talent. Make sure to visit the famous open-air theater during summer months when it hosts various cultural events.
For those seeking a more cosmopolitan experience, a day trip to Monte Carlo in Monaco is highly recommended. Just a short drive along the stunning coastline from Ventimiglia will take you to this world-famous destination known for its luxury and glamour.
From dazzling casinos and high-end boutiques to exotic gardens and stunning yachts lining Port Hercule, Monte Carlo offers an exciting blend of opulence and natural beauty. Don't forget to catch the changing of the guard ceremony at the Prince's Palace and soak in panoramic views from the famous Casino Square.
Ventimiglia, with its strategic location on the Italian Riviera, provides an excellent starting point for exploring the surrounding area. Whether you're interested in medieval villages, glitzy cities, or natural wonders, there is a day trip or excursion option to suit every taste. So make sure to plan some extra days in your itinerary to venture beyond Ventimiglia's borders and discover even more hidden gems waiting to be explored.
Accommodation Options
Ventimiglia offers a range of accommodation options to suit different budgets and preferences. Whether you are looking for luxurious hotels, budget-friendly guesthouses, or unique stays, Ventimiglia has something for everyone. Here are some accommodation options to consider when planning your stay in this charming coastal town:
Luxury Hotels: If you're seeking a lavish and indulgent experience, Ventimiglia has a few luxury hotels that will cater to all your needs. These hotels often boast beautiful sea views, upscale amenities, and world-class service. Some popular choices include the Hotel Royal Westminster and the Hotel La Riserva di Castel d'Appio.
Boutique Hotels: For a more intimate and personalized experience, there are several boutique hotels in Ventimiglia that offer charm and character. These smaller accommodations often have unique décor and provide a cozy ambiance. The Hotel Provenza is one such option that combines comfort with a touch of elegance.
Budget-Friendly Guesthouses: Travelers on a tight budget can find plenty of affordable guesthouses in Ventimiglia that still offer comfort and convenience. These guesthouses are ideal for those who prioritize exploring the town but want a comfortable place to sleep at night. The Locanda del Mar is an excellent budget-friendly option located near the beach.
Apartment Rentals: Another popular choice among travelers is renting apartments or holiday homes in Ventimiglia. This gives visitors more flexibility and space during their stay while also allowing them to experience life as a local resident. Platforms like Airbnb offer various apartment rentals in different neighborhoods of Ventimiglia.
Camping: For nature enthusiasts or those traveling with RVs or tents, there are also camping options available near Ventimiglia. Camping degli Ulivi is one such campsite that offers facilities such as electricity hookups, showers, and even swimming pools.
When choosing where to stay in Ventimiglia, it's important to consider the location that best suits your interests and needs. If you prefer being close to the beach, look for accommodations along the coast. For a more historical experience, consider staying in the Old Town area with its charming streets and ancient buildings.
Remember to book your accommodation in advance, especially during peak travel seasons, to secure your preferred option. No matter where you decide to stay in Ventimiglia, you'll be sure to have a comfortable and enjoyable visit to this hidden gem on the Italian Riviera.
Conclusion
Ventimiglia, Italy is truly a hidden gem on the Italian Riviera. From its charming coastal town to its historical Old Town, picturesque beaches, and delectable cuisine, Ventimiglia offers a unique and unforgettable travel experience. With its accessibility and variety of transportation options, it is easy for travelers to explore this underrated destination.
Ventimiglia's Old Town is a journey through history, with its narrow streets, ancient buildings, and captivating landmarks such as the Cathedral of Santa Maria Assunta and the Hanbury Gardens. The famous market days in Ventimiglia also offer a shopper's paradise with their wide array of goods and products. Travelers can immerse themselves in the culture while finding the best deals and using haggling techniques.
The stunning beaches in Ventimiglia provide an opportunity for relaxation with their crystal-clear waters, soft sand, and tranquil atmosphere. Whether seeking family-friendly beaches or secluded spots, Ventimiglia has options for every preference. Additionally, the local cuisine showcases regional specialties and delicacies that are a must-try for food enthusiasts.
Ventimiglia also serves as a great base for exploring the surrounding area with its day trip options to enchanting villages like Dolceacqua and Apricale or even glamorous Monte Carlo in Monaco. When it comes to accommodation options, Ventimiglia offers something for everyone – from luxurious hotels to budget-friendly guesthouses.
In conclusion, Ventimiglia Italy is an underrated gem that deserves recognition as a top travel destination. Its unique blend of history, relaxation, gastronomy, and accessibility make it an ideal place to visit for any traveler seeking an authentic Italian experience. So pack your bags and uncover all that Ventimiglia has to offer – you won't be disappointed.
Frequently Asked Questions
Is it worth it to go to Ventimiglia?
Ventimiglia is definitely worth visiting. Located in the region of Liguria, Italy, it offers a charming and picturesque setting with its beautiful beaches and historic old town. The city has a rich history that can be discovered through its medieval architecture, ancient churches, and Roman ruins.
Additionally, Ventimiglia is famous for its vibrant weekly market, known as Mercato di Ventimiglia, where visitors can find a variety of local produce, clothing, and other goods at affordable prices. With its delightful blend of natural beauty and cultural heritage, Ventimiglia provides an enjoyable experience for travelers seeking a relaxing coastal getaway or an exploration of Italian history.
What does Ventimiglia mean in Italian?
In Italian, "Ventimiglia" translates to "twenty miles." This name is believed to have originated from the distance between the city and Nice (Nizza in Italian), which was measured as around twenty miles during certain historical periods. The term "Ventumilium" was used in ancient times to refer to the settlement that eventually became Ventimiglia.
How do you pronounce Ventimiglia in Italian?
To pronounce "Ventimiglia" correctly in Italian, you would say: ven-tee-mee-lyah. It is important to note that in Italian pronunciation, each syllable is given equal weight and there are no silent letters.
The "v" is pronounced like the English "v," while the "g" sounds similar to the soft "j" sound found in words like "gem." In general, Italian pronunciation emphasizes clarity and expressiveness, so enunciating each syllable clearly will help you accurately pronounce words like Ventimiglia when speaking Italian.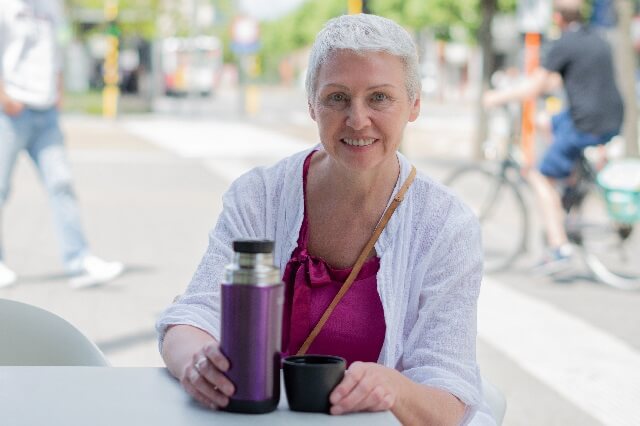 I'm a passionate traveler, writer, and Italophile. My fascination with Italy's history, art, and culture has led me on countless adventures across the Italian landscape. Through "I Live Italy," I share my love for this extraordinary country and aims to inspire others to explore its boundless beauty.