When planning a trip to Italy, one of the most important considerations is choosing the right travel clothes. From exploring historic cities to indulging in delicious cuisine, Italian travel requires a balance of style and practicality.
Understanding the cultural dress code and selecting versatile pieces can enhance the overall experience. This article aims to provide guidance on women's travel clothes for Italy, offering tips on packing light, staying comfortable, and looking stylish while exploring all that the country has to offer.
Italy is known for its rich history, stunning architecture, and vibrant fashion scene. It's essential for women travelers to be mindful of cultural expectations when it comes to clothing. The article will explore the dos and don'ts of Italian dress code, providing insights into what is considered appropriate attire for various activities and locations within the country.
In addition to style considerations, practicality is key when selecting travel clothes for Italy. The unpredictable weather and diverse range of activities require versatile, comfortable, and breathable fabrics that can adapt to different situations. The article will also highlight must-have items for sightseeing in Italy such as comfortable walking shoes, lightweight layers, and a functional day bag.
Understanding the Italian dress code
Italy is known for its rich cultural heritage, and this extends to its fashion and dress code. When visiting Italy, it's important for women to be aware of the local cultural and style expectations when it comes to clothing.
The Italian sense of style is often associated with sophistication, elegance, and timeless pieces. Women in Italy tend to prioritize quality over quantity when it comes to their wardrobe, opting for well-made and classic pieces that exude a sense of refinement.
In addition to the emphasis on quality, Italian fashion also places importance on fit and tailoring. Women in Italy often prioritize well-fitted clothing that complements their figure. This attention to fit combined with an appreciation for classic silhouettes sets Italian style apart from more trend-driven fashion cultures. Understanding these cultural and style expectations can help women travelers feel more confident in their clothing choices while visiting Italy.
One important aspect of the Italian dress code for women is modesty. It's common for Italian women to dress in a way that is elegant and stylish without revealing too much skin.
This means that when choosing travel clothes for Italy, women should opt for items that provide coverage while still being fashionable and comfortable. Additionally, it's important to note that certain religious sites in Italy may have specific dress codes that require visitors to cover their shoulders or legs, so having versatile layering pieces on hand is essential for navigating different attractions while adhering to these guidelines.
| Italian Fashion Expectations | Considerations |
| --- | --- |
| Emphasis on quality, sophistication, and elegance | Choose well-made and classic pieces |
| Attention to fit and tailoring | Select well-fitted clothing that complements your figure |
| Modesty in dressing | Opt for items providing coverage while being fashionable |
Practical considerations
When preparing for a trip to Italy, it's crucial to consider the practical aspects of your travel wardrobe. One of the most important factors to keep in mind is choosing versatile, comfortable, and breathable fabrics that will suit the different weather conditions and activities you may encounter during your trip. Italy's climate can vary from region to region, so it's essential to pack clothing that can adapt to these changes.
Opt for lightweight and breathable materials such as cotton, linen, and jersey for warmer days, especially if you'll be spending time sightseeing or exploring outdoor attractions. These fabrics are not only comfortable to wear in hot weather but also easy to pack and wash, making them ideal for travel. Additionally, they are versatile enough to be dressed up or down depending on the occasion, allowing you to transition seamlessly from daytime adventures to evening outings.
For cooler days or visits to religious sites that require more modest attire, consider packing a few pieces made from slightly heavier fabrics like wool or knit blends. Don't forget to include a lightweight scarf or shawl that can easily be added or removed depending on the temperature.
By prioritizing comfort and versatility when selecting fabrics for your travel clothes, you'll be better prepared to fully enjoy all that Italy has to offer without feeling restricted by your wardrobe choices.
Must-haves for sightseeing
When planning a trip to Italy, it's essential to pack the right clothing and accessories for sightseeing, as exploring historic cities and stunning landscapes will likely be a major part of your itinerary. To ensure comfort and convenience while taking in the sights, there are several must-have items that should be included in your travel wardrobe.
Comfortable Walking Shoes
One of the most important items to pack for sightseeing in Italy is a pair of comfortable walking shoes. Whether you're strolling through cobblestone streets in Florence or climbing the hills of Positano, supportive footwear is crucial for enjoying your travels without discomfort. Look for stylish yet practical options such as cushioned sneakers, supportive sandals, or lightweight walking shoes that provide all-day comfort without sacrificing style.
Lightweight Layers
Italy's climate can vary significantly depending on the region and time of year, so it's important to have lightweight layers that can adapt to changing weather conditions. Consider packing versatile pieces like breathable long-sleeve shirts, cardigans, and lightweight scarves that can be easily layered or removed as needed. These items are perfect for staying comfortable during outdoor sightseeing excursions or while exploring historic buildings with varying temperatures.
Versatile Day Bag
A versatile day bag is an essential accessory for sightseeing in Italy. Look for a crossbody bag or backpack with multiple compartments to keep your essentials organized and easily accessible throughout the day. Choose a bag that is roomy enough to carry water bottles, sunscreen, maps, and other necessities while still being compact and lightweight enough for extended periods of walking and exploring. Additionally, opt for a style that's both functional and stylish to complement your travel outfits.
Stylish yet comfortable
When selecting clothing for exploring Italian cities, it's important to find pieces that strike the right balance between style and comfort. Italian cities are known for their fashion-forward culture, so it's essential to choose clothing that allows you to blend in with the stylish locals while also being practical for a day of sightseeing. Here are some tips for selecting women's travel clothes that are both fashionable and functional for exploring Italian cities.
Opt for Breathable Fabrics
Italian summers can be quite hot, especially in cities like Rome and Florence. When choosing your travel wardrobe, opt for breathable fabrics such as linen, cotton, and lightweight synthetics. These materials will help you stay cool and comfortable as you navigate through bustling streets and crowded tourist attractions.
Layering is Key
Italian weather can be unpredictable, so it's important to have versatile options that allow you to layer up or down as needed. Lightweight cardigans, scarves, and jackets are perfect for adding or removing layers based on the temperature throughout the day. Plus, layering adds an extra element of style to your outfit, allowing you to mix and match pieces for different looks.
Comfortable yet Stylish Footwear
Exploring Italian cities often means a lot of walking, so comfortable footwear is a must. Look for stylish yet supportive shoes such as loafers, espadrilles, or sleek sneakers that provide cushioning and stability. Avoid heels or uncomfortable sandals that will leave your feet sore after a long day of sightseeing. With the right footwear, you can stay stylish while keeping your feet happy as you explore all that Italy has to offer.
Packing light
Packing light is essential when traveling to Italy, as it allows for more freedom and flexibility during the trip. Creating a travel capsule wardrobe is the key to achieving this goal.
A travel capsule wardrobe consists of a few essential clothing items that can be mixed and matched to create different outfits for various occasions. By carefully selecting versatile pieces that can be dressed up or down, women can pack light while still having a range of options for different activities.
When creating a travel capsule wardrobe for Italy, it's important to consider the climate and the activities planned during the trip. Italy experiences varied weather conditions depending on the region and time of year, so it's crucial to pack clothing that is suitable for both hot sunny days and cooler evenings. Fabrics like cotton, linen, and lightweight knits are great options as they are breathable and comfortable for all-day wear.
One strategy for building a travel capsule wardrobe is to stick with a color scheme that allows for easy mixing and matching. Neutral colors like black, white, navy, and beige are versatile and can be paired with bolder accent colors or patterns to add variety to outfits.
Additionally, choosing clothing with simple designs and minimal embellishments makes it easier to coordinate different pieces together. By following these guidelines, women can create a travel capsule wardrobe that meets their style preferences while being practical for a trip to Italy.
| Travel Capsule Wardrobe Tips | Details |
| --- | --- |
| Choose versatile fabrics | Cotton, linen, lightweight knits |
| Select a color scheme | Neutrals with accent colors or patterns |
| Opt for simple designs | Minimize embellishments for easy coordination |
Dressing for different activities
When preparing for a trip to Italy, it's important to consider the diverse range of activities you may engage in during your travels. From outdoor adventures to dining out at elegant restaurants and visiting historical sites, each activity calls for different attire. Here are some suggestions for women's travel clothes suitable for various activities in Italy:
Outdoor Adventures
Breathable activewear such as moisture-wicking tops and leggings.
Lightweight, quick-drying hiking pants.
Waterproof jacket or windbreaker.
Wide-brimmed hat and sunglasses for sun protection.
Comfortable hiking shoes or walking sandals.
Dining Out
Elegant sundresses or midi/maxi skirts paired with a stylish blouse.
Dressy sandals or low-heeled shoes.
Light shawl or cardigan for cooler evenings.
Statement jewelry or accessories for added flair.
Stylish crossbody bag or clutch.
Visiting Historical Sites
Comfortable but chic blouse and tailored trousers or knee-length shorts.
Stylish yet practical flat shoes – avoid heels due to uneven terrain.
Lightweight scarf that can double as head covering when entering religious sites.
Tote bag or backpack with secure closures to carry essentials like water, guidebook, and snacks.
By planning your wardrobe according to the various activities you'll be participating in, you can ensure that you are both comfortable and appropriately dressed for every occasion during your Italian adventure. Whether exploring the outdoors, sampling Italian cuisine at local eateries, or strolling through ancient ruins, having the right clothing will enhance your overall experience.
Timeless classics
When it comes to building a travel wardrobe for Italy, it's important to invest in timeless pieces that can be worn season after season. These classic items not only provide long-term wardrobe versatility but also ensure that you always have stylish options for future travels. Here are some timeless classics to consider when selecting women's travel clothes for Italy:
Little Black Dress: A simple, versatile black dress can be dressed up or down for various occasions. Look for one made from wrinkle-resistant fabric for easy packing.
Trench Coat: A classic trench coat is perfect for transitional weather and adds an elegant touch to any outfit. Opt for a neutral color like beige or navy that can easily coordinate with different ensembles.
White Blouse: A crisp, white blouse is a wardrobe essential that can be paired with jeans for a casual look or dressed up with a skirt or trousers for more formal occasions.
In addition to these clothing items, it's also wise to invest in quality accessories that stand the test of time. Consider adding the following timeless accessories to your travel wardrobe:
Pashmina Scarf: A lightweight pashmina scarf not only adds warmth on chilly evenings but also serves as a versatile accessory that can be draped over the shoulders or used as a wrap.
Leather Tote Bag: A well-crafted leather tote bag is both stylish and practical for carrying essentials while exploring Italian cities. Look for one with sturdy handles and multiple compartments for organization.
By incorporating these timeless classics into your travel wardrobe, you'll be able to create countless chic and sophisticated outfits without having to constantly update your clothing collection. These versatile pieces are also ideal for mixing and matching, making them perfect companions for various activities and experiences during your time in Italy.
Where to shop
When it comes to shopping for women's travel clothes for Italy, there are several brands and stores that offer stylish and practical options. One popular choice is to look for high-quality, versatile clothing at well-known outdoor and travel apparel retailers. These stores often carry items made from breathable, moisture-wicking fabrics that are perfect for staying comfortable while exploring Italy's diverse landscapes and climates.
Another option is to explore boutique shops that specialize in travel-friendly clothing. These often feature a curated selection of stylish pieces specifically designed for ease of movement and versatility. Look for items that can be dressed up or down, allowing you to seamlessly transition from a day of sightseeing to an evening out at a local restaurant or wine bar.
For those who prefer sustainable fashion options, consider seeking out eco-friendly brands that prioritize ethical manufacturing practices and environmentally conscious materials. Many of these companies offer chic yet practical travel clothing that is both fashionable and functional, ensuring that you can feel good about your wardrobe choices while enjoying all that Italy has to offer.
Whether shopping online or in-person, taking the time to research and invest in quality pieces will pay off during your travels in terms of comfort, style, and long-term durability.
Conclusion
In conclusion, choosing the right travel clothes for a trip to Italy is crucial for both comfort and cultural appropriateness. Understanding the Italian dress code and selecting versatile, comfortable, and breathable fabrics are essential steps in creating a stylish yet functional wardrobe for exploring Italian cities. By focusing on timeless classics and packing light with a travel capsule wardrobe, women can ensure they have the perfect outfit for any occasion while minimizing luggage space.
One final tip for enhancing the travel experience through thoughtfully curated wardrobe choices is to prioritize comfort without sacrificing style. Opt for versatile pieces that can be dressed up or down, such as a classic little black dress or a pair of stylish yet comfortable walking shoes. Additionally, consider adding accessories like scarves or statement jewelry to elevate your outfits without adding bulk to your suitcase.
Ultimately, the goal is to strike a balance between fashion and practicality to ensure you look and feel your best while exploring all that Italy has to offer. By following these tips and recommendations, women can confidently select the perfect travel clothes for Italy and fully enjoy their time in this beautiful country.
Frequently Asked Questions
How should I pack for 2 weeks in Italy?
When packing for 2 weeks in Italy, it's important to consider the weather, activities planned, and cultural norms. Opt for versatile clothing that can be mixed and matched, as well as comfortable walking shoes for exploring cities and countryside.
Consider bringing light layers for cooler evenings, a swimsuit for beach destinations, and dressier attire for special dinners or events. It's also essential to pack essentials like toiletries, medications, travel documents, and any necessary electronics.
Is it OK to wear jeans in Italy?
Yes, it is perfectly acceptable to wear jeans in Italy. However, it's important to note that Italians tend to favor a more polished look overall when it comes to fashion.
To blend in with the locals while wearing jeans, consider pairing them with stylish tops or blouses and accessorize with scarves or jewelry. Avoid overly casual or baggy styles of jeans and opt for a more tailored fit.
What should I wear on a plane to Italy?
When traveling on a plane to Italy, comfort should be a priority while still looking put together. Choose breathable fabrics like cotton or jersey knits for tops and bottoms to stay comfortable during the flight. Layers are key since airplanes can often be chilly – consider bringing a cozy cardigan or lightweight jacket that can easily be removed if needed.
Slip-on shoes are convenient during airport security checks and also provide easy access to remove during long flights. Don't forget a scarf or shawl that can double as an accessory and keep you warm if the airplane gets cold.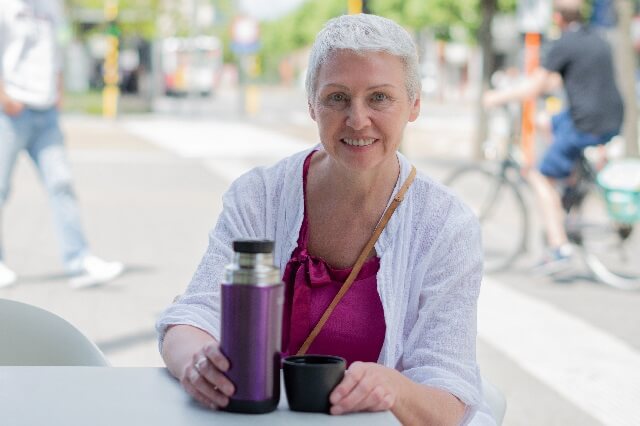 I'm a passionate traveler, writer, and Italophile. My fascination with Italy's history, art, and culture has led me on countless adventures across the Italian landscape. Through "I Live Italy," I share my love for this extraordinary country and aims to inspire others to explore its boundless beauty.