The long history of the country, and numerous periods of wealth that went through, have left in Italy a legacy of artistic examples of remarkable beauty and prestige during the different epochs and civilizations, making Italy a unique case in the world for its variety of artistic goods and their spread throughout the territory.
[wp_ad_camp_2]
The Italy boasts the greatest number of UNESCO World Heritage sites, well 60% of sites representing 47 cultural heritage around the world and is the fifth most visited country in the world.
Italy is a member of the G7, the Group of 7 major industrialized countries and according to the World Bank's 2010 represents the eighth economic power on the planet, for nominal GDP and simultaneously is ranked eighth by value of exports and the seventh for imports.
The Italy is one of the European countries which suffered less from the global economic crisis.
This is an industrialized country that has managed to maintain its own characteristics compared to the rest of the industrialized countries.
The country's main economic activities are tourism, fashion, engineering, chemicals, motor vehicles and foodstuffs. The regions of Northern Italy are among the richest in Europe in terms of per capita income. The service sector is the largest by number of workers involved, by value of production and for the dynamism that characterizes the industry.
The quality of life in Italy is another important factor. As proof of this, just take a look at the various health reports and in particular the average age in Italy, estimated at 82 years (85 79 for men, for women).
The factors that impact significantly on overall impression are the accessibility to education, in Italy the State support to health and personal security, economic and environmental policies, good food, the climate and the near absence of air pollution, cultural events, services available to foreigners and integration.
In Italy the food is the healthiest, balanced, varied and refined in the world.
The Mediterranean diet, of which Italian cuisine is the main and most important example, scored in the 2010 recognition of oral and intangible heritage of humanity by UNESCO for balance and completeness.
38 Reasons for living in Italy
Italy is the most beautiful country in the world.
In Italy many views are breathtaking and envied worldwide.
Many foreigners want to live in Italy. Ask yourself why.
In Italy you live better than in most of the rest of the world (ask the billion people on the planet with a standard of livingworse than the Italian average)
Deep down you look good in Italy and you don't want to go abroad.
Communicate with family and friends using Skype is not for you.
You think life without friends is not life.
In Italy You are a people person.
Do you want your children to be able to speak the language of their grandparents.
Don't you want to feel foreign.
Won't not a word of any foreign language.
Do you like Italian food. (Don't you realize how much you love her until you have more available every day).
In Italy the coffee is sacrosanct.
Life without an Italian ice cream is not life.
Saturday night pizza with friends in Italy
Do you like the climate in Italy (though there are more seasons).
Appreciate art and ancient culture in Italy
Abroad maybe find work but then? The job is not all in your life.
Are you confident in the future of Italy.
You are an elected official
You have a job from which you cannot be fired
You have a job that pays decently and with reasonable prospects.
The Italy is the center of the world in your area of work
InItaly you receive a pension of gold
You feel your being in square with friends being one of the highest pleasures of life.
In Italy the ' swag ' on Saturday afternoon is the best time of your week.
Would you like to watch matches of the team without having to get up in the middle of the night.
Would you like to change the country remaining to fight in Italy.
Would you like to change the way we do politics by taking an active part in it.
Do you think foreign countries are culturally inferior to Italy
You're a tax cheat. Why go to live in a nation where (maybe) is harder to escape?
In Italy you don't have problems with the authorities.
Do you want to live in a country where the right to work is guaranteed by the Constitution.
In Italy don't have dinner at 6 pm.
You don't like drunkards in Northern Europe.
Friends have already gone abroad and they came back saying that it's not easy, that's not all a bed of roses, that's not allgold that glitters.
Foreign friends who love Italy make you better understand the positives of living in Italy
In Italy there are many dangerous animals as in some other countries
To make headlines are especially Italians who choose to abandon the peninsula in search of better employment chances across borders. Yet there is also the reverse case: in fact there are any foreigners who have chosen to settle in Italy and work here, despite the crisis. As in the case of Liselotte, Karen, Ayumi and Laurel: four creative who agreed to tell their story and the choise to live in Italy
We talk a lot about crisis of young in Italy who flee abroad, wasted talent. In fact b
esides these discouraging data, here's a countertrend: even today, in times of restriction and little work, many girls and women artists and creative people who choose to settle here, to live and work in Italy.
Yes, the charm of the beautiful country, the myth of the mild climate, the good life, good food, variety of natural landscapes and of artistic and architectural riches are still able to attract some.
After all, if it is true that you invest little in research and innovation, we are still the land of design, excellence in fashion, arts and crafts, not to mention arts and restoration, but also cinema and theatres, gastronomy, Enology and hotel industry.
Often, then, that young people from Asia, the United States, from Northern Europe or Latin America are studying here, in the universities of Milan, Rome, Bologna, Venice, then plant roots, fascinated by a certain lifestyle and even by certain delays and anomalies that we Italians give so much trouble.
We asked four creative, active in various sectors, to give us their views.
********************
Liselotte Watkins Falk, 43 years, Illustrator and collage artist.
Lives in Milan and collaborates with publications and galleries around the world.
Why I chose to live in Italy, rather than in Sweden? Some reasons are almost obvious: in fact, in Italy there are climate, food delicious, light and bright days, the wonderful hospitality and generosity of the Italians. I have lived in many places in Italy during the last few years – from a freelancer is easy work anywhere: I think in these times of crisis the best strategy is to think of their work in the most global possible. So I love the joy for life that reigns in Italy, so sometimes I can't stand red tape, slow processes to have assignments, work, get in touch with people. Compared to New York, Paris and Stockholm, where I lived before, in Italy you go more slowly. The Sweden I miss her, even with her dark, the bitter cold and the atmosphere a bit to Ingmar Bergman, that way of making us Socialist Swedes. But Italy adopted me and I am grateful!
Karen Oetling Corvera, 25 years old, comes from Guadalajara, in Mexico, but he lives in Treviso, where he deals with social campaigns by Fabrica.
They are native to Mexico, but some time I live in Italy, in Treviso. Work in social campaigns Department of Fabrica, the Benetton Communication & Research Center, and I love it. I love the country life and country that offers Treviso, not to mention the creative stimulus of Fabrica, a micro international company, a happy bubble that shows that Italy despite the crisis offers the excellence of creativity: I do not have rivals in the field of design and art! And is able to attract talent from all over the world: in Italy I work with young people from Cuba, the Dominican Republic, Venezuela, Hong Kong, Malaysia. Sometimes I fight against the closure or the lack of openness of the locals, but maybe you are suspicious at the beginning and then open. Coming from a country strongly violent as the Mexico, although I miss him very much, I appreciate every day a feeling of security and tranquility that offers Treviso. And then the beauty in Italy is that you always sea, mountains, hills a short distance!
Ayumi Makita, Japanese, is an illustrator of children's books, video maker, artist of origami. He has exhibited his works in Tokyo, in Yokohama and in Italy. Lives in Perugia.
I lived in Italy for more than 20 years. My life is here now, I live in Perugia, a city that I love: I am an independent artist and definitely my job allowed me to move freely.Despite the Italian crisis confess is working much more than in the past. Maybe because using economic means, primarily the paper to make origami. Cons of working here? Get organized in Italy can be very difficult: I talk about bureaucratic procedures, it is often complicated to plan a budget or sign an agreement. But, on the other hand, there are definitely more flexibility and friendliness. And fantastic locations!
Laurel Evans. Lived in Texas for seven generations, he studied in the Scuola Politecnico di Design in Milan, a city where she established in Italy with her husband. Today's food bloggers, a finalist at the Premio Bancarella 2010 kitchen, Chef and tv face. He lives in Milan, has 35 years.
I built my career on being "an American in the kitchen" (hence the name of my blog) and this also means being an American in Italy. My husband is born in Italy, a photographer, and has the most work and contacts here in Milan. We are open for future moves, but I just became mom and here I feel at home. In general I love working with the Italians, although it's hard to be a freelancer or small business owners today: taxes are super high and complex bureaucracy to say the least. In Italy I suffer mostly for small things, for example I do not understand why we would want so long to get anything from the post office or Bank: simple day-to-day operations require zillions of stamps, signatures, envelopes. On the other hand, I love the spirit of Italy, your style, your taste. And of course in Italy there is good food and good wine: you give me every day useful insights and ideas for recipes!
********************
Most people's perception of Italy is that of style, a country whose taste for the good life is matched only by its panache. The food is full of flavour, created with a desire to serve nothing but the best.
Variety is the spice of life; kitchens all over the country try to outwit one another with new recipes, each one tastier than their neighbours.
But what drives the Italian people is their passion, their zest for life. Nowhere else is life lived with so much enthusiasm.
The boys cruise by street cafes in their open top sports cars looking cool, trying to catch the eyes of the girls. The girls drink their coffees, dressed to the nines in their Versace designer dresses and pretend not to notice. This modern day mating ritual continues endlessly.
Elsewhere in Italy, tourists flock annually to this culturally diverse country, making it the fourth most popular destination in the world.
The majority of holidaymakers fly into Rome and make a beeline for the Colosseum. Brought to life in the recent Hollywood epic 'Gladiator', the ancient ruin makes no less impression in real life. Built in 80 AD, this bloodthirsty arena became graveyard for many a brave soldier, thrown to the lions with no mercy.
Within the walls of Rome lies the Vatican. Though technically not part of Italy, it is in fact an independent state and the smallest country in the world. Considered by many to be Christianity's finest Renaissance church, St Peter's Cathedral is a magnificent piece of architecture. Michelangelo's Sistine Chapel is another must see, though you may have to compete with large crowds. It is advisable to book your visit beforehand.
High up in the mountains sits the beautiful little town of Assisi, overlooking Perugia. The 14th century fortress of Rocca Maggiore sits predominantly, once the sentinel guarding this proud city. It is the birthplace of St Francis and well worth a visit, provided you can negotiate the religious pilgrims.
In the north of Italy sits the vogue city of Milan. The town is famous for its fashion businesses and exquisite shopping. Indeed, the Galleria Vittorio Emanuele is believed to be the oldest shopping mall in the world.
The Biblioteca Ambrosiana holds sketches by Leonardo da Vinci amid its considerable resources of books and drawings. It is one of the main libraries of European culture.
You've heard the phrase 'Rome wasn't built in a day'. Likewise if you are planning a trip to Rome you will want to give yourself a lot more time to enjoy what the city has to offer. This is something a lot of people already know, as the famous city in Italy has gotten great kudos in recent years. Rome ranked number 2 in the category of Top 10 European Cities in the Condé Nast Traveler's 2004 Reader's Choice Awards.
Places to See
On the top of your list of places to visit in Rome will likely be the Coliseum, the Pantheon, and the Roman Forum.
You have read about the Coliseum throughout your whole life, in history books, in religious literature. Now you can see this location that has been such a historical landmark, where the Gladiators used to fight for their lives. If you sign up for a tour, you may have a guide that looks much like a gladiator of days of old.
Next, you may want to see the over 1,800 year old Pantheon. This building has made it through generation after generation and is an awe-inspiring location. Its name translates to "temple to all gods". Inside its walls is the final resting place of a number of high-ranking individuals of Italian history including two kings, and the famous painter, Raphael. This location is free to visit and is open every day, except Christmas.
The Roman Forum (Foro Romano) was where all the great minds of Rome used to meet, 2000 years ago. Whether it was religious or political meeting, it would have happened here. Unfortunately time has been cruel to the Roman Forum and much of what used to be magnificent columns are now ruins. But, some still stand to help you appreciate the magnitude of this location. This site is free to visit, but there are fees for tours.
Things to Know
If you want to visit this busy city, which has about 2.7 million people living in it, you are going to need a passport to get into Italy and then travel to Rome. Generally the weather is what you may expect in this area of Europe. Summers are hot and dry, while winters are moderate, but full of rain. If you don't want to get lost in the massive crowds that plan a summer getaway to Rome, you may instead want to visit in off-peak months of October through March.
If you only stick to the world of planned tours, you may miss much of what Rome has to offer. Instead you should make sure to take a tour through town and look at the historic buildings and unique shops and the treasures they hold. If you want to go a little further than you can walk, the TramBus system will take you through all of Rome's neighborhoods.
Then don't forget the old cliché, ' When in Rome do as the Romans do.' And make sure to try some of the fabulous cafes and restaurants that are throughout the area.
You may also be interested in:
[wp_ad_camp_4]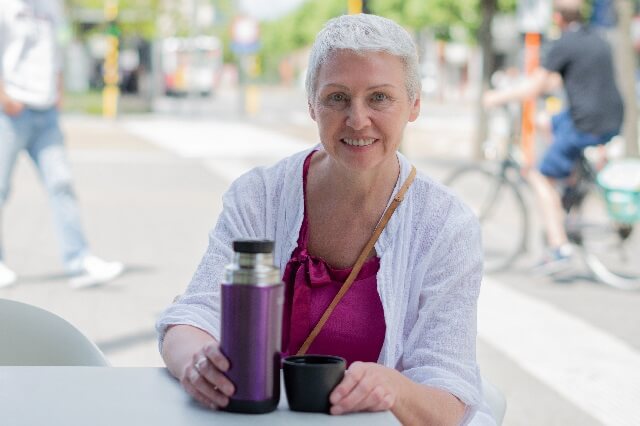 I'm a passionate traveler, writer, and Italophile. My fascination with Italy's history, art, and culture has led me on countless adventures across the Italian landscape. Through "I Live Italy," I share my love for this extraordinary country and aims to inspire others to explore its boundless beauty.